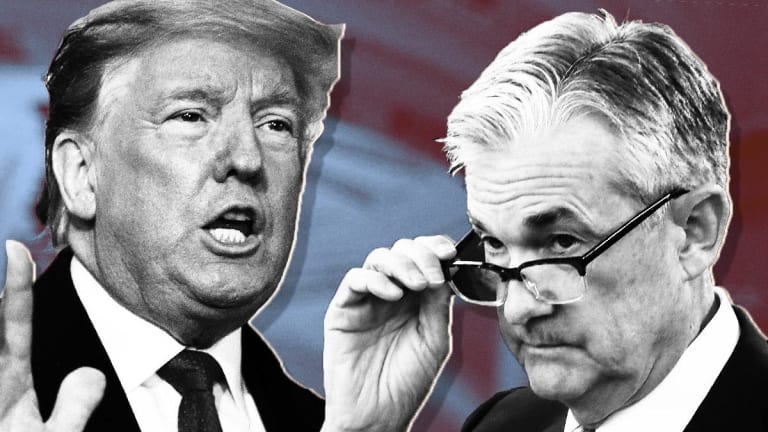 Here Are All the Insults Trump Has Tweeted About His Own Federal Reserve Chief
President Donald Trump has suggested via Twitter that Jerome Powell, his own appointee to lead the Federal Reserve, might be an 'enemy' worse than Chinese President Xi Jinping. Powell says the Fed is an independent institution, and insists he wouldn't step down if Trump tried to fire him. But how does it feel to be constantly berated, in public, by the leader of the world's most powerful country?
One of the oft-overlooked benefits of President Donald Trump's diktat-by-tweet is that many of his pronouncements are easy to track - via the unofficial but well-functioning website Trump Twitter Archive, or searchtrumpstweets.com.
That makes it pretty easy to compile a list of all the times Trump personally has insulted Federal Reserve Chairman Jerome Powell, his own appointee to the lead the U.S. central bank.
There was Trump's July 31 tweet that Powell had "let us down." And the Aug. 14 post that the central bank chief was "clueless." On Aug. 19, Powell suffered from a "horrendous lack of vision." Two days later, on Aug. 21, there was a sports analogy: "He's like a golfer who can't putt, has no touch." 
But none of those rose to the level of last week's swipe, just as Trump ratcheted up the stakes in his trade war with China: "My only question is, who is our bigger enemy, Jay Powell or Chairman Xi?" The latter reference was to Chinese President Xi Jinping, whom days later Trump described on Twitter as "a great leader." 
The "enemy" tweet sounds a lot like an accusation, or at least the suggestion, of treason. Like anything Trump says or tweets, it should be taken with a pile of salt. But it's a pretty serious charge to toss out.  
David Wessel, a three-decade veteran of The Wall Street Journal who served as both columnist and economics editor, said Trump's "enemy" tweet "crossed the line."  
"I don't think the president's latest tweets have played out very well," Wessel said in a phone interview. "Even people who are critical of the Fed's policy find it a little too much." Wessel, it should be noted, is now a senior fellow in economic studies at Brookings Institution, the Washington-based research organization where former Fed chairs Janet Yellen and Ben Bernanke also work. 
Trump administration officials didn't respond to a request for comment.
The ad-hominem Twitter attacks on Powell have ramped up in recent months as U.S. economic growth heads for its second straight year below 3% - the pace Trump promised when he pushed through his $1.5 trillion tax-cut package in late 2017. The president's main argument is that the Fed's 10-person monetary-policy committee, led by Powell, has set interest rates too high, thus undermining White House economic policies. 
Powell said he's simply trying to fulfill the Federal Reserve's two mandates of keeping unemployment low and inflation under control, using traditional central-bank methods like analyzing data, monitoring financial markets, heeding the advice of colleagues, sounding out economists and soliciting input from businesses and households across the country.    
And on that basis, the Fed is performing superbly, with unemployment close to a half-century low and inflation running around 1.6% over the past 12 months, well below the 2% target. The U.S. economy, albeit growing more slowly than Trump promised, is still expected to expand this year at a decent pace of 2.4% -- an impressive feat given that a record 10 years have passed since the last U.S. recession.    
So what about the personal attacks? They recall the derision Trump hurled via Twitter at his former attorney general, Jeff Sessions, who was a stalwart aide to the president during the 2016 campaign but became persona non grata after Sessions recused himself from the investigation into Russian collusion. (A quick recap of those: "Didn't have a clue!" "Should be ashamed of himself!" "Doesn't understand what is happening.") Sessions eventually quit.
Powell has said the Fed is, by law, an independent institution that is supposed to set interest rates without political interference. And decisions are made collectively, by committee - a dynamic borne out by the dissenting votes cast at the Fed's two most-recent monetary-policy meetings.     
But it's hard to believe that the personal attacks on Powell don't take a toll on his psyche, or that Trump's attacks don't paint him as the bogeyman if the president's economic policies don't translate to prosperity, especially as next year's election nears. (Powell doesn't really tweet, for what it's worth, though there are several parody accounts using his name that respond to the president's tweets in kind, and in measure).   
Powell has said he wouldn't step down if the president tried to fire him. And despite the discourtesies, Powell probably won't quit, partly just to take a stand for Fed's independence, Wessel speculated. If Powell quit, the thinking goes, Trump might get a chance to appoint a "yes" man. 
"So far he's handling it reasonably well and he seems to have a lot of support," Wessel said. The president, meanwhile, has "stepped on his message" by calling for rate cuts at a time when he's also proclaiming that the economy is strong, according to Wessel. Historically, rate cuts have been viewed as a sign of economic weakness. 
It's not a unique point of view. Bank of America foreign-exchange strategist Athanasios Vamvakidis wrote on July 30: "Monetary stimulus is unnecessary in our view, the same way that the wrong U.S. fiscal stimulus was unnecessary last year."    
Scott MacDonald, chief economist at Smith's Research and Gradings, said Trump appears to be trying to undermine a rival to his own power. Because of the Fed's independence and its ability to move global financial markets with even marginal pronouncements on monetary policy, the chair of the U.S. central bank is often ranked as one of the world's most powerful people.  
"Such behavior runs the risk of putting the U.S. President in the same camp as Turkey's President Recep Tayyip Erdogan, who fired his central bank head, and other more autocratic leaders who prefer to have no dissenting voices to counter their views and desire ongoing economic expansion at all costs," MacDonald wrote in a note to clients on Aug. 26. "A number of analysts have regarded this as banana republic-like behavior and damaging to the credibility of economic policymakers in the Trump administration."
In a remarkable editorial published Monday, Bill Dudley, former president of the Federal Reserve Bank of New York, argued that the Fed might want to push back against the president, since Trump's potential re-election "arguably presents a threat to the US. and global economy, to the Fed's independence and its ability to achieve its employment and inflation objectives."     
Imagine the tweets if that happened. 
***
The following is a chronological compilation of tweets from @realdonaldtrump, via the Trump Twitter Archive, that mention Fed Chair Jerome Powell directly. (Note that the list does not include the dozens of tweets in which Trump criticized the Federal Reserve as an institution).
Nov 2, 2017 05:35:43 PM: Today, it was my pleasure and great honor to announce my nomination of Jerome Powell to be the next Chairman of the @FederalReserve.
Jul 31, 2019 03:41:17 PM: What the Market wanted to hear from Jay Powell and the Federal Reserve was that this was the beginning of a lengthy and aggressive rate-cutting cycle which would keep pace with China, The European Union and other countries around the world....
Jul 31, 2019 03:41:18 PM ....As usual, Powell let us down, but at least he is ending quantitative tightening, which shouldn't have started in the first place - no inflation. We are winning anyway, but I am certainly not getting much help from the Federal Reserve!
Jul 31, 2019 07:17:45 PM Experts stated that the Fed should not have tightened, and then waited too long to undo their mistake. James Bullard of St. Louis Fed said they waited too long to correct the mistake that they made last December. "Mistake, Powell cut rate and then he started talking."
Aug 14, 2019 12:14:50 PM The Great Charles Payne @cvpayne correctly stated that Fed Chair Jay Powell made TWO enormous mistakes. 1. When he said "mid cycle adjustment." 2. We're data dependent. "He did not do the right thing." I agree (to put it mildly!).
Aug 14, 2019 02:21:05 PM We are winning, big time, against China. Companies & jobs are fleeing. Prices to us have not gone up, and in some cases, have come down. China is not our problem, though Hong Kong is not helping. Our problem is with the Fed. Raised too much & too fast. Now too slow to cut.... Spread is way too much as other countries say THANK YOU to clueless Jay Powell and the Federal Reserve. Germany, and many others, are playing the game! CRAZY INVERTED YIELD CURVE! We should easily be reaping big Rewards & Gains, but the Fed is holding us back. We will Win!
Aug 19, 2019 10:26:20 AM Our Economy is very strong, despite the horrendous lack of vision by Jay Powell and the Fed, but the Democrats are trying to "will" the Economy to be bad for purposes of the 2020 Election. Very Selfish! Our dollar is so strong that it is sadly hurting other parts of the world...
Aug 21, 2019 07:52:27 AM Doing great with China and other Trade Deals. The only problem we have is Jay Powell and the Fed. He's like a golfer who can't putt, has no touch. Big U.S. growth if he does the right thing, BIG CUT - but don't count on him! So far he has called it wrong, and only let us down....
Aug 23, 2019 09:57:40 AM....My only question is, who is our bigger enemy, Jay Powell or Chairman Xi?