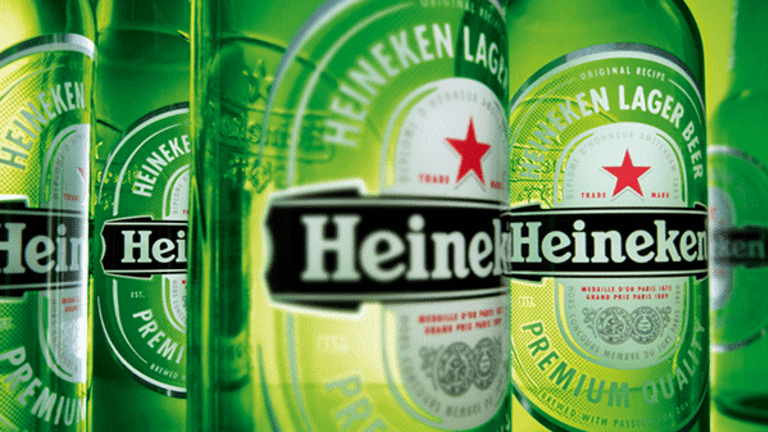 Heineken Shares Tumble After Mexico's Femsa Sells $3 Billion Stake
Mexico's Femsa dumps stake in world's third-largest brewer to focus on domestic investment.
Heineken NV shares fell sharply in early Amsterdam trading Tuesday after Mexico-based bottler Femsa said it sold $3 billion stake in both the parent and the operating company of the world's third-largest beer company.
Fomento Economico Mexicano, known as Femsa, said it offered 3.9% of Heineken NV's total outstanding shares at a price of €84.5 each to institutional investors outside of Mexico. It also sold 2.67% of the equity in Heineken Holding, the brewer's parent at €78 each. Collectively, the sales are worth around €2.5 billion ($3 billion), Femsa said, and will "support our growth initiatives in Mexico in the coming years."
Femsa acquired the stake in 2010 when it sold its brewing operations to Heineken in a deal worth around $7.4 billion at the time. Reuters reported that L'Arche Green NV, a group which controls the Heineken family's interest in the brewer's parent company, will buy around €200 million worth of the shares on offer.
Heineken NV shares fell 3.8% in the opening 15 minutes of trading in Amsterdam to change hands at €84.20 each, trimming their year-to-date gain to around 18% while Heineken Holding shares were seen 4.5% lower at €78.83.
Femsa will still hold around 8.6% in Heineken NV and 12.5% in the parent, the group said in a statement, with one seat on the board of the former and two on the latter.
More of What's Trending on TheStreet: