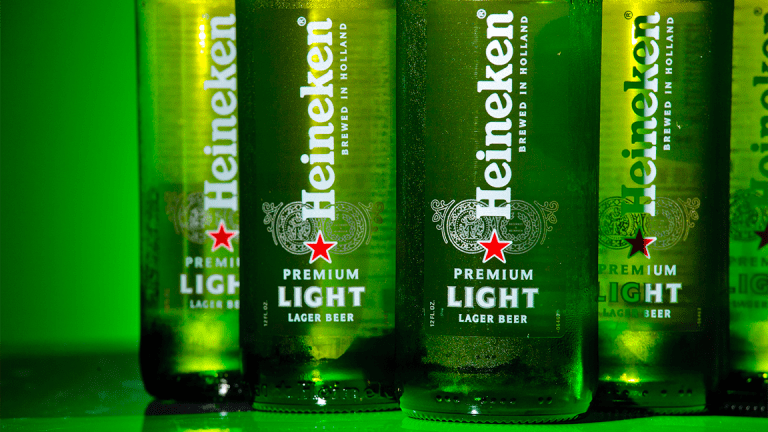 Heineken Makes Push In China; Nestle Exec Talks Dealmaking, Growth -- ICYMI
Here's what you need to know now for Friday, August 3.
Beer is big business, but maybe not for so long. With the American consumer shifting toward liquor and spirits from good old brewskis, it may be high time for the world's biggest beer companies to make changes. Dutch brewer Heineken NV made a push to offset some of this lag on Friday, with the announcement that it would join forces with China Resources Beer in a bid to take advantage of the world's biggest beer market. "As a whole, Heineken has done well within the brewing industry in regards to maintaining earnings growth," writes David Butler, a columnist on TheStreet's sister site Real Money. "But I worry that the rather slower macroeconomic state of the industry will have adverse effects on Heineken's long-term bottom line." China's beer market is now the second-largest premium beer market globally and is forecast to be the biggest contributor to premium volume growth in the next five years, with profitability expected to improve significantly, driven by premiumization, demand for international beer brands and cost optimization, Heineken said. Still, China has proved difficult for foreign beer companies, notes The Deal's Lisa Botter. In December, Japan's Asahi Group Holdings Ltd. agreed to sell its 19.99% stake in China's Tsingtao Brewery Group Co. Ltd. for ¥106 billion ($941.2 million), after a review of its beer business investments in the country. Budweiser parent ABInBev (BUD) - Get Report  on the other hand has had some successes in China though its presence still dwarfs the market share it has in its home market or in South and Central America.
Nestle is crazy about the U.S. consumer and its quest for supremacy in the largest consumer market in the world is one that keeps at least one company executive up at night. "There is a profound change in the way consumers are eating, what eat and how they eat, and how they shop... and there is a big change in the consumer expectations of brands," said Nestle USA Chief Strategy Officer Rui Barbas in an interview with The Deal's Botter. The company continues to evolve its portfolio, propelled the last 18 months by acquisitions, including coffee chain Blue Bottle Coffee Inc.; drinks maker Chameleon Cold-Brew; bought plant-based food maker Sweet Earth and Starbuck (SBUX) - Get Report  retail coffee business outside its coffee shops. "You see us leveraging acquisitions, not only for the sake of acquisitions but to evolve our portfolio towards where the consumer is going from a growth standpoint," Barbas said. Assets attractive to Nestle, however, may also be in the crosshairs of other consumer giants that seek to shape their portfolio around more high-growth businesses, see Hershey (HSY) - Get Report  , Mars, Mondelez (MDLZ) - Get Report  , and others' recent deals. So it remains to be seen if Nestle can continue its portfolio reshuffle, especially while also dealing with pressure from Dan Loeb's Third Point, to sell assets faster and further simplify its corporate structure.
Markets Today: U.S. equity markets rose as the latest jobs report showed a steady stream of hiring gains and a solid outlook for economic growth, offsetting concerns about an expanding trade war between the U.S. and China. The Dow Jones Industrial Average was up 0.4% to 25,429, while the S&P 500 gained 0.4% and the Nasdaq edged up 0.05%. Nonfarm payrolls rose by 157,000, the Labor Department's Bureau of Labor Statistics said Friday in a statement. Investors evidently didn't care that that figure fell shy of the 192,500 average estimate of economists in a FactSet survey, and also represented a slowdown from the 213,000 jobs added the prior month.
This is an excerpt from "In Case You Missed It," a daily newsletter brought to you by TheStreet. Sign up here.