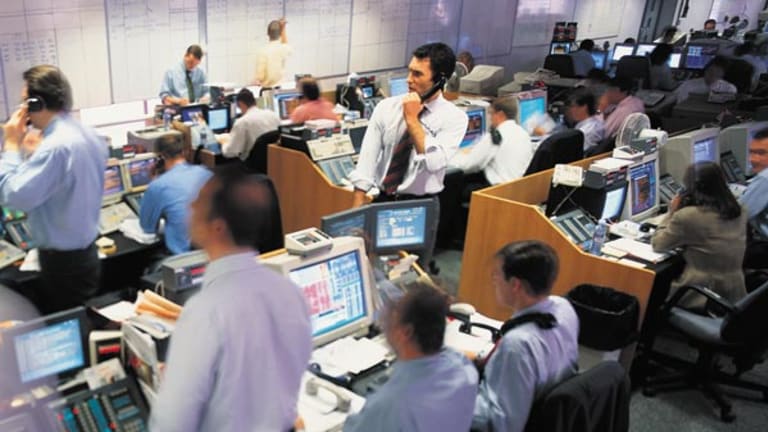 Heartbreaker Amgen May Show Love
But it's not shaping up for a big run.
This column was originally published on RealMoney on April 5 at 11:00 a.m. EDT. It's being republished as a bonus for TheStreet.com readers. For more information about subscribing to RealMoney, please click here.
The increased volatility in the market over the past month or so has been very challenging for a lot of traders. That's not so much because of the volatility itself but rather because of the change in market conditions.
We're all bound by the status quo. We get used to a certain environment and fiercely cling to that environment even after it has changed. We long for the same conditions that existed last week or last month. We yearn for yesterday's conditions because of the time, effort and money it took to learn to thrive in those conditions.
In essence, we have a great deal invested in yesterday's market conditions. When those conditions change, our "investment" becomes worthless.
Now, you don't necessarily think about it in those terms. But subconsciously, you can lead yourself to believe you see conditions that aren't really there. When you're a carpenter, everything looks like a nail.
When you're a trend follower, everything looks like a trend -- even when there's no trend to see. For example, you might be tempted to believe that two consecutive advancing days indicate the resumption of the market's July-December 2006 uptrend. And when that perceived trend fails to materialize, you become even more frustrated.
There's nothing wrong with being more comfortable trading in a certain kind of environment. But learn to recognize when that trading environment no longer exists. Change your game plan and start working on a new set of skills. Before you know it, the new trading environment will become the status quo.
Let's look at some reader picks: the Amex Gold Bugs index (HUI),
Amgen
(AMGN) - Get Free Report
,
American Commercial Lines
(ACLI)
,
Birch Mountain Resources
undefined
and
Washington Group
undefined
.
The Amex Gold Bugs index has been forming an ascending triangle for the past nine months. Current resistance is around 350-355, which means the gold bulls are close to taking the Gold Bugs index above resistance and into a resumption of the uptrend. I'd watch the HUI closely over the next week or so. If this index of unhedged gold stocks (that's what Bugs stands for, Basket of Unhedged Gold Stocks) breaks out, we should see a lot of buying interest in the gold sector.
Amgen continues to be one of my more requested stocks, so I'll cover it again. This stock has been a real heartbreaker for the bulls. With current support right below $56, the pain may be over. If you're long, you might consider putting a stop just below the most recent support. If the stock falls below that level, we're likely to see another round of selling.
But if the bulls manage to push the stock higher, I'm wondering how far it can go. I've highlighted the long
price-by-volume bars at the $60-$62 level, which indicates a lot of trading commitment. So if the stock moves up that far, expect to see some eager bulls happy to sell their stock.
American Commercial Lines has formed a double top over the last six months. Now it's falling back to the level it broke out from in September. How much farther is the current downtrend likely to go? I'd count on the stock testing the $27.50 level before it sees any serious buying.
Birch Mountain Resources has been steadily moving higher over the past few months and finally has managed to break out above prior resistance. The path of least resistance is now up. If you are long, try keeping a stop below the breakout level. And if you're looking to buy, you're probably a bit late. The safer trade would be to wait for a pullback to test the breakout.
Washington Group has been ramping since breaking above $60 in mid-March. The stock has shown no sign of letting up. This would be a tough one to buy right now because you wind up being the trader who lets the early birds out of the trade.
But if you're already long, why not just keep a trailing stop just below the eight-day moving average? Each time the stock has pulled back that far, the uptrend has continued. So if your trailing stop is hit, you'll probably be glad to be out of the stock.
Be careful out there.
Please note that due to factors including low market capitalization and/or insufficient public float, we consider Birch Mountain Resources to be a small-cap stock. You should be aware that such stocks are subject to more risk than stocks of larger companies, including greater volatility, lower liquidity and less publicly available information, and that postings such as this one can have an effect on their stock prices.
At the time of publication, Fitzpatrick had no positions in any of the stocks mentioned, though positions may change at any time.
Dan Fitzpatrick is the publisher of
, an advisory newsletter and educational forum dedicated to teaching effective risk management and trading methodologies to aspiring traders and investors. He is a former hedge fund manager and a member of the Market Technicians Association, and he now trades from his home in San Diego, Calif. While Fitzpatrick holds various securities licenses, he does not give recommendations to buy or sell stocks. Under no circumstances does the information in this column represent a recommendation to buy or sell stocks. He appreciates your feedback;
to send him an email.