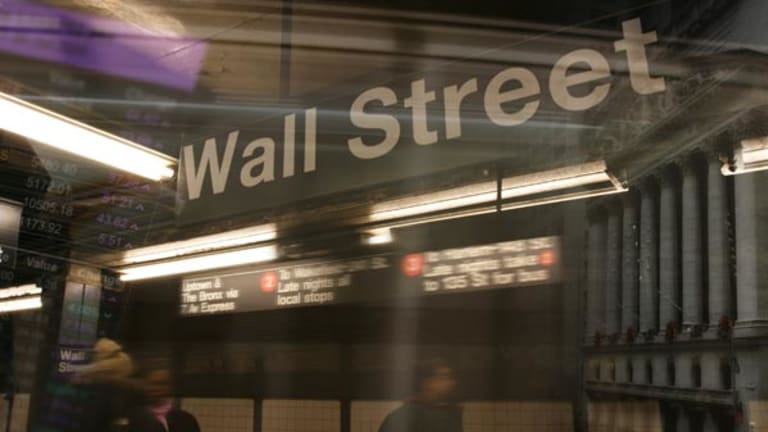 Health Stocks in Motion
Zoll Medical falls 13% on a first-quarter earnings warning.
Updated from 2:28 p.m. EDT
Shares of
Zoll Medical
( ZOLL) were among the worst-performing health and pharmaceutical stocks Tuesday, falling 8.4% after the company warned that first-quarter earnings and sales would fall well below expectations.
The maker of resuscitation devices said that it expects to post a loss of 5 cents to 10 cents a share on sales of about $50 million. Analysts polled by Thomson First Call had been expecting earnings of 16 cents a share on sales of $55.4 million. Results were hurt by lower sales to the North American hospital market. Shares traded down $2.92 to $31.79.
StemCells
(STEM)
rose 45.3% after the company said it would initiate an early-stage clinical trial aimed at investigating its human neural stem cells in Batten Disease -- a rare, fatal genetic disorder that affects the nervous system of children. If the company's investigational new drug application is approved, it "would mark the first-ever FDA-approved clinical trial to use a purified composition of human neural stem cells as the potential therapeutic agent," the company said. Shares traded up $1.86 to $5.97.
Shares of
Targeted Genetics
(TGEN)
rose 7% after the company said it would collaborate with privately held Celladon to develop gene therapies that would be used in the treatment of congestive heart failure. Under the terms of the deal, Targeted agreed to commit $2 million toward the development, manufacture and preclinical development of adeno-associated virus vectors that would contain genes and gene mutations. Celladon, for its part, agreed to cover all additional development, manufacture and preclinical development costs. Targeted will be eligible for milestone payments contingent upon prespecified product development and sales targets. Finally, Celladon investors Enterprise Partners and Venrock Associates bought $6 million worth of Targeted stock at $1.52 a share. Shares traded up 11 cents to $1.67.
LifePoint Hospitals
(LPNT)
rose 4.4% after Bear Stearns upgraded shares of LifePoint to outperform. The company's earnings and price momentum, coupled with the potential for upward earnings revisions, led the firm to upgrade the stock. Bear Stearns also sees substantial upside potential in 2005 earnings. Analysts' earnings estimates assume just a 10% increase over a year ago, well below the company's recent earnings growth of 20% to 30%. Bear Stearns has a price target of $43 a share on LifePoint. Shares traded up $1.48 to $35.52.
Other health care volume movers included
Biopure
( BPUR), down 7 cents to 62 cents;
Pfizer
(PFE)
, unchanged at $26.45;
Aastrom Biosciences
undefined
, up 26 cents to $1.63;
Merck
(MRK)
, down 13 cents to $31.13;
Schering-Plough
( SGP), down 57 cents to $20.48;
Genentech
( DNA), down $1.17 to $51.75; and
Bristol-Myers Squibb
(BMY)
, down 28 cents to $25.15.