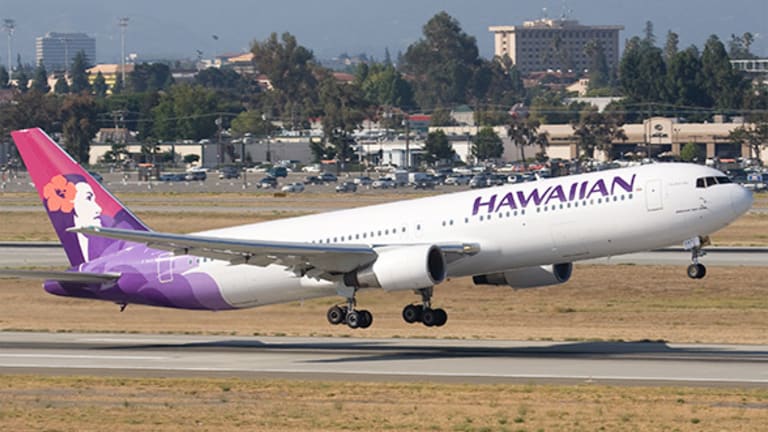 Hawaiian Holdings (HA) Stock is the 'Chart of the Day'
Hawaiian Holdings (HA) stock is Tuesday's 'Chart of the Day.'
NEW YORK (TheStreet) -- Hawaiian Holdings (HA) - Get Report stock is rising 0.24% to $41.23 in midday trading on Tuesday as oil prices plunge, making fuel cheaper for Honolulu-based airline carrier.
Oil prices are retreating after Saudi Arabia's oil minister said the OPEC country will not reduce production, Reuters reports.
WTI crude is declining 4.31% to $31.95 per barrel on the New York Mercantile Exchange, while Brent crude is falling 3.52% to $33.47 per barrel on the Intercontinental Exchange this afternoon.
Hawaiian Holdings, the parent company of Hawaiian Airlines, expects average fuel costs to be between $1.35 and $1.45 per gallon this year, down from $2.04 per gallon in 2015 and $3.03 per gallon in 2014 as cheaper oil prices persist.
TheStreet's Chris Versace and Bob Lang have identified Hawaiian Holdings as the "Chart of the Day." Here's what they had to say about the company:
It's a challenge to find any stock making new 52-week highs, let alone all time high levels. In the very competitive airline group, we have one in Hawaiian Holdings, which just passed December resistance to close at a new high.

This stock has been surging of late on strong turnover, a sign of institutional buying. The moving average convergence divergence (MACD) is on a buy signal, and we show the chart in a "fat tail" condition (above the upper Bollinger band), which may accelerate the rally.

Momentum indicators are overbought, but that is not a reason to sell. A pullback to support (37-38 zone) might be a nice place to add this name.
Chris Versace and Bob Lang's "Chart of the Day: Hawaiian Holdings" was originally published on 2/23/16 on Trifecta Stocks.
Want more from Versace, Lang and Wall Street's sharpest minds BEFORE your stock moves?Learn more about Trifecta Stocks now!