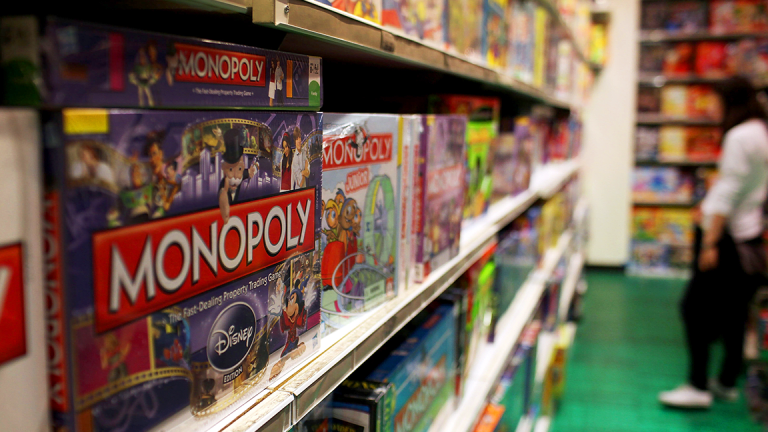 Hasbro Surges After Q2 Sales Beat, Upbeat Sector Outlook
Hasbro posted stronger-than-expected second quarter earnings Monday, and said the toymaker is "moving beyond" the liquidation of its biggest former customer, Toys R Us.
Back in the game! 
Hasbro Inc. (HAS) shares surged Monday after the Monopoly game maker topped analysts' forecast for second quarter sales even as the broader domestic market continues to suffer from the bankruptcy of industry giant Toys R Us.
Hasbro said sales for the three months ending in June fell 7% from the same period last year to $904.5 billion, a figures that was well ahead of the Street's forecast of $833 million. Earnings for the three month period were also sharply lower from last year, the company said, but still came in at $60.3 million, or 48 cents a share, again well ahead of the consensus forecast of 29 cents a share.
"2018 is unfolding as expected as our teams manage the liquidation of Toys R Us in many markets and address the rapidly evolving European retail landscape," said CEO Brian Goldner. "We are investing in our business - in innovation, entertainment and a modern global commercial organization, to drive profitable growth in 2019 and beyond.
"We are focused on moving beyond the near-term disruption of losing a major customer, with a clear path forward including new retailer activations to meet the consumer demand made available by the Toys"R"Us departure," Goldner added.
Hasbro shares were marked 11.25% higher in the opening 45 minutes of trading on Wall Street Monday and changing hands at $104.50 each, a move that extends the stock's year-to-gate gain to 15.2%.
Hasbro said sales from its international segment came in at $380.4 million, down 10.8% from last year, thanks in part to "efforts to clear excess retail inventory in Europe, as well as the loss of Toys"R"Us revenues in many Europe and Asia Pacific markets." U.S. and Canada revenue fell 7% to $459.3 million, the company said.
"Our global teams executed well despite the disruption in the market," said CFO Deborah Thomas. "With $1.2 billion in cash, and a healthy balance sheet, our financial position is strong. Our diverse portfolio enabled us to partially offset the negative margin impact from lower revenues, but not entirely. We are working with our retailers to successfully execute their plans for Hasbro's innovative portfolio this holiday season."