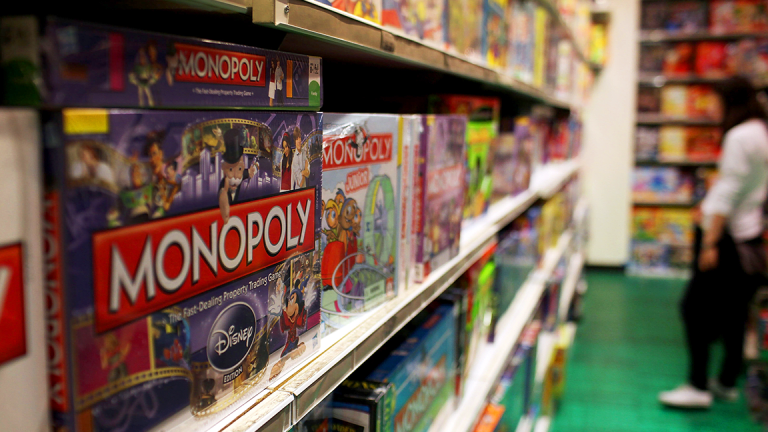 Hasbro to Trim Workforce After Revenue Slides on Toys 'R' Us Closures
After suffering a 12% drop in revenue, toymaker Hasbro is slashing workers.
After suffering a 12% drop in third-quarter revenue and a small dip in earnings, toymaker Hasbro Inc.  (HAS) - Get Hasbro, Inc. Report  will be cutting its workforce.
The company will cut less than 10% of its workers, following rumors of layoffs reported in the Providence Journal last week. A Hasbro spokeswoman told The Wall Street Journal that "organizational changes" would affect a "single-digit percentage" of the company's global workforce of more than 5,000.
The company's third-quarter report noted that the expects to get hit with "restructuring charges relating to severance and other employee costs" of up to $60 million through the next quarter. "As a result of these steps, the company expects to generate approximately $30 million to $40 million in annualized pre-tax savings by 2020," Hasbro said.
Blaming much of its losses on the closures of Toys "R" Us stores, Rhode Island-based Hasbro saw its third-quarter net revenue sink to $1.57 billion from $1.79 billion in the same quarter last year. Revenue for U.S. and Canada fell 7% while international revenue plummeted 24%.
"The lower revenues reflect lost Toys "R" Us revenues in the U.S., Europe and Asia Pacific," said the company in a press statement released Monday along with its third-quarter earnings.
Hasbro also attributed the losses to "changing consumer shopping behaviors," foreign exchange rates and other factors.
Net earnings for the third quarter fell to $2.06 a share from $2.09 a year earlier.
Shares of Hasbro fell 4.6% on Monday.
The company noted somebright spots: It was helped somewhat by U.S. tax reforms, its retail inventory has been lowered in the U.S. and Europe, and its entertainment and licensing revenue was up 45% for the third quarter.
"We continue to make meaningful organizational changes to ensure we have the right teams in place with the right capabilities to lead Hasbro into the future," said Brian Goldner, Hasbro's chief executive, in the statement.