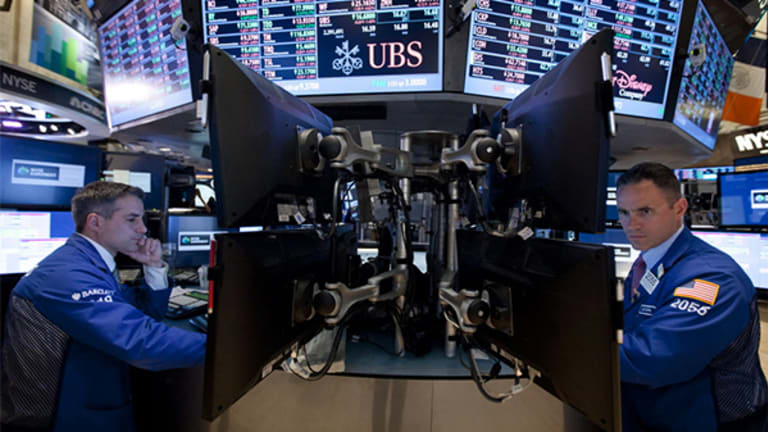 Has Warren Buffett Made a Mistake With His IBM Stock Purchase?
Warren Buffett always avoided tech stocks, but he has been a major stakeholder in IBM for a few years. Has that been a mistake?
Update 3:57 p.m.: This story has been updated to reflect Buffett's comments on IBM in a March 2 interview with CNBC.
NEW YORK (TheStreet) -- For years and years Warren Buffett swore up and down that he would avoid tech stocks because of their uncertainty.
His investing strategy preaches that discipline, patience, and value consistently outperform the market, and he tries to acquire great companies that trade at a discount to their intrinsic value. Once he gets a stake, Buffett seeks to hold onto it for a long time. He will only invest in businesses that he understands, and always insists on a margin of safety.
In his annual letter to shareholders in 1996, Buffett explained why he avoids tech stocks:
We are searching for operations that we believe are virtually certain to possess enormous competitive strength ten or twenty years from now. A fast-changing industry environment may offer the chance for huge wins, but it precludes the certainty we seek.

I should emphasize that, as citizens, Charlie and I welcome change: Fresh ideas, new products, innovative processes and the like cause our country's standard of living to rise, and that's clearly good. As investors, however, our reaction to a fermenting industry is much like our attitude toward space exploration: We applaud the endeavor but prefer to skip the ride.
He emphasized his point when Bloomberg asked him in May 1998 if he would invest in tech stocks. "The answer is no, and it's probably unfortunate," he said. "I don't know what that world will look like in 10 years, and I don't want to play in a game where the other guy has an advantage over me."
But that all changed on November 4, 2011 when Buffett revealed in an interview with CNBC that he had purchased a sizable stake in IBM  (IBM) - Get International Business Machines (IBM) Report. In fact, the tech company also found out about Buffett's purchase through the interview!
The Oracle of Omaha said he bought approximately 64 million shares, or a 5.5% stake in the company, for $10.6 billion.
Buffett explained in the interview why he decided to change his mind about the tech stock.
Well, I didn't buy railroad companies for a long time either. I-it's interesting. I have probably-I've had two interesting incidents in my life connected with IBM, but I've probably read the annual report of IBM every year for 50 years. And this year it came in on a Saturday, and I read it. And I got a different slant on it, which I then proceeded to do some checking out of. But I just, I read it through a different lens...

...Just like I did with the railroads. And incidentally, the company laid it out extremely well. I don't think there's any company that I can think of, big company, that's done a better job of laying out where they're going to go and then having gone there. They have laid out a road map and I should have paid more attention to it five years ago where they were going to go in five years ending in 2010. Now they've laid out another road map for 2015. They've done an incredible job. First, Lou Gerstner, when he came in, he saved the company from bankruptcy. I read his book a second time, actually, after I read the annual report. You know, "Who Said Elephants Can't Dance?" I read it when it first came out and then I went back and reread it. And then we went around to all of our companies to see how their IT departments functioned and why they made the decisions they made. And I just came away with a different view of the position that IBM holds within IT departments and why they hold it and the stickiness and a whole bunch of things. And also, I read very carefully what Sam Palmisano...has said about where they're going to be and he's delivered big time on his first venture along those lines.
As of December 31, 2014, Buffett owned 76.972 million shares of IBM for a $12.349 billion value and a 7.8% ownership stake in the company. IBM ranked fourth in his portfolio by weighting at 11.3%.
In a lengthy interview with CNBC on March 2, Buffett explained why he increased his stake in IBM. "I buy it because I like it," he said. And the stock is "doing exactly what I like."
IBM struggled with revenue declines and foreign exchange headwinds in 2015, but Buffett expected these factors to affect the stock. "There's been no surprises at IBM since we started buying it," he said.
The billionaire investor also said IBM's share buyback program makes the stock attractive. Buying back stock just for the sake of it doesn't make sense, he said. But when a company buys back a lot of stock when the shares are undervalued based on a period of at least five to 10 years, then it becomes accretive to shareholders since it makes their shares more valuable, he explained.
When companies buy back undervalued stock, then it allows other shareholders such as Berkshire to make money without spending any more capital, he added.
Buffett has typically avoided companies that he does not understand, especially in the tech sector. But he said he feels that he knows enough about IBM to make an informed investment decision.
But outside of IBM, the billionaire investor has stayed away from tech stocks. He said in the November 2011 interview that he Microsoft (MSFT) - Get Microsoft Corporation (MSFT) Report is off the table because of his friendship with Bill Gates, even though Buffett admitted the stock was "attractive."
Buffett began to buy IBM shares in the first quarter of 2011, with 4,517,774 shares for a price of $159 on average. Purchasing became more aggressive in the second and third quarter when he cumulatively bought more than 82.2 million shares for $167 and $173 on average. From the fourth quarter of 2011, to the third quarter of 2012, he made smaller purchases at average prices ranging from $185 to $197.
By the end of the third quarter, he owned a total of 67,517,896 shares, which equaled 5.98% of IBM's shares outstanding. This also made the tech company an 18.6% weighting in Buffett's portfolio.
But how has IBM actually performed since Buffett's purchase? Take a look at the chart from November 4, 2011 until March 27, 2015.
That steep decline occurred in October 2014 after IBM issued a horrendous third-quarter earnings report. On October 20, the stock hit $169, approximately 9% less than the $185 at which they traded when Buffett announced his stake in IBM. His 70.1 million shares on October 20 lost about $1 billion in value that day.
As Buffett mentioned in November 2011, IBM's five-year plan was one reason he found the stock attractive. But CEO Ginni Rommetty more or less abandoned the plan, called Roadmap 2015, in light of the aforementioned third-quarter earnings report, according to Forbes.
In that quarter, IBM's revenue dropped to $22.4 billion, approximately $900 million less than the consensus estimate of analysts polled by Thomson Reuters. Adjusted earnings per share of $3.68 missed analysts' expectations by a staggering 63 cents.
In the period from November 4, 2011 to March 27, 2015, IBM fell 13.9% without dividends. The stock had an adjusted closing price of $173.62 on November 4, 2011 and $160.40 on March 27, 2015.
So at Buffett's scale of ownership of IBM, the Oracle of Omaha has lost hundreds of millions of dollars by sticking with IBM and not switching to, say, Apple  (AAPL) - Get Apple Inc. (AAPL) Report or Microsoft. Here's how those two stocks have performed in the aforementioned period:
Apple grew 115.6% without dividends, while Microsoft grew 56.08%. If Buffett had bought the same number of shares of one of those two stocks instead of IBM, then he would have earned hundreds of millions of dollars.
If you're considering investing in any of these stocks, here is some high-level analysts, compliments of TheStreet's Research Team:
IBM
David Katz commented on IBM in a recent post on RealMoneyPro.com. Here's what Katz had to say about the stock:
IBM has been a tough stock to own over the past two years. In fact, it was the worst performing Dow Jones Industrial Average name for 2013 and 2014. The stock is off to a slow start in 2015 as well.

During the fall of 2014, IBM reduced its earnings guidance for 2015 to $16 per share from $20. This was a big surprise to investors who have been accustomed to double-digit earnings growth and was significantly below what the company had committed to and been targeting for the past few years. IBM had been managing to grow its earnings over the past few years through cost cutting and an aggressive share buyback plan, even in light of declining revenues. So many investors feared that the sharply lowered guidance was Big Blue essentially admitting that this strategy had run its course and would no longer carry the day.

The greatest drag on IBM's results was from the rapidly declining hardware businesses and the perennial money-losing semiconductor unit. However, results were also hurt by weaker-than-expected trends in the core services and software businesses.

In late 2014, management made progress by selling the X-86 server/hardware business to Lenovo and paying GlobalFoundries to absorb the semiconductor unit. While these sales will be a further drag on revenues in 2015, the exiting of these businesses will also eliminate a big management distraction. The CEO had identified revenues from these businesses as empty calories.

IBM held an analyst day in late February 2015 to give investors an update on the state of the business. The general message was that 2015 will be a transition year, with the divestitures affecting top- and bottom-line results, and the company feeling an adverse impact from currency. Nevertheless, investors came away with a sense of urgency and a clear strategy at Big Blue.

- David Katz, 'Even This Dog (IBM) Will Have Its Day' originally published 3/10/2015 on RealMoneyPro.com
Want more information like this from David Katz BEFORE your stock moves? Learn more about RealMoneyPro.com now.
Separately, TheStreet Ratings team rates INTL BUSINESS MACHINES CORP as a Hold with a ratings score of C+. TheStreet Ratings Team has this to say about their recommendation: 
"We rate INTL BUSINESS MACHINES CORP (IBM) a HOLD. The primary factors that have impacted our rating are mixed - some indicating strength, some showing weaknesses, with little evidence to justify the expectation of either a positive or negative performance for this stock relative to most other stocks. The company's strengths can be seen in multiple areas, such as its notable return on equity and expanding profit margins. However, as a counter to these strengths, we also find weaknesses including a generally disappointing performance in the stock itself, deteriorating net income and generally higher debt management risk."
You can view the full analysis from the report here: IBM Ratings Report
Apple
Apple is a core holding of Jim Cramer's Action Alerts PLUS Charitable Trust Portfolio. During the most recent weekly roundup, this is what Jim Cramer, Portfolio Manager and Jack Mohr, Director of Research - Action Alerts PLUS had to say about the stock:
Apple (AAPL:Nasdaq; $123.25; 820 shares; 3.93%; Sector: Technology): Shares traded slightly lower this week. Next month, Apple will enter its first new product category in five years, while media reports over the past several weeks have highlighted potential new areas of future innovation. Also, we believe Apple's iPhone portfolio and position in China have never been stronger. Finally, Apple has shown its commitment to returning cash to shareholders, and we expect more in April. We believe the combination of these forces will drive the market to reward Apple's stock with an expanded P/E multiple. We reiterate our $150 target.

- Jim Cramer and Jack Mohr, 'Weekly Roundup' originally published 3/27/2015 on ActionAlertsPLUS.com
Want more information like this from Jim Cramer and Jack Mohr BEFORE your stock moves? Learn more about ActionAlertsPLUS.com now.
Separately, TheStreet Ratings team rates APPLE INC as a Buy with a ratings score of A+. TheStreet Ratings Team has this to say about their recommendation: 
"We rate APPLE INC (AAPL) a BUY. This is based on the convergence of positive investment measures, which should help this stock outperform the majority of stocks that we rate. The company's strengths can be seen in multiple areas, such as its solid stock price performance, impressive record of earnings per share growth, compelling growth in net income, revenue growth and notable return on equity. Although the company may harbor some minor weaknesses, we feel they are unlikely to have a significant impact on results."
You can view the full analysis from the report here: AAPL Ratings Report
Microsoft
Bob Byrne commented on Microsoft in a recent post on RealMoney.com. Here is what Byrne had to say about the stock:
Back in the March 4 Trader Daily, I disclosed the sale of a multi-year investment position in Microsoft. Noted at the time was a general concern over the violation of short, intermediate and higher timeframe moving averages, along with the fact that the stock was nowhere near as cheap as it was when I initiated the position (during the fall of 2011). I am revisiting this now, because several readers asked why I became concerned with the stock breaking beneath its higher timeframe moving averages in late-January 2015, but was willing to initiate a position, and remain long throughout 2012 when price routinely bounced above and beneath the 200-day exponential moving average.

Microsoft (MSFT) -- Weekly Chart

As noted on the chart above, I purchased the stock for fundamental reasons. Free cash flow yield was near 11% during the fall of 2011 (it's currently around 7.85%). The price-to-earnings ratio was around 9 (it's currently near 16.60). And EV/EBITDA had fallen under 5.5 (currently sitting near 8.25). In a nutshell, I viewed an investment in the stock as a glorified bond purchase. As long as the company didn't do anything too foolish, I expected the cash flow yield and rising dividend to offer an adequate return.

The obvious follow-up is, why sell the stock now? I bought the stock because I believed it to be a safe, cheap investment. As the stock reached a level where valuation seemed a bit stretched, I began looking for a reason to sell. That reason came in the form of a technical breakdown. Since I had no idea when the technicals would mesh with my view of the fundamentals, I held the stock until the technicals (within my investment timeframe) changed. And in my view, the technicals changed with the late-January 2015 weekly close beneath the mid-October 2014 swing low (highlighted on the chart above).

When I'm looking for investments, fundamentals always come first. However, when it comes to short-term trading, my focus is always on the technicals. I am obviously no longer interested in holding MSFT as an investment. But if I were interested in trading MSFT on a shorter timeframe, I would simply wait for the stock to begin consolidating back above its intermediate and higher timeframe moving averages. As long as the stock is trading beneath its 10-week, 30-week and 40-week EMAs, the stock is weak.

- Bob Byrne, 'The Trader Daily' originally published 3/27/2015 on RealMoney.com
Want more information like this from Bob Byrne BEFORE your stock moves? Learn more about RealMoney.com now.
Separately, TheStreet Ratings team rates MICROSOFT CORP as a Buy with a ratings score of A-. TheStreet Ratings Team has this to say about their recommendation: 
"We rate MICROSOFT CORP (MSFT) a BUY. This is based on the convergence of positive investment measures, which should help this stock outperform the majority of stocks that we rate. The company's strengths can be seen in multiple areas, such as its revenue growth, reasonable valuation levels, largely solid financial position with reasonable debt levels by most measures, expanding profit margins and notable return on equity. We feel these strengths outweigh the fact that the company has had sub par growth in net income."
You can view the full analysis from the report here: MSFT Ratings Report