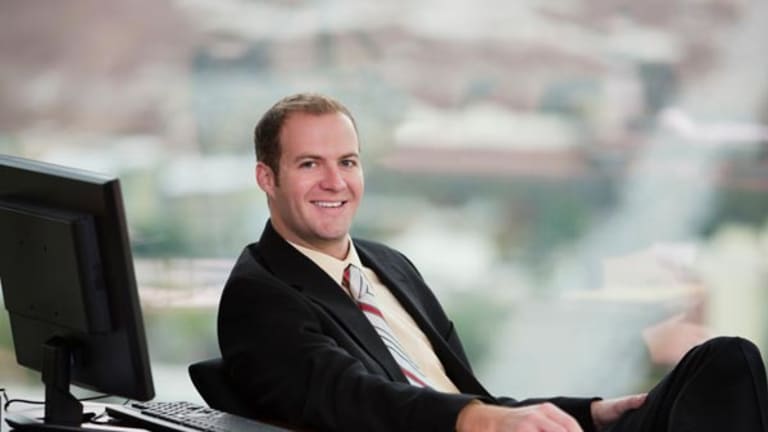 Happy Hour for Heineken Investors
This Dutch brewer has tapped into impressive growth opportunities.
This column was originally published on RealMoney on Nov. 1 at 10:19 a.m. EST. It's being republished as a bonus for TheStreet.com readers.
"It takes something new to produce a startling advance in the price of a stock," says William O'Neil in his investing bible,
How to Make Money in Stocks
.
Besides a new, quick-selling product or service, he says "it can also be a change of management that brings new vigor, new ideas or at least a new broom to sweep everything clean."
Enter Jean-Francois van Boxmeer, who took over the helm of
Heineken
( HINKY) one year ago.
In doing so, he not only brought out the broom with a 200 million euro cost-cutting program at the Dutch brewer, but also helped to revitalize the U.S. business with the rollout of Heineken Premium Light and to oversee the successful integration of several Russian acquisitions.
As a result, in van Boxmeer, Heineken has one of the key ingredients needed to produce a startling advance. Indeed, the stock has enjoyed a 35% gain in the past year. Even so, I believe there's still more upside.
Part of that is the macro wind filling the company's sails, as consumers worldwide trade up in beer. While the overall global beer market is increasing at an uninspiring 2.7% yearly clip, the more profitable international premium segment -- led by the core Heineken brand -- is seeing 6.4% annual growth.
The rest of the upside is specific to Heineken.
From Russia With Love
First, consider Russia. While vodka undoubtedly its national drink, the country also has one of the world's fastest-growing beer markets, having doubled in size since 1999, according to UBS.
Russia also happens to be Heineken's biggest market by volume, the result of its nine acquisitions over the past two years. With 13 million hectoliters (or more than 343 million gallons) of Heineken beer sold in the country during its last fiscal year, the brewer now owns a 14% share of the Russian beer market and stands as the clear No. 3 player.
But it's not done yet.
In fact, van Boxmeer has called Russia "the cornerstone of future development of Heineken." The company is integrating the Russian acquisitions ahead of plan and aims to boost its share of this beer market to 20% over the next five years or so.
In moving toward that goal, Heineken recently introduced Budweiser beer to Russia under a licensing agreement with
Anheuser-Busch
(BUD) - Get Anheuser-Busch InBev SA/NV Report
.
The company might also strike a similar deal with
Kirin Brewery
(KNBWY)
, Japan's largest beer maker.
Establishing Growth in Emerging Markets
When it comes to the beer business, emerging-market exposure is all important. While mature beer markets like the U.S. and Western Europe struggle, some emerging markets like Russia are seeing intoxicating growth in beer volumes. Brewers that are tapping into this growth are benefiting, and so are their shareholders.
Despite its strong and growing presence in Russia, Heineken is often criticized for lacking the same emerging-market focus as some of its European peers, like Belgium brewer
InBev
( IBRWF). But in fact, Heineken owns an equity interest in a number of subsidiaries that dominate in some of the world's fastest-growing beer markets.
For example, Singapore-based
Asia Pacific Breweries
( APBRF) is 43% owned by Heineken. It's aggressively investing in India, building a new brewery -- expected to start production next year -- in the country's biggest beer-consuming province.
This Heineken subsidiary also recently acquired a 76% stake in India's
Aurangabad Breweries
. According to JP Morgan, India is the world's fastest-growing beer market, compounding at an 8.7% clip annually.
While India seems sure to be a driver of future growth, Asia Pacific Breweries operates in 10 countries in the Asia/Pacific region, including Malaysia, Vietnam and China. This region, by the way, is experiencing the second-best beer-volume growth in the world, behind only Central/Eastern Europe.
In addition to its activities in Russia, Heineken's presence in the Central/Eastern Europe region also comes by way of its 62% stake in Poland's No. 2 brewer,
Grupa Zywiec
. Its 33% share of the Polish beer market has created a key driver of profit growth for Heineken over the past few years.
Another subsidiary, Chilean brewer
Compania Cervecerias Unidas
(CU)
has given Heineken exposure to the fast-growing Latin American beer market. Specifically, CCU operates in two key markets, Chile and Argentina, where it has seen strong beer-volume growth.
Reborn in the U.S.A.
Then there's the U.S., where consumers are increasingly choosing spirits and wine at beer's expense.
But while the overall U.S. beer market is hardly growing, it remains highly profitable. In fiscal year 2005, Heineken was six times more profitable in the U.S. than in Russia.
So it's especially fortuitous, then, that Heineken's new foray into an otherwise unexciting beer market is off to a speedy start. In March, the company launched Heineken Premium Light, and sales are already exceeding its expectations.
In fact, Heineken execs recently increased their official Heineken Premium Light sales projections for fiscal year 2006 by 50%, from 400,000 hectoliters to more than 600,000 hectoliters. Importantly, the company has seen no cannibalization of its core Heineken brand.
In addition to peddling its own brands in the U.S., Heineken also distributes a portfolio of Mexican beer like Tecate and Dos Equis from
Fomento Economico Mexicano
(FMX) - Get Fomento Economico Mexicano SAB de CV Report
, or Femsa. While the total U.S. beer market languishes, imports are seeing growth north of 10%. Heineken's distribution agreement with Femsa taps into American consumers' preference for imports.
All told, during the first half of Heineken's fiscal 2006, the company saw organic volume of 6.6%, the highest growth in more than a decade. Last year, sales of the core Heineken brand hit a new high, topping 20 million hectoliters; this fiscal year, the company is on pace to surpass it.
While Heineken management is busy growing the top line under van Boxmeer's direction, it's also aggressively cutting costs. The goal is to trim fixed costs by 200 million euros (roughly $254 million), net of inflation, by the end of 2008. The company has already identified projects that will save a total 360 million euros, once inflation is tossed in, positively impacting the bottom line.
This cost-cutting program, along with Heineken's savvy acquisitions in Russia, its exposure to other fast-growing beer markets through smaller subsidiaries and the successful new product launch and distribution agreements in the mature U.S. market, have Heineken investors seeing green -- and it's not just the bottle.
At time of publication, Norton's fund was long Heineken, InBev, Anheuser-Busch, Kirin, CCU and Femsa, though positions may change at any time.
Charles L. Norton, CFA, is a principal of GNI Capital, Inc., an SEC-registered investment advisor that provides investment management expertise for separately-managed equity, fixed income and ETF portfolios and a hedge fund, and is co-portfolio manager of the Vice Fund (VICEX) and the Generation Wave Growth Fund (GWGFX). In addition, Mr. Norton authors a twice-monthly newsletter, Supernova Stocks, which focuses on investments in market-leading stocks with unique and extraordinary growth potential. Mr. Norton had been a vice president in the equity research department of a New York-based hedge fund, where he also managed separate accounts for high net worth clients. Prior to his experience on the buy side, Mr. Norton worked in the investment banking division of Salomon Smith Barney, where he was an analyst in the health care group, reporting directly to the head of the group. While Mr. Norton cannot provide investment advice or recommendations, he appreciates your feedback;
to send him an email.