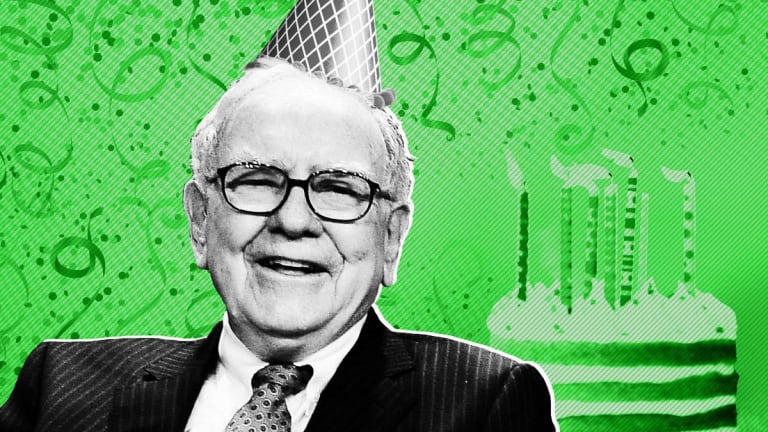 Tariffs Have Increased Some Costs, Says Warren Buffett
Warren Buffett turns 88 on Thursday, Aug. 30. He's sitting down with CNBC's Becky Quick for a live interview. Follow along here.
Happy birthday Warren Buffett!
The market mogul turned 88 on Thursday, Aug. 30. To celebrate, he's sitting down for a live interview with CNBC's Becky Quick. Follow along here. 
Buffett on Tesla's CEO, Elon Musk
"I don't think [tweeting] is helping him that much," said Buffett on Musk's Twitter presence. "I have better things" to do than to tweet all day, he laughed.
"I'm not tweeting that much," Buffett said. He laughed as he noted that he doesn't think he has enough to say and that he's not desperate enough for attention to tweet very often.
Should Quarterly Earnings Stay?
"I like to get the figures quarterly. I hope that that stays," Buffett said.
However, Buffett said that he doesn't like guidance. He thinks that guidance is not helpful. 
How's Business Faring?
"Business is good," said Buffett.
Buffett notes that Berkshire is seeing effects because of inflation and tariffs. "We sell paint," he said. "The can it comes in...that's a lot more expensive than it was a year ago."
"I think that Jay Powell is a terrific chairman," Buffett defends Powell after the Fed Chairman was the center of some tweets from President Trump bashing Powell for raising rates. Buffett trusts Powell, he said.
Buffett on Campbell Soup
When asked about Campbell Soup and whether or not it looks like a good acquisition for Kraft Heinz or Berkshire Hathaway, Buffett said that Berkshire is not interested in Campbell Soup (CPB) - Get Report .
Buffett on the Market
"It's not my field of specialty, but stocks--American businesses--look cheaper than real estate," Buffett tells CNBC's Becky Quick.
He also noted that "stocks always look more attractive than bonds."
"We're buying stocks this morning. I'd rather buy them cheaper," Buffett notes.
"I was buying [Apple] as fast as I could," said Buffett. He also said that he is buying slightly more Apple (AAPL) - Get Report recently.
"If I used the iPhone like all of my friends do, which is a lot, then I'd give up my plane [which costs a million dollars a year]...the iPhone is undervalued," Buffett said. 
Buffett's Relationship With Tech
Berkshire Hathaway (BRK.A - Get Report) upped its stake in tech king Apple (AAPL - Get Report) 55% by the end of June. Berkshire also just invested in One97 Communications, an Indian tech company whose flagship brand is Paytm, a mobile payments service. Berkshire invested $356 million, as part of One97's latest capital raise. One97 is also backed by tech giants Alibaba (BABA - Get Report) , Ant Financial and SoftBank.
What Coke's CEO Has Learned From His Most Important Shareholder, Warren Buffett
Buffett is known for his stock market aptitude. He, on his own, pretty much built Berkshire Hathaway into what it is today.  
Um, Warren Buffett--Who?
In case you live in a hole, here are some quick facts about Warren Buffett. 
The Oracle of Omaha loves his junk food. He's known for his love of Coca-Cola KO products--especially Cherry Coke. 
He loves the company so much he even has a 9% stake in Coca-Cola. And he once said that he's "one-quarter Coca-Cola."
TheStreet breaks down more of his habits in this article. 
However, what Buffett eats is just as interesting as how he spends his money. In 2015, in a lengthy discussion with Fortune, Buffett noted that he is "one-quarter Coca-Cola." While he only owns 9% of the Coca-Cola company itself, he says that a quarter of the estimated 2,700 calories he consumes each day come from the five Coca-Cola products he drinks each day. That includes original-recipe Coca-Cola consumed at work and the Cherry Coke he drinks at home.
Buffett will have a Coca-Cola with a breakfast of potato sticks made by Utz of Hanover, Pa., and will occasionally sub in a bowl of ice cream. However, Buffett has also stated in the HBO documentary Becoming Warren Buffett that he also pops into a local McDonald's each morning for breakfast. Before he ventures out, he tells his wife how much money to put in a cup in his car and, in exact change, buys breakfast based on how the stock market is performing.
"When I'm not feeling quite so prosperous, I might go with the $2.61, which is two sausage patties, and then I put them together and pour myself a Coke," he told director Peter Kunhardt in the documentary. "$3.17 is a bacon, egg and cheese biscuit, but the market's down this morning, so I'll pass up the $3.17 and go with the $2.95 [sausage, egg and cheese]."
I mean, hey, Buffett just turned 88 so he's doing something right.