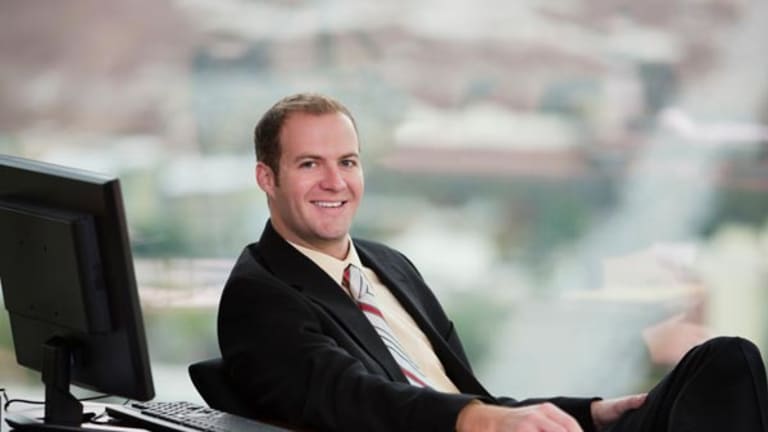 Halliburton's Sliding on an Uptrend
The stock's ascent is intact, and tight stops can help holders of these other four stocks.
This column was originally published on RealMoney on June 16 at 10:00 a.m. EDT. It's being republished as a bonus for TheStreet.com readers.
The last couple of days have given the quick and nimble some pretty good long opportunities. Today marks Day 3, which happens to coincide with quadruple witching. That amounts to a lot of cross currents.
My rule is to refrain from buying into the third day of a dramatic rally. After two largely uni-directional days, doesn't it seem like the savvy traders who bought early will now be looking to book profit and get on with their weekend?
I see a couple of different dynamics at work.
First, many folks do not trust this rally. They are happy to have recouped some of their losses on Wednesday and Thursday, but a multi-week stint in Helga's House of Pain isn't something that you get over without some reflection.
The pain they endured makes them less likely to buy aggressively now. Most people cannot shift gears that fast; they are likely to either stand pat or lighten up their exposure even more.
On the other hand, some folks will hurriedly buy stocks, finally accepting the viability of the advance and not wanting to miss any more of the move. This group tends not to have much buying power.
This push and pull is what defines consolidation. We need some of that for a while, if this advance is to have any staying power.
Meanwhile, let's look at some stocks with well-defined stops to reduce our risk exposure:
Alliance Data Systems
(ADS) - Get Alliance Data Systems Corporation Report
,
Halliburton
(HAL) - Get Halliburton Company Report
,
JetBlue Airways
(JBLU) - Get JetBlue Airways Corporation Report
DXP Enterprises
(DXPE) - Get DXP Enterprises Inc. Report
,
BankRate
(RATE)
Alliance Data had a great run during the first four months of 2006, but it's been consolidating its gains within a fairly tight range over the past several weeks.
Now, the typical "pennant" pattern has formed in a matter of a week or two, not over two months. However, the result is pretty much the same.
A widespread exchange of stock within a narrowly defined price range effectively raises the basis of the average stockholder to that range. This higher-average basis stabilizes the stock because most folks will hold the stock until there is a profit to be taken, even if that means sitting through a pullback.
A push above resistance indicates depletion of the supply that has been holding the price down. That's where I'd buy. And a drop back below around $52.50 would be evidence that the demand is waning. That's where I'd keep my stop.
This weekly chart of Halliburton shows an intact uptrend. Yes, the lower highs in RSI create a negative divergence from the price action. At the same time, the stock price has fallen well below the middle Bollinger Band (the 20-week moving average). This is a change in character for this stock. This bit of weakness could turn out to be a topping pattern, but we won't know for sure until we can look back in our rear-view mirror. Until then, I'd be a buyer on weakness -- like now. Current support is down at around $68. I'd put a stop just beneath that level.
I heard from a reader who wonders whether Jet Blue is done putting in a bottom. This airline stock does seem to be taking off now, but it's been on the decline for two-and-a-half years. After such a steady decline, it'll take more than a few months to build a solid enough base from which to move higher. However, you'll notice that the
Price-by-Volume bars are quite short above $11. This light volume leaves some upside room for the bulls. The path of least short-term resistance is up. But I'd still keep a stop just beneath the support line drawn above.
DXP has fallen back to test the April low. As with just about every stock on my screen, this one ran higher over the past couple of days. If you bought the dip, put a stop just below Wednesday's low. A decline to that level means that the past couple of days were nothing but a counter-trend rally.
BankRate tagged $52 in early May after bouncing at around $33 in March. This $19 run has now been completely lost over the last week or so. This heavy volume translates into a lot of buyers who retraced.
Thursday's advance effectively establishes $33 as support. If you're buying this bounce, consider a stop just beneath the bounce level. Also, take note, the heavy trading volume that has accompanied the decline still has traders smarting from trying unsuccessfully to catch a falling knife. I'd expect these regretful bulls to be anxious to sell into any further advance, so don't look for much more than a little scalp from this trade.
Be careful out there.
Please note that due to factors including low market capitalization and/or insufficient public float, we consider DXP Enterprises to be a small-cap stock. You should be aware that such stocks are subject to more risk than stocks of larger companies, including greater volatility, lower liquidity and less publicly available information, and that postings such as this one can have an effect on their stock prices.
P.S. from TheStreet.com Editor-in-Chief, Dave Morrow:
It's always been my opinion that it pays to have more -- not fewer -- expert market views and analyses when you're making investing or trading decisions. That's why I recommend you take advantage of our
to TheStreet.com's
RealMoney
premium Web site, where you'll get in-depth commentary
and
money-making strategies from over 50 Wall Street pros, including Jim Cramer. Take my advice --
At the time of publication, Fitzpatrick had no positions in any stocks mentioned, though positions may change at any time.
Fitzpatrick is a freelance writer and trading consultant who trades for his own account in Encinitas, Calif. He is a former co-manager of a hedge fund and teaches seminars on technical analysis, options trading and asset-protection strategies for traders and business owners. Fitzpatrick graduated from the McGeorge School of Law and was a fellow at the Pacific Legal Foundation, a nonprofit public interest firm specializing in constitutional law. He also practiced law in the private sector before pursuing trading as a full-time career. Under no circumstances does the information in this column represent a recommendation to buy or sell stocks. While Fitzpatrick cannot provide investment advice or recommendations, he appreciates your feedback;
to send him an email.