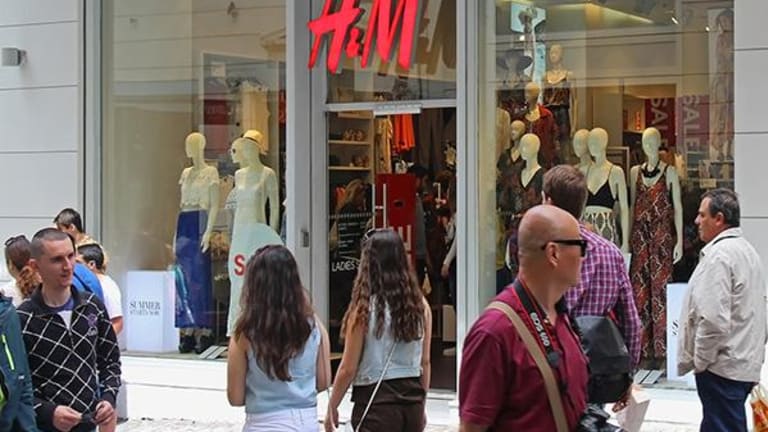 H&M Shares Tank After 'Aggressive Summer Sales' Clip Q3 Margins
H&M said its online sales aren't offsetting a drop in traditional store traffic
H&M Hennes & Mauritz AB (HNNMY)  fell the most in 15 months Thursday after the clothing retailer posted weaker-than-expected third quarter earnings and said its online sales driven isn't offsetting a decline in football at its traditional retail outlets.
H&M said sales for the three months ending in August, its fiscal third quarter, rose 5% to SEK51.3 billion ($6.26 billion), largely in-line with the FactSet estimate. Gross profits, however, slipped to SEK26.35 billion, while the group's profit margin fell 2.6 percentage points to 51.4%, owing to, at least in part, "aggressive summers sales", the company said. Earnings per share for the quarter were tabbed at SEK 2.32, down 20% from the same period last year and missing the FacSet estimate of SEK2.35.
"The fashion retail sector is growing and is in a period of extensive and rapid change as a result of ongoing digitalisation," said CEO Karl-Johan Persson. "The competitive landscape is being redrawn, new players are coming in and customers' behaviour and expectations are changing, with an ever greater share of sales taking place online."
"Our growing online sales did not fully compensate for reduced footfall to stores in several of our established markets, which has resulted in our total sales development not reaching our targets so far this year," he said. "This is of course something that we are not satisfied with and which, among other things, resulted in that we entered the third quarter with inventory levels that were too high."
The group said it will open two more online stores this year, in the the Philippines and Cyprus, and with "continued investments with a digital focus" expects to see online sales growing by 25% a year going forward.
H&M shares fell 6.8% in the opening minutes of trading in Stockholm to change hands at SEK206.70 each, extending its year-to-date decline to 19%.
Earlier this month, H&M's chief rival, Inditex SA posted slightly weaker-than-expected earnings for the first half of its fiscal year and said global online sales launches were "on track" for the second half.
The Spain-based group, which owns the Zara and Bershka brands, said operating earnings for the six months ending in July came in at €2.29 billion ($2.75 billion), just shy of the FactSet consensus of €2.34 billion but up 9% from the same period last year. Like-for-like sales, the group said, grew 6% while net sales were 11% higher at €11.7 billion.
Gross margins at the world's largest clothing retailer, however, slipped by 1.8 percentage points from the first three months of the year to 56.4% of sales, "mainly due to the mix effect caused by the strong appreciation of the euro versus most major currencies since June", the company said.
More of What's Trending on TheStreet: