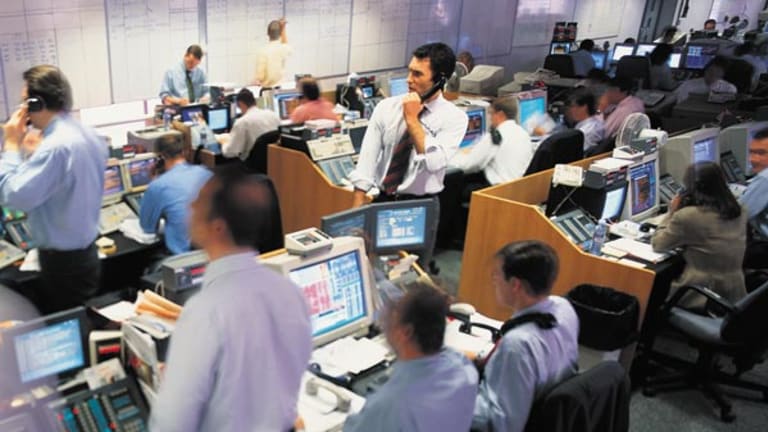 Guess? Looks Smart, Likely to Wear Well
This apparel retailer offers both short-term and long-term potential.
Editor's note: This Breakout Stocks Alert was originally sent to subscribers June 25 at 2:50 p.m. EDT. It's being republished as a bonus for TheStreet.com and RealMoney.com readers.
As we've noted in recent Weekly Summaries, we want to provide Breakout Stocks subscribers with previews of some of the Watch List names we're examining for inclusion in the model portfolio. We are not taking any action in this Alert.
Today, we'll look at
Guess?
(GES) - Get Report
, a youth-oriented, fashion-driven apparel retailer/wholesaler that qualifies as one of the most impressive momentum stocks in the market, while still exhibiting some brand attributes that imply excellent long-term potential.
Guess? targets consumers who are more concerned with how they look than exactly how much they are spending. We believe this demographic's willingness to pay up to look good bodes well for more upscale retailers like Guess?, as opposed to apparel retailers targeting lower-end consumers, such as
Gap's
(GPS) - Get Report
Old Navy division.
Targeting trendy apparel retailers can be tricky due to the risk of fashion misses, as well as occasionally extreme sensitivity to same-store sales results. However, Guess? is seeing enormous growth in its wholesale and licensing operations and phenomenal momentum across Europe. As a result, Guess? is becoming less dependent upon its domestic store base, dramatically increasing the diversity of the company's revenue stream.
We believe that Guess? offers a very attractive setup as a momentum play heading into the company's second-quarter earnings report roughly two months from now. First, the company's status as a high-growth company is without question. In the first quarter, earnings grew 72% on a 42% ramp in revenue. Margins expanded across the board, and the company raised guidance impressively.
The stock rallied hard both ahead of and following the report, as high as $51.15 on June 6, which essentially created an environment for the stock to sell off due to a lack of fresh buying power. However, with the stock drifting down to a recent quote of $48.02, buyers are likely to get interested once again in the near future, especially since the closer we get to 2008, the more sense it makes to value the stock on next year's expected earnings, rather than this year's.
According to Capital IQ, Guess? is trading at 26 times expected full-year earnings, which is reasonable considering the company's strong growth and track record of delivering upside surprises. Looking to next year, the stock is trading at 22 times expected earnings, which is downright cheap relative to the company's fundamentals.
So, adding it up, we have a company that just blew out the numbers, with a reasonably priced stock that is off its highs and therefore not terribly expensive. We believe this is a good recipe for a bounce in the stock, as Guess? is more than likely to regain its status as a momentum favorite among traders looking for stocks to play into the next earnings season.
Aside from the company's attractive attributes as a momentum play, one reason we are very attracted to Guess? is its incredibly resilient brand equity. Looking back at the 1980s, you may remember the old Guess? jeans with the upside-down triangle. Two decades is a long time in fashion, and if the Guess? brand is still fresh in 2007, it will likely still be fresh years from now. Contrast this with companies like the Gap, which carpet-bombed the nation with stores, eliminating any long-term chance for its brand to be associated with coolness.
So why aren't we adding Guess? to our model portfolio today? We do like Guess? quite a bit, but we have quite a few momentum stocks in the model portfolio already, and we want to stay diversified. People will often confine the concept of portfolio diversification to being a sector issue, which we believe is shortsighted. It is equally important to pay attention to the mix of stocks in your portfolio in terms of potential volatility.
For example, a five-stock portfolio consisting of
Riverbed Technology
(RVBD)
,
Under Armour
(UA) - Get Report
,
Buffalo Wild Wings
(BWLD)
,
VistaPrint
(VPRT)
and
Take-Two Interactive
(TTWO) - Get Report
may be diversified from a sector standpoint, but not at all diversified when you consider that they are all expensive, high-beta small-caps.
Therefore, we're going to be patient in waiting for a lower entry point in Guess?, which would tip the risk/reward in our favor.
In keeping with TSC's editorial policy, Michael Comeau doesn't own or short individual stocks. He also doesn't invest in hedge funds or other private investment partnerships. Comeau is a research analyst at TheStreet.com. In this role he performs stock analysis for
, and is also a regular contributor to RealMoney.com. Prior to his arrival at TSC in June 2004, Comeau worked as a Consultant to Toyota Motor North America, performing in-depth research on automotive industry issues, primarily in the areas of alternative engine technologies, competitive analysis and macroeconomics. His primary market interests include consumer technology, specialty retail, and small-caps. Comeau received a bachelor's degree in Finance from Brooklyn College, and has completed Level 1 of the CFA program.. He appreciates your feedback;
to send him an email.