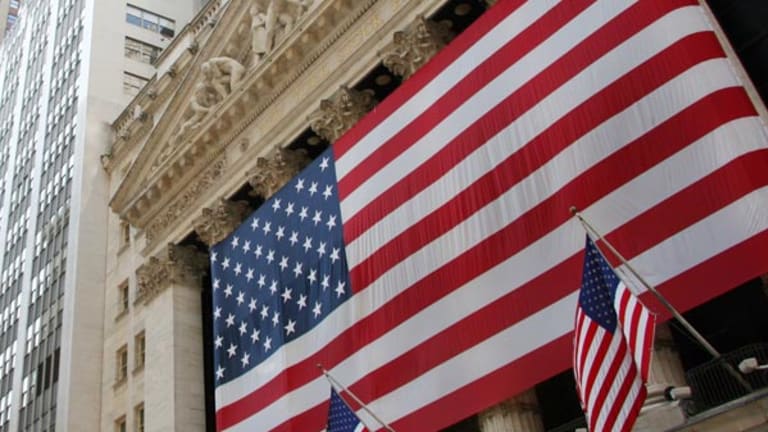 Growth Jitters Sink Stocks
The averages end down 1.6% following a weaker-than-expected GDP report.
Updated from 4:08 p.m. EDT
A soft report on first-quarter growth gave investors a reason to bail out of the market Friday.
The
Dow Jones Industrial Average
ended down 133 points, or 1.6%, at 8306, while the
Nasdaq
was down 22 points, or 1.6%, to 1434. The
S&P 500
was down 12 points, or 1.4%, to 899.
Most sectors retreated, with retail, financial, technology and oil stocks all in the red. On the Dow, just three stocks --
International Paper
(IP) - Get International Paper Company Report
,
General Electric
(GE) - Get General Electric Company Report
and
Hewlett-Packard
(HWP)
-- ended higher.
"I think the market is cueing off of the GDP report," said Jim Herrick, managing director of trading at Robert W. Baird. Although the GDP report "wasn't really a surprise," Herrick said it alarmed some people because first-quarter earnings had generally been better than expected. He also believes that investors are taking profits after a recent rally.
The Commerce Department said the country's total economic activity grew at a 1.6% annual rate in the first three months of the year, slightly above the previous quarter's 1.4% rate, but well below economists' forecasts for growth of 2.3%. The government's reading, which is subject to two revisions, reflected slowing consumer and business spending.
Meanwhile, existing-home sales fell 5.3% in March to an annualized rate of 5.53 million units, below the 5.72 million forecast. The University of Michigan consumer sentiment index was more encouraging, climbing to 86 in late April from last month's reading of 77.6. And new-home sales rose 7.3% in March to 1 million units, above the consensus estimate of 905,000 units.
A downgrade on the chip group also weighed on stocks Friday. Salomon Smith Barney cut the sector to underweight from market weight because of expected weak demand for the industry's products, excess in inventories and high valuations. Shares of chip-equipment makers were also downgraded to market weight from market overweight. The Philadelphia Semiconductor index shed 5% to 324.
"After we rallied over the past week, investors have decided they're going to take some more profits," said Lance Zipper, managing director of equity trading at Brean Murray. "It's a nervous market and you're going to get this sort of trading until people can see that companies are spending again."
The day's biggest business news story involved American Airlines. Flight attendants agreed to wage concessions that will spare the carrier an imminent bankruptcy filing. Donald Carty Thursday night resigned as chief executive of the
AMR
(AMR)
unit after bungling negotiations with unions. AMR surged 10% to $4.45.
While the Nasdaq 100 was lower, tech bellwether
Amazon
(AMZN) - Get Amazon.com, Inc. Report
was rallying, up about 15% to $28.97 after posting a narrower first-quarter loss and a 28% increase in revenue. Amazon also raised its estimates for 2003 results.
R.J. Reynolds
(RJR)
skidded 17% to $28.18 after posting a better-than-expected first quarter profit but slashing earnings estimates for the full year due to heavy competition from discount brands. The firm also suspended its share repurchase program and Standard & Poor's said it might cut the firm's bond rating to junk status.
Starbucks
(SBUX) - Get Starbucks Corporation Report
, the world's largest seller of coffee, said its second-quarter earnings rose amid strong sales growth, despite the economic slowdown. But the company also knocked a penny off its 2003 earnings outlook, and the shares were down 7% to $23.47.
Internet security provider
VeriSign
(VRSN) - Get VeriSign, Inc. Report
said late Thursday it lost money in the first quarter because of charges related to write-downs of investments and restructuring costs.
Applied Micro Circuits
(AMCC)
, a maker of communication chips, reported a wider first-quarter loss due to restructuring charges. VeriSign was up 7% at $10.87, while AMCC was down 1% at $4.10.
Flextronics
, a contract electronics manufacturer, said late Thursday it was able to post a higher profit in the first quarter, despite weak demand in the technology market. The company said it expects sales to be flat to higher in the current quarter. Shares were down 8% at $8.35.
Treasuries were higher, with the yield on the 10-year note at 3.88%. Nymex crude oil prices declined even though Saudi Arabia, OPEC's biggest oil producer, said it would make a "significant" cut in oil shipments in June to prevent a further drop in prices. The dollar was stronger against the yen and euro.
On Thursday, the Dow ended 0.9% lower at 8440. The S&P 500 fell 0.8% to 911, while the Nasdaq lost 0.6% to 1457.
Overseas markets were lower, with London's FTSE 100 down 0.7% at 3870 and Germany's Xetra DAX 1.8% lower at 2838. In Asia, Japan's Nikkei closed 2% lower at 7699 -- a 20-year low, while Hong Kong's Hang Seng lost 0.4% to 8409-- a 4 ¿-year low.