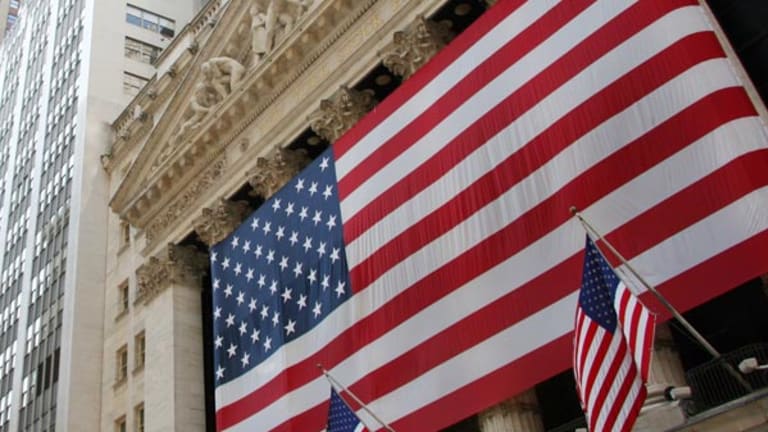 Greenspan No Obstacle to Rally
The Nasdaq bounces back after selling off in five of the past six sessions.
Updated from 4:05 p.m. EDT
Tech stocks soared Tuesday, with blue chips also posting solid gains, as oil and bond prices slipped after generally positive congressional testimony from
Fed
Chairman Alan Greenspan that left the door open for more aggressive rate-tightening.
The
Nasdaq Composite
posted its biggest one-day point gain in over a month, rising 33.24 points, or 1.76%, to 1917.07. The
Dow Jones Industrial Average
added 55.01 points, or 0.54%, to 10,149.07; and the
S&P 500
was up 7.77 points, or 0.71%, to 1108.67. The 10-year Treasury note was down 23/32 in price to yield 4.44%, while the dollar was stronger against the yen and euro. In New York, oil futures for September delivery closed down $1, or 2.4%, at $40.44 a barrel.
In moderate summer trading, volume exceeded 1.4 billion shares on the
New York Stock Exchange
, where advancers outnumbered decliners by about 5 to 4. On the Nasdaq, nearly 1.6 billion shares changed hands, and advancers more than doubled decliners.
Greenspan's semiannual congressional testimony signaled no immediate changes to his previous script, pledging a "measured" approach to raising interest rates and saying that economic conditions have "generally been quite favorable in 2004, lending increasing support to the view that the expansion is self-sustaining."
He did, however, acknowledge that inflationary forces existed and may bear some responsibility for some soft economic numbers of late. "Inflation also seems to have been boosted by transitory factors such as the surge in energy prices," he said. "Those higher prices, by eroding households' disposable income, have accounted for at least some of the observed softness in consumer spending of late, a softness which should prove short-lived."
If inflation should prove a larger problem than anticipated, the Fed chief left the door open for a more aggressive stance on interest rates, saying that the Federal Open Markets Committee will be watching the data closely, and if more drastic measures are taken, "our economy appears to have prepared itself for a more dynamic adjustment of interest rates."
Paul Mendelsohn, chief investment strategist with Windham Financial Services, said there were no surprises or changes in Greenspan's message. "The language really hasn't changed," he said. "The message is that there will be more quarter-point rate-hikes coming in the future, to raise rates at a gradual pace, but he made it clear that should inflation indicators rise here beyond or outside what the Fed currently sees, they will have a more aggressive response.
"In the markets, we're come down to very critical support points," Mendelsohn added. "We've reached these levels in very oversold conditions, so you should see a rally from these levels, and any failure to rally from these levels I would take as a very negative omen."
Technology indices outperformed the broader markets for the session, boosting the Nasdaq, with the Philadelphia Semiconductor Index closing up 2.5%, the Goldman Sachs Technology Industry Software Index up 2.2% and the Amex Network Index added 2.3%. Elsewhere, retail and airline stocks showed particular strength, with the S&P Retail Index up 2.2%, while the Amex Airline Index climbed 3.9%.
On the economic front, the government reported that housing starts dropped unexpectedly in June, down 8.5% to an annualized 1.8 million. Economists on Wall Street expected the number to rise from the 1.97 million recorded in May. Also, building permits were down more than expected, falling 8.2% to an annualized 1.92 million.
Meanwhile in Iraq, insurgents released a Filipino hostage, held for two weeks, after the Philippine government bowed to their demands, agreeing to withdraw troops from the coalition, according to the
Associated Press
. Separately, a bomb attack on an Iraqi minibus killed four civilians Tuesday and injured two others.
One of the biggest earnings days of the second quarter commenced on Wall Street with a flurry Tuesday morning. Heavyweights including
Ford
(F) - Get Ford Motor Company Report
,
Altria
(MO) - Get Altria Group Inc Report
and
EMC
(EMC)
reported before the bell.
Ford said second-quarter earnings roughly tripled to $1.2 billion, or 56 cents a share, thanks to strength in its lending arm. Excluding items, the automaker earned 61 cents a share, about 12 cents better than Wall Street estimates. Ford expects to earn $1.80 to $1.90 a share for all of 2004, in line with estimates. Its shares closed down 38 cents, or 2.5%, to $14.60.
Tobacco giant Altria said second-quarter earnings rose about 8% to $2.6 billion, or $1.27 a share, boosted by favorable currency translations and a lower tax rate. The quarter included a charge of 13 cents a share related to the restructuring at its
Kraft
(KFT)
unit and a benefit of 15 cents a share from a lower tax rate. Analysts surveyed by Thomson First Call had been forecasting earnings of $1.28 a share. Looking ahead, Altria forecast full-year earnings of $4.50 to $4.60 a share, including several items. Analysts had been forecasting $4.84 a share.
Altria shares closed down 6 cents, or 0.1%, to $48.77.
In a surprise move,
Charles Schwab
(SCH)
ousted its chief executive, David S. Pottruck, and handed the position back to its founder and Chairman Charles R. Schwab after reporting a 10% drop in earnings during the second quarter. Its stock closed up 55 cents, or 6.6%, to $8.85.
Storage systems maker EMC said second-quarter earnings more than doubled to $193 million, or 8 cents a share, matching estimates. Revenue rose 33% to $1.97 billion and the company guided third-quarter earnings to 8 cents to 9 cents a share on revenue of $2 billion, in line with estimates. Its shares closed up 50 cents, or 4.8%, to $10.86.
Also,
Wells Fargo
(WFC) - Get Wells Fargo & Company Report
reported a 12% jump in second-quarter profits, citing growth in deposits and consumer businesses. The bank's net income totaled net income $1.71 billion, or $1 per share, up from $1.53 billion, or 90 cents a share, in the same quarter last year. Its stock ended down 39 cents, or 0.7%, to $58.06.
After the bell,
Microsoft
(MSFT) - Get Microsoft Corporation Report
said it will pay some excess cash out to shareholders through a combination of dividends and stock buybacks totaling up to $75 billion over several years. The announcement ends growing speculation about what the software giant would do with the money.
Motorola
(MOT)
said it swung to a loss in its latest quarter after a charge related to its chip-business spinoff. Still, impressive revenue gains sent its stock up 4% in after-hours trading.
Also,
Sun Microsystems
(SUNW) - Get Sunworks, Inc. Report
posted a larger-than-expected fourth-quarter profit as the software maker cut costs and reached a lucrative settlement with Microsoft. It earned $795 million, or 24 cents a share, compared with a loss of $1.04 billion, or 32 cents a share, for the same quarter last year. Its stock was recently down 11 cents, or 2.7%, to $4 in after-hours trading after gaining 4.3% during the session.
Overseas markets were mixed, with London's FTSE 100 closing up 0.4% to 4339 and Germany's Xetra DAX up 0.6% to 3837. In Asia, Japan's Nikkei lost 1.6% to 11,258, while Hong Kong's Hang Seng fell 0.4% to 12,124.
On Wednesday, the earnings barrage continues, with releases due out before the opening bell from more than 70 companies, including
General Motors
(GM) - Get General Motors Company Report
,
Pfizer
(PFE) - Get Pfizer Inc. Report
,
Honeywell
(HON) - Get Honeywell International Inc. Report
and
Lucent
(LU)
.
After the bell, investors will hear from another slew of companies, including
eBay
,
Starbucks
(SBUX) - Get Starbucks Corporation Report
,
Cendant
(CD)
and
Capitol One
(COF) - Get Capital One Financial Corporation Report
.
No major economic releases are expected Wednesday.