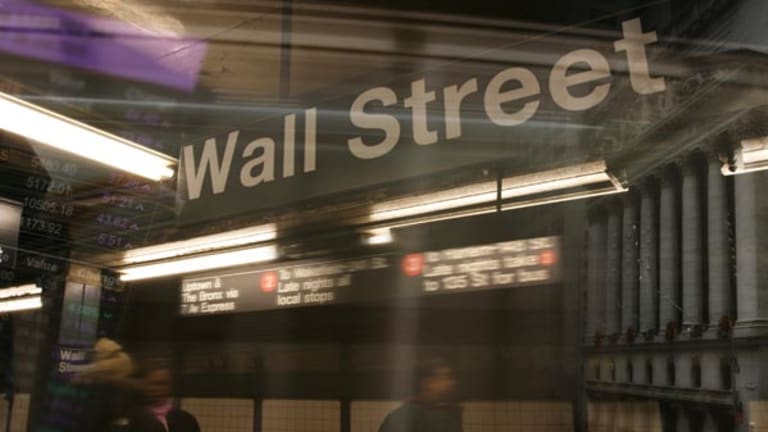 Greece Sours Market Optimism in Gloomy End to Week
Greece sours market sentiment on Friday, putting a stop to a Federal-Reserve inspired run a day earlier.
NEW YORK (TheStreet) -- Greece soured market sentiment on Friday, putting a stop to a Federal-Reserve inspired rally that pushed the Nasdaq to a fresh record close on Thursday.
The S&P 500 was down 0.44%, and the Dow Jones Industrial Average fell 0.5%. The Nasdaq slipped 0.25%.
The European Central Bank reportedly raised its funding cap for emergency loans to Greece's banks, according to Reuters, after customers withdrew 1 billion euros out of banks on Friday alone.
"There is a sense of unease in the markets as the clock continues to tick down to the approaching deadline for Greece to strike a deal to avoid a debt default," said TD Securities' Millan Mulraine.
European Council President Donald Tusk has called an emergency summit for further debt talks on Monday. Eurozone finance ministers from 19 countries will convene to try to overcome the stalemate.
Eurozone finance ministers want Greece to introduce a round of austerity measures in exchange for further debt relief. Greece has until the end of the month to repay its debts to the International Monetary Fund. Click here for more.
Also on Friday, San Francisco Fed President John Williams said the economy appeared strong enough to support a rate hike, although he remains in wait-and-see mode until inflation data improves.
"I don't think there's any doubt that the weakness in core inflation is one of the reasons why the Fed wants to follow a pretty shallow path for their hiking cycle once they eventually begin," said Donald Ellenberger, senior vice president at Federated Investors, in a call. "It seems like they want to get off zero but they're a little bit nervous about it."
Crude oil closed with daily and weekly losses as the safe-haven U.S. dollar moved higher against international currencies. West Texas Intermediate crude dropped 1.4% to $59.61 a barrel, down 0.6% for the week. Exxon Mobil (XOM) , Schlumberger (SLB) , Chevron (CVS) , Halliburton (HAL) and ConocoPhillips (COP) fell, while the Energy Select Sector SPDR ETF (XLE) slid 0.86%.
ConAgra Foods (CAG) led the S&P 500, adding 10.9% on news Jana Partners had taken a 7.2% in the company. The activist investor argued the company's shares are undervalued and is seeking a change in its board.
Hershey (HSY) slid 3.7% after the chocolate company reduced its 2015 forecast on weakened growth in China. The company expects full-year earnings of $4.10 to $4.18 a share, below estimates of $4.31 a share.
KB Home (KBH) added nearly 10% after second-quarter profit and sales beat estimates. The homebuilder earned 10 cents a share, 2 cents higher than expected, while revenue of $622.97 million jumped 10.3% from a year earlier.
Fitbit (FIT) shares extended Thursday's gains, climbing 9%. The wearable tech company surged in its market debut on the New York Stock Exchange on Thursday, rocketing 48% higher to $29.68, well above its initial pricing of $20 a share for its float of 36.6 million shares.
It's another busy week next week on the economic calendar. Existing home sales for May out on Monday and new home sales for May out on Tuesday are expected to showcase a continued recovery in the housing market. Durable goods orders data and personal income figures will be released on Tuesday and Thursday, respectively. 
In earnings next week, HB Fuller (FUL)  is due Tuesday, Bed, Bath & Beyond (BBBY) , Monsanto (MON) and Nike (NKE) will report Wednesday and Barnes & Noble (BKS) and Finish Line (FINL) are slated for Thursday.