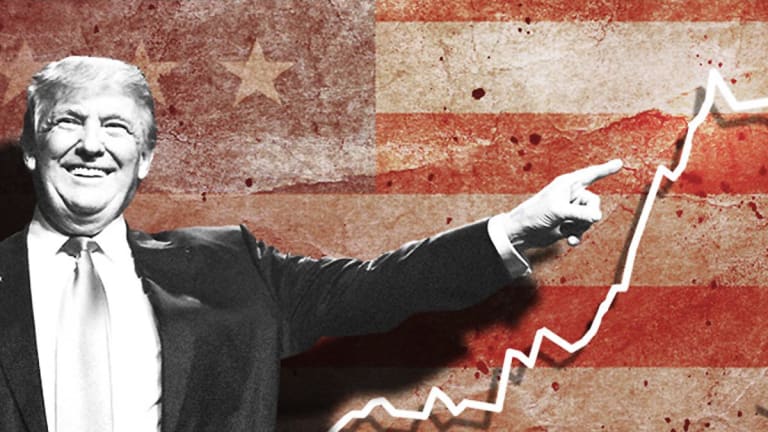 Report Shows U.S. Economy Slowing as Voters Prepare to Head to Polls
U.S. gross domestic product grew at a 3.5% pace in the third quarter, slowing from the second quarter's 4.2% clip.
The U.S. economy slowed in the third quarter, in a sign that the stimulus from President Donald Trump's $1.5 trillion of tax cuts last December might already be fading, just before U.S. congressional elections next week. 
Gross domestic product rose at an annualized rate of 3.5%, down from last quarter's 4.2% clip, the Commerce Department's Bureau of Economic Analysis said Friday, Oct. 26, in a statement. The mark exceeded the 3.3% pace rate expected by economists in a survey by data provider FactSet, though some economists had projected an expansion rate as high as 4%.
The latest report offers clues on the economy's most recent performance -- a key question for investors as U.S. stock markets swoon on concern that rising interest rates, a scarcity of available workers, creeping inflation and the threat of a prolonged trade war with China might hurt household finances and slow expansion by businesses.
"We're disappointed that growth didn't reach 4%," Ian Shepherdson, chief U.S. economist of the forecasting firm Pantheon Macroeconomics, wrote Friday in a note to clients.
The Standard & Poor's 500 Index of large U.S. stocks slid 1.9% on Friday after the report was released. The gauge has tumbled 9.1% just in the past month, wiping out the entire year's gains and leaving it down 1% so far in 2018. The yield on the 10-year U.S. Treasury note fell 0.059 percentage point to 3.076%.
The current pace of growth leaves room for the Trump administration to claim that the economy remains strong, even if it's not as robust as officials had projected last year when they were pushing for the tax cuts.
"Lost in all the financial-market turmoil over the past couple of weeks is the simple fact that the economy is strong and is likely to stay strong," Eric Winograd, senior economist at the money manager AllianceBernstein LP (AB) - Get AllianceBernstein Holding L.P. Report , wrote in e-mailed comments. But, he added, interest rates are likely to continue rising, and "we should therefore expect continued equity-market volatility in coming quarters." 
Higher interest rates tend to crimp economic growth and corporate earnings because they raise costs for households and companies on mortgages, credit-card bills and business loans.  
When the Trump administration campaigned last year for the tax cuts, officials promised they would fuel a big jump in the long-term trajectory of U.S. economic growth, causing households and businesses to realize substantially higher income -- in turn generating sufficient additional tax revenue to compensate for the tax cuts. But based on the current pace of economic growth, the additional revenue isn't even close to enough to offset the lost tax collections, according to the Committee for a Responsible Federal Budget.
In the meantime, the federal budget deficit swelled during the past fiscal year to $779 billion, above the $487 billion estimated prior to the new tax law's enactment last December, according to the Committee for a Responsible Federal Budget, a bipartisan non-profit organization. And the national debt has rapidly ballooned past $21.5 trillion.
The second-quarter growth clip of 4.2% was the fastest in four years, prompting Trump to take credit during remarks at the time at the White House.       
"These numbers are very, very sustainable," Trump said on July 28. "This isn't a one-time shot."
Recently, Trump has complained that interest-rate increases by the Federal Reserve are crimping what otherwise would ostensibly be faster economic growth and surging stock markets. He's also floated the idea of a second round of tax cuts.
Professional economic forecasters on average expect the economy to grow 2.9% for the full 2018, based on a FactSet survey. That's up from last year's pace of 2.2%, but simply matches the 2.9% clip notched in 2015, the third year of President Barack Obama's second term. After that, the economy is expected to slow even further, to 2.4% in 2019 and 2% in 2020, the survey shows. 
Chris Gaffney, president of world markets at TIAA Bank, said in an e-mailed statement that the third-quarter growth would keep the Fed's monetary-policy panel, the Federal Open Market Committee, on track to continue raising rates over the next year to head off an inflation surge.
"Nothing in this morning's numbers will disrupt their near-term plans," Gaffney said. "Lack of inflation will likely be blamed on lower oil prices, giving some cover for the FOMC to continue to suggest inflation will heat up in the coming months." 
Make Money on Closed-End Mutual Funds. TheStreet's Robert Powell recently hosted an all-star panel of experts who explained everything you need to know on closed-end mutual funds, and often-overlooked investment class. Click here to register and watch for free.