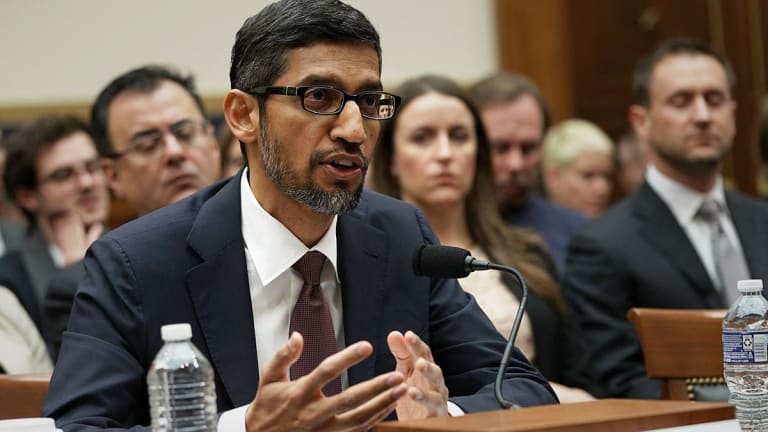 Google CEO Gets Grilled By Congress on Political Bias, Privacy of User Data
On Tuesday, Google's CEO was questioned about a number of hot-button issues before the House Judiciary Committee.
Google (GOOGL) - Get Report CEO Sundar Pichai was grilled by members of Congress on Tuesday about alleged political bias in its search results and actions, the location tracking enabled by its services and its reported plans to launch a search engine in China. 
Pichai testified in front of the U.S. House Judiciary Committee's hearing on the transparency and accountability of Google's data collection and usage in his first appearance before Congress. Shares of Alphabet were edging up 0.17% to $1,054.95 as the hearing concluded. 
Pichai faced a number of questions about alleged political bias at Google and the possibility that individual employees could manipulate search results. Pichai said several times that such influence was not possible, but would follow up with members of Congress to assure them this was the case. 
Congressman Jim Jordan (R-Ohio) asked Pichai pointed questions about an email sent by Google's head of multicultural marketing after the 2016 presidential election noting that Google helped "get out the Latino vote in key states" and paid for rides to help do so. 
Jordan noted that this sounded like a political effort by Google and asked Pichai if the account was accurate. Pichai denied that it was and said "we don't participate in any partisan activities" as a company. 
In addition, Pichai received a number of questions about location tracking of its users, occasioned by a new report from the New York Times showing that location data about individual app users can be purchased without their explicit knowledge or consent. 
In response to a question about Google's plans in China from Congresswoman Sheila Jackson Lee (D-Texas), Pichai said that "right now, we have no plans to launch in China. Our core mission is to provide access to information, which is a core human right. But right now, we have no plans [in China]." Later in his testimony, Pichai said there were no discussions being held with the Chinese government about its potential plans, and it was strictly an internal discussion for now. 
In contrast to this summer's Congressional testimony by Facebook (FB) - Get Report CEO Mark Zuckerberg, members of Congress appeared to be better-prepared to ask questions about Google and its business model. 
The questioning also carried echoes of the earlier testimonies of Zuckerberg and COO Sheryl Sandberg, who faced questions on Facebook's sluggish response to foreign interference in elections. Asked if the same threat is present at Google, Pichai assured lawmakers that "we always worry about that as a threat factor, and this is why we make sure when building our products we don't rely on one set or groups of people to do it." Pichai added that during the 2016 election, there was "limited" improper activity by Russian actors on Google. 
Rep. Andy Biggs (R-Arizon) pressed Pichai on the company's relationships in China, including its  search engine efforts there and whether that would involve sharing data with the Chinese government. Said Pichai: "We do provide, for example, Android and work with partners and manufacturers around the world...but we don't have any special agreements with China."
Lawmakers also pressed Pichai on the inner workings of Google's search algorithm, even performing live Google searches and asking the Google chief to explain how the results were compiled. Congressman Ted Lieu (D-California) Googled two of his senate colleagues, Steve Scalise and Steve King, and demonstrated the positive or negative search results of both. 
"You don't have a group of people at Google sitting there trying to modify -- that's not what's happening right?" Lieu asked, to which Pichai assured the lawmakers that: "We always operate with the same set of principles with each search result." 
"If you're getting negative search results, stop doing negative things. Don't blame Google," Lieu admonished. 
Pichai also told Congress that Google would be willing to sacrifice user growth in order to promote healthier civic discussions.
Congressman Robert Goodlatte (R-Virginia), who heads the Senate Judiciary Committee, pointed out that "when Google thinks something is obscene, lewd, lascivious, filthy, excessively violent, harassing, or otherwise objectionable," it is obligated to stop that behavior. "On the other hand, objectionable material, by whatever standard applied, likely elicits the most engagement from users on your site," Goodlatte noted.
So Goodlatte asked Pichai, "would Google or YouTube be willing to make changes in support of a healthier civic dialogue, if doing so meant a drop in user engagement metrics?"
Pichai's response: "Absolutely Mr. Chairman...we have always focused on long-term goals towards user satisfaction."
GOOGL and FB are holdings in Jim Cramer's Action Alerts PLUS member club . Want to be alerted before Jim Cramer buys or sells the stocks? Learn more now.