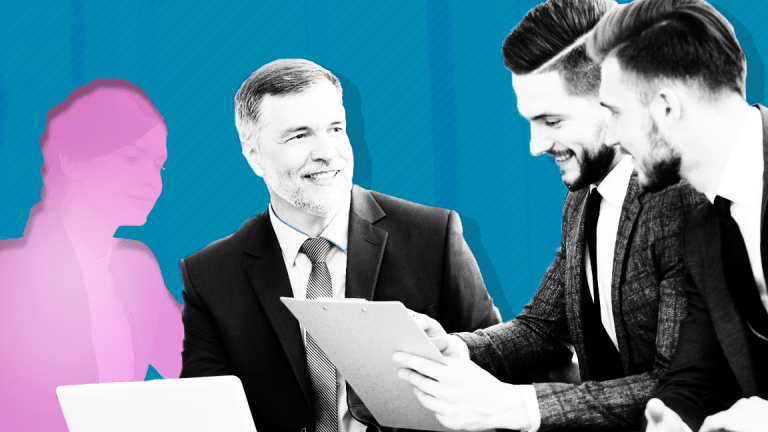 Goldman Women Find Bias in Pay as Corporate Old-Boy Clubs Endure
Goldman Sachs, historically man-heavy in its executive suite as well as the boardroom, published a 41-page report Monday arguing that bias plays a key role not only in the gender-pay gap among employees but the scarcity of women in senior roles. Once caveat: The study was conducted by an all-female team, with no male participation.
Wall Street's old boys' clubs might be coming around to the #MeToo movement in corporate America. 
The powerhouse investment bank Goldman Sachs Group Inc. (GS) - Get Goldman Sachs Group, Inc. Report , historically man-heavy in its executive suite as well as the boardroom, published a 41-page report Monday arguing that bias plays a key role not only in explaining the gender-pay gap among employees but also the scarcity of women in senior roles.
The study, by six analysts in Goldman Sachs's investment-research division, examined U.S. Census Bureau data showing that women on average earn 20% less than men. The all-female team concluded that the disparity can't be explained by typical labor-market factors like levels of education and experience or choices of industry and occupation.
The phenomenon of "downshifting," where employees scale back work, seek more flexibility in their hours or ask for reduced travel requirements, often due to family responsibilities, can be both voluntary and involuntary, the report found. The authors cited "gender-specific expectations about appropriate behavior, norms of leadership and definitions of success" as well as the "allocation of commercial opportunities" and "bias, whether conscious or unconscious."
The remedy? According to the researchers, it might be as simple as putting more women in charge.
"We believe at least part of the unexplained gap may be due to the lack of women in highly-paid senior roles," such as among the male-dominated ranks of CEOs and boards of directors, the analysts wrote. 
The report adds to a growing body of research suggesting that companies should add more women to their boards -- not just to address the basic unfairness but also to improve shareholder returns. Big banks like Goldman Sachs and JPMorgan Chase & Co. (JPM) - Get JPMorgan Chase & Co. Report have faced criticism over their under-representation of women in the boardroom, even as their predominantly male senior executives and directors tout efforts to bolster the careers of female employees. 
Several studies have shown that corporate boards with more female directors are better at decision-making, and that shareholders will benefit from an improved long-term financial performance. Some experts say women can be more assertive in the boardroom than men and thus more likely to challenge CEOs on crucial topics, such as risk-taking.
And, based on the new report, having more women at the top also might provide benefits to women lower down the corporate ladder. According to the researchers, some 17.5 percentage points of the 20% gender pay gap "cannot be explained by measurable factors that are captured in labor-market studies."
More companies have adopted policies to "help ease family/work conflicts" by allowing female employees to shift to reduced workloads or flexible or remote working arrangements, the analysts wrote. But these policies can become a "double-edged sword," since women who take advantage of the benefits are often stigmatized for "demonstrating a weak commitment to the job or lower ambition," according to the report. 
"This signaling may consign the employee to jobs with poorer career prospects, regardless of whether the perception is true and regardless of whether there is a demonstrable impact on the employee's productivity or output," the report reads. 
Perhaps even worse, the "downshifting" sometimes isn't even the woman's choice, the Goldman researchers found. 
"Without making the decision themselves, mid-career women may find themselves steered toward lower-visibility, lower-reward positions," the researchers wrote. "The motivation behind this may be difficult to pinpoint, but one reason could be the phenomenon of statistical discrimination that we discussed earlier, or the reliance on gender-biased definitions of success. And of course another reason could simply be bias against women, whether conscious or unconscious." 
The new report comes as New York-based Goldman struggles to address gender imbalances within its own walls.  
In July, the firm hired former Harvard University President Drew Faust as a director, increasing the number of women on the board to three, or 25%. Under former CEO Lloyd Blankfein, the number of female directors had stagnated at two for the prior 14 years; his successor, David Solomon, took over at the start of this month.
The selection of Faust was notable because she's a historian with a women's-studies orientation. Her appointment to the top job at Harvard in 2007 came after her predecessor, the economist and former U.S. Treasury Secretary Larry Summers, stepped down following an outcry over his remarks that innate gender differences might explain the high proportion of men in science and engineering positions.
Goldman's new quorum of three female directors meets the minimum threshold that corporate-governance advocates say is needed on boards to ensure that women's contributions are effective. But the percentage still falls below the 30% threshold that major shareholders including BlackRock Inc. (BLK) - Get BlackRock, Inc. Reportagree will improve a company's performance. The average for the Standard & Poor's 500 Index of large companies currently stands at about 25%.
In a March regulatory filing, Goldman said that boardroom diversity was "an important factor in our consideration of potential and incumbent directors."
The research staff's new report highlighted the growing awareness among corporate executives that gender diversity is a "business imperative."
"Today, many (although admittedly not all) acknowledge that having the most diverse workforce yields the best business outcomes," the report reads. "What's more, they also now recognize that attracting and retaining the best talent requires dedicated, sustained and accountable corporate efforts focused on achieving better diversity results."
It's up to senior management to do something about the problem, the analysts wrote.
Based on the current status quo, that mostly means men.