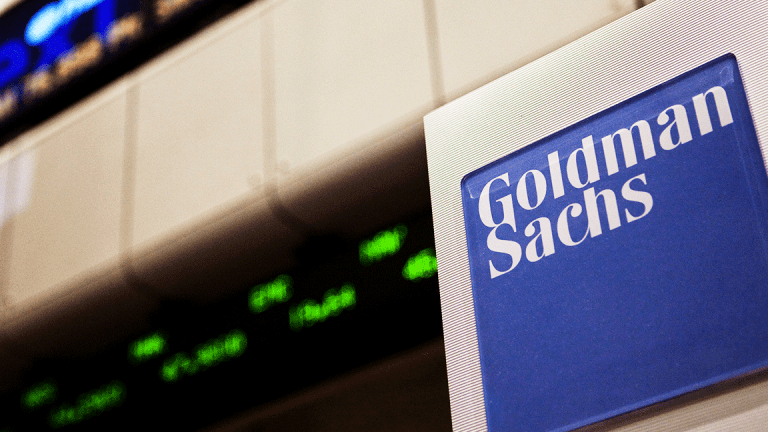 Goldman Sachs to Name David Solomon as CEO Successor to Lloyd Blankfein - Report
Goldman Sachs is set to name president and COO David Solomon as the successor to retiring CEO Lloyd Blankfein, the New York Times reported Monday.
Here comes the new guy.
Goldman Sachs (GS) - Get Goldman Sachs Group, Inc. (GS) Report is set to name David Solomon as the next man to lead the investment bank, perhaps as soon as this week, although the current president will likely work with outgoing CEO Lloyd Blankfein for an interim period, the New York Times reported Monday.
Solomon, who joined the bank as a partner in 1999, has been touted as a potential successor to the 63-year-old Blankfein on a number of occasions in the past, with the long-time CEO telling CNBC television earlier this year that he was the most likely candidate to steer the bank when his is widely expected to step-down in December. 
Goldman Sachs shares closed at $226.41 each in New York Friday after falling 0.36% on the session, a move that extended its year-to-date decline to around 11.13%.
Solomon, 56, took the inside lane in the Goldman succession race earlier this year following the departure of Harvey Schwartz, who served alongside Solomon as co-chief operating officer and was elevated to president after Gary Cohn left to serve on President Donald Trump's National Economic Council.
However, Solomon's elevation to the head of one of Wall Street's most iconic -- and controversial -- firms would mark somewhat of a departure for the 149-year old group, which has traditionally favored traders over bankers in its most senior positions.
Often described a consummate dealmaker with a calm personality and a diplomatic manner, Solomon's leadership could signal a change in focus for the bank as trading book profits decline under the strain of new regulations and stricter restrictions on capital.
However, TheStreet's Bradley Keoun aruged last week that, after a worst-in-class trading performance in 2017, Goldman poised to report its second-straight quarter of besting rivals like JPMorgan Chase & Co. (JPM) - Get JPMorgan Chase & Co. (JPM) Report and Morgan Stanley (MS) - Get Morgan Stanley (MS) Report in the business of transacting in stocks and bonds.
Goldman probably increased trading revenue by 23% in the second quarter, RBC estimates. That figure dwarfs an estimated 6.5% gain at JPMorgan, the biggest U.S. bank, as well as a 7.2% gain at Morgan Stanley, Goldman's longtime rival in the securities business. 
A rebound in the trading business could help restore investors' faith in New York-based Goldman as the firm's executives, led by CEO Lloyd Blankfein and President David Solomon, try to shore up a lagging stock price. The firm's shares are down 2% since the start of 2017, even as rival Wall Street firms have posted double-digit gains.