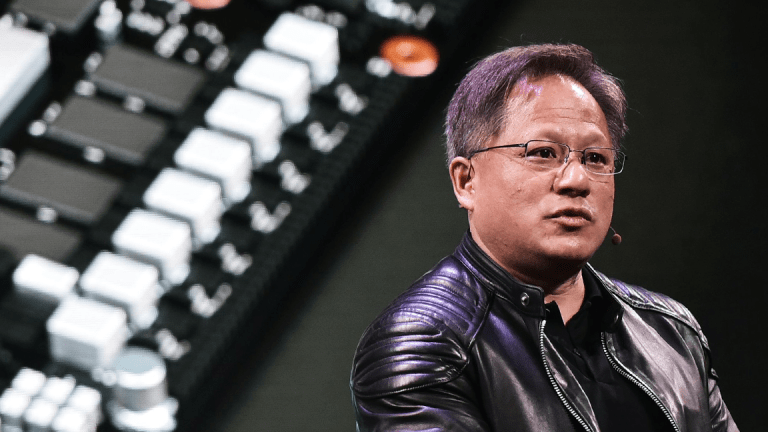 Nvidia One of the Few Chip Companies to Possess This Warren Buffett Trait
Goldman Sachs raises its price target on Nvidia.
Optimism on Wall Street for Nvidia Corp.  (NVDA) - Get Report is pretty high, and the chip-seller's upcoming earnings report is shaping up to be a hotly anticipated one. 
Goldman Sachs analyst Toshiya Hari raised his price target on Nvidia to $324 from $310, which is about 26% above its current level. Hari cited an expanding data center business and a high degree of promise in the soon-to-launch Volta gaming processing unit chip, a proposition that Arthur Wood Equity Research analyst Jeff Johnston largely agreed with. 
"Nvidia, in our view, is one of the few companies in our Semiconductor coverage with exposure to multiple secularly growing end-markets (i.e. PC Gaming, Datacenter, ADAS/AV), a deep and sustainable competitive moat, and as a result, a margin/return profile that significantly exceeds its peer," Hari wrote. 
A sustainable competitive mote is an investment factor long favored by Warren Buffett.
Wall Street, meanwhile, is underestimating the two important growth drivers for Nvidia, Hari said. "We are above on Datacenter revenue as well as overall gross margins (i.e. with the market likely under-appreciating the positive mix shift from strong growth in Datacenter as well as the new product launch in Gaming), he said. Actually, "the Street is significantly mis-modeling Nvidia's gross margin," Hari said. Wall Street is modelling a Data Center gross margin of 64.3%, but Hari is expecting a gross margin of 83.4%. He also thinks data center revenue will grow 20% quarter over quarter in Nvidia's third quarter, which ends in October.
With Nvidia planning to launch its new GPU chip, Volta, upside on Nvidia's third-quarter outlook could be realized. Although Hari only expects gaming revenue to increase 7% quarter over quarter in the third quarter, the Volta launch could boost that figure. "We note there could be upside to our Gaming revenue estimate if Nvidia launches its new graphics card line towards the end of August, as has been speculated by various news outlets," he said.
Johnston agreed with Hari that Nvidia's data center business was positioned well. "On the data center side, Nvidia has a leadership position in the artificial intelligence deep learning data center market," he told TheStreet. "That leadership position will likely continue to be the case for another 12 to 18 months."
On Volta, it's hard to say at this juncture just how much the market has priced in the announcement. "Volta is priced in to a certain extent," Johnston said, but that doesn't mean it's finished being priced in. Volta could be an "absolute monster" of a chip when it comes out, Johnston wrote in a note last week. New information on Volta in Nvidia's second-quarter earnings report could provide a boost to the stock.
Plus, "Volta is going to launch with an unprecedented amount of applications support," Johnston told TheStreet. Usually, when a chipmaker announces a new chip, it will do so with a game developer to show that the chip works well with a game. But this time around, Nvidia will have many games with which to show off the new product.
"You're going to see out of the shoot a tremendous amount of application support," Johnston said. 
Nothing is without risks, of course. It's important to remember "you just can't count out Intel (INTC) - Get Report ," he added. "They have an incredibly strong engineering bench and an enormous research and development budget." 
All in all, when asked what to do with Nvidia stock ahead of earnings, Johnston said investors should "absolutely" buy ahead of earnings. 
On both the data center business and Volta, "those are the two big drivers going into earnings," he said. "These are the two core underpinnings to the company's growth profile." 
Nvidia reports fiscal second-quarter earnings on Aug. 16. Wall Street is looking for adjusted earnings of $1.85 a share, which would be an 82% year-over-year increase, on revenue of $3.1 billion. 
Nvidia was up roughly 1% Tuesday to $256.31. 
Nvidia is a holding in Jim Cramer's Action Alerts PLUS member club. Want to be alerted before Jim Cramer buys or sells NVDA? Learn more now.