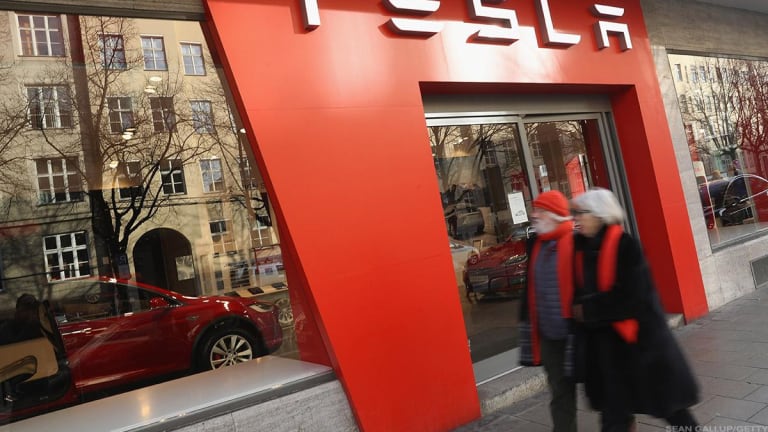 Goldman Downgrades Tesla Amid Debt Load and Dearth of New Products
Things are continuing to get less rosy for the electric car maker.
Things are continuing to get less rosy for the electric car maker.
Goldman speaks on Tesla, finally. 
Goldman Sachs Group downgraded Tesla Inc. (TSLA) - Get Report stock Tuesday morning on signs the company won't come to market soon enough with products to match against those of rival electric car companies.
There's too much emerging competition in the electric vehicle space. "We add TSLA to the Sell List with a 6-month price target of $210," Goldman Sachs analyst David Tamberrino wrote in a note to clients Tuesday morning. "We see the medium-to-longer term industry backdrop as challenging for Tesla's products; this follows from an increasing number of EV launches from both traditional OEMs and other start-up competitors - at a time when the company's product cadence hits a gap," the note said.
Nio, a Chinese electric car maker looking to IPO on the New York Stock Exchange, is known as the "Tesla Killer." Volkswagen (ETR) - Get Report is also looking to launch an electric car, called the ID Crozz in 2019. It wants to launch other EV's by 2022. 
As Tamberrino's note pointed out, Tesla does not have a new car coming out soon - there's one slated to come out in 2020 - but not soon, so the increased competition isn't met with a new Tesla model at this point. And of course, pricing power will decline as well, which will not only put pressure on sales volumes, but also margins. "The intensifying industry dynamics combined with the phase out of the US Federal EV Tax Credit for Tesla customers - driving an exhaustion of higher price point buyers - could weigh on company gross margins and profitability," the note said. "With Tesla not expecting to launch the Model Y until 2020 (and likely not ramp volume until 2021), we believe the company will see pressure to its lead in EVs as competition catches up," the note added. 
And then there are the cash concerns, which presumably won't get better given the rising competition. Tesla's net debt, or its debt minus cash, has risen each quarter this year, according to Goldman Sachs. Cash has also declined this year, as has the entire balance sheet, with shareholders equity shrinking to $3.9 billion from $4.2 billion over the past six months. The company also has principal on debt due soon. "With looming maturities on convertible debt, we believe the company would likely need to come back to the capital markets in first-half 2019," the note said. 
Credit analysts largely believe another debt raise would be credit negative for Tesla. Sure, the next capital raise could conceivably be equity, but the Securities and Exchange Commission investigation into CEO Elon Musk's "funding secured" tweet could prompt Tesla to raise equity in order to payoff short-sellers, should they win in court. If shareholder want to avoid high levels of equity dilution, they may want Tesla's next capital raise for operations to be debt. 
Tesla shares fell more than 2% on Sept. 4 on the Goldman downgrade. 
Start, and end, your trading day right with TheStreet's 'Daily Snapshot' on your favorite smart-speaker. Learn more about TheStreet's market coverage for your trusted smart-speaker here.