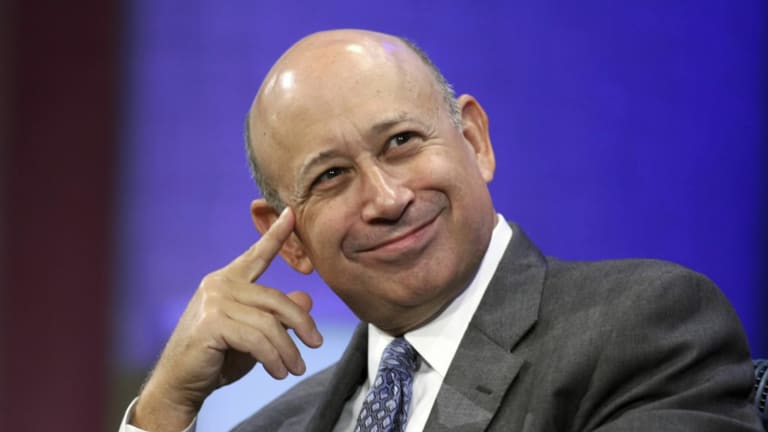 Goldman CEO Lloyd Blankfein Trolls Britain's Brexit Plans With Frankfurt Tweet
Goldman Sachs boss Tweets that he'll be spending "a lot more time" in Frankfurt after Brexit.
Goldman Sachs (GS) - Get Goldman Sachs Group, Inc. Report CEO Llloyd Blankfein may have upstaged U.K. Prime Minister Theresa's May's Brexit-saving visit to Brussels Thursday with a Tweet that should signal significant concern for the government's post-EU future.
Goldman has made no secret about its intent to establish a financial market foothold in Europe, alongside its operations in London, as the government hashes out the nature of it economic and commercial relationship with the European Union.  In fact, earlier this month, the bank inked a lease on more than 100,000 square feet at the 38-storey "Marienturm" building in the heart of Frankfurt's financial district. 
On Thursday, it seems, Blankfein was pleased with the view.
The Tweet also comes as Prime Minister May arrives in Brussels for what could prove to be a pivotal meeting with European leader that will either establish a framework for talks on Britain's future trade relationship or keep the current negotiations mired in the quicksand of the size of its financial settlement bill and the fate of EU nationals currently living in the United Kingdom.
It should also serve as a warning that the City of London's status as a global financial hub could be threatened if Britain's crashes out of the European Union without a deal to protect its massive financial services industry. U.S. banks, including JPMorgan Chase (JPM) - Get JPMorgan Chase & Co. Report , Bank of America (BA) - Get Boeing Company Report and Citigroup (C) - Get Citigroup Inc. Report have all explored secondary options on the Continent, with Paris, Frankfurt, Madrid and Lisbon all vying for new tenants with sweetheart deals on taxes and office space.
BofA is said to be in talks to lease 100,000 square feet of space near the Arc de Triomphe in tParis, while JPMorgan is reportedly ready to increase its own headcount in the French capital. 
The London School of Economics' Centre for Economic Performance and Centre for Cities estimates the British capital could lose as much as £18 billion ($23.7 billion) in annual revenue and as many as 30,000 jobs, a figure that EY suggests could rise to 83,000 in a worst-case "Hard Brexit" scenario. 
More of What's Trending on TheStreet: