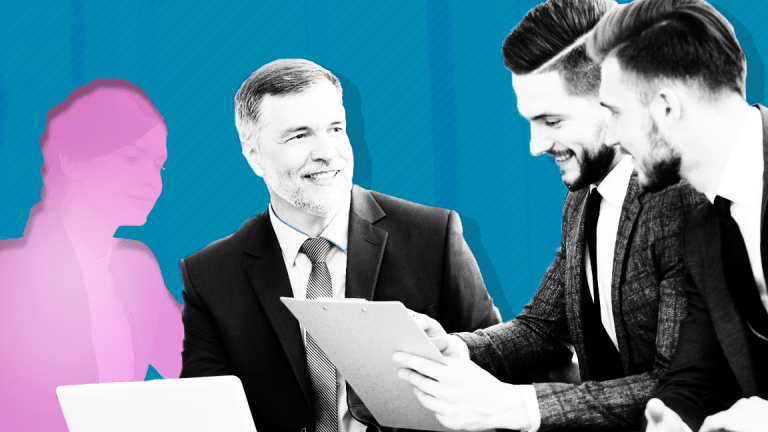 Goldman Board Goes On Female Hiring Spree, Leaves Old-Boy Era Behind
Goldman Sachs, historically man-heavy in its executive suite as well as the boardroom, hired retired U.S. Navy Vice Admiral Jan Tighe as a director, boosting the share of women on the board to four out of 14, or 29%. The firm had faced criticism for the lack of gender diversity on its board.
The boardroom of Goldman Sachs Group Inc. (GS) - Get Report is finally catching up with the #metoo era.
The Wall Street firm, historically man-heavy in its executive suite as well as among directors, said Thursday it had named former U.S. Navy Vice Admiral Jan Tighe to its board. Her appointment boosts the share of women on the board to four out of 14 total directors, or 29%.
That's above the 25% average for the Standard & Poor's 100 index of large U.S. stocks and just below the threshold targeted by the 30% Club, a group that advocates for greater representation of women on boards and includes one of Goldman's biggest shareholders, BlackRock Inc. (BLK) - Get Report .  
For about 14 years under Chairman Lloyd Blankfein, the number of women on Goldman's board had stagnated at two. But over the past year, as the #metoo movement -- centered on sexual-harassment allegations against powerful men -- tore through corporate America and shareholder-advocacy groups put pressure on companies to increase their boardroom gender diversity, the legendary Wall Street firm went on a hiring spree. 
In July, Goldman hired former Harvard University President Drew Faust as a director, a notable selection because she's a historian with a women's-studies orientation. Her appointment to the top job at the venerable university in 2007 came after her predecessor, the economist and former U.S. Treasury Secretary Larry Summers, stepped down following an outcry over his remarks that innate gender differences might explain the high proportion of men in science and engineering positions.
In a March regulatory filing, Goldman had declared that boardroom diversity was "an important factor in our consideration of potential and incumbent directors."
Tighe, 56, retired this year after a 38-year career with the U.S. Navy, most recently as deputy chief of naval operations for information warfare and director of naval intelligence, New York-based Goldman said in a press release. She previously served as a fleet commander and university president of the Naval Postgraduate School. She also completed a training fellowship for aspiring board candidates with the National Association of Corporate Directors, according to the bank's website.   
"Jan brings over 20 years of leadership experience in complex cyber and intelligence operations, and more broadly, risk management for the United States Navy," Blankfein said in the press release.
A growing body of research suggests that companies should add more women to their boards -- not just to address the basic unfairness but also to improve shareholder returns. Big banks and financial firms including JPMorgan Chase & Co. (JPM) - Get Report , the largest U.S. lender, and the private-equity giant Blackstone Group LP (BX) - Get Report  have faced criticism over their under-representation of women in the boardroom, even as their predominantly male senior executives and directors tout efforts to bolster the careers of female employees.
At JPMorgan, for example, where Chairman and CEO Jamie Dimon has repeatedly highlighted his selection of women for half of his top lieutenants, only two women serve on the 12-member board of directors, or 17%. 
Several studies have shown that corporate boards with more female directors are better at decision-making, and that shareholders will benefit from an improved long-term financial performance. Experts also say women can be more assertive in the boardroom than men and thus more likely to challenge CEOs on crucial topics, such as risk-taking.
Two months ago, an all-female team of six analysts in Goldman's investment-research division published a 41-page report arguing that bias plays a key role not only in explaining the gender-pay gap among employees but also the scarcity of women in senior roles.
The study examined U.S. Census Bureau data showing that women on average earn 20% less than men. The all-female team concluded that the disparity can't be explained by typical labor-market factors like levels of education and experience or choices of industry and occupation.
The researchers argued that the remedy might be as simple as putting more women in charge.
"We believe at least part of the unexplained gap may be due to the lack of women in highly-paid senior roles," such as among the male-dominated ranks of CEOs and boards of directors, the analysts wrote. 
Somebody at the top of Goldman Sachs appears to be listening.