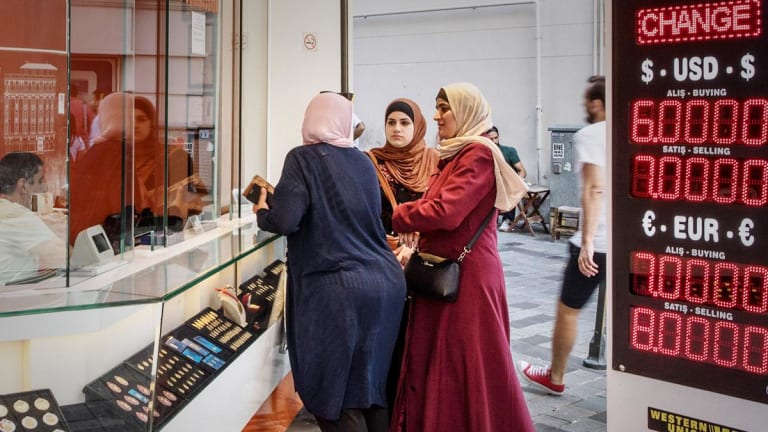 Thanks, Atlantic Ocean.
The biggest U.S. banks, which have pushed to expand internationally over the past decade, had yet to deeply penetrate Turkey, even as the financially beleaguered country became a stronghold for several giant, geographically-closer European lenders.
Goldman Sachs Group Inc. (GS) - Get Goldman Sachs Group, Inc. (GS) Report , the Wall Street firm, is the only big U.S. bank to disclose a risk of direct losses to the country as of June 30, based on a review of financial filings.
Goldman listed $2.53 billion of total credit exposure to the country related to derivatives, secured receivables and loans. Almost all of that was with non-government trading partners or borrowers, and the New York-based company had collected $2.05 billion of collateral to protect itself against losses. But even those exposures failed to rank Turkey among Goldman's biggest potential foreign-country risks.
Turkey has become a flashpoint in global markets, as President Recip Tayyip Erdogan condemned raising interest rates and moved to consolidate power over the central bank, depriving the country of key tools to push back against rampant inflation and a tumbling currency. The lira fell 9.1% on Monday to about 7 per dollar, leaving it down 85% so far this year.
"High inflation in Turkey combined with current-account deficits and significant depreciation of the Turkish lira has threatened its financial stability," Goldman stated in an Aug. 3 quarterly report.
Goldman spokesman Michael DuVally declined to provide additional comment on the bank's Turkish exposures beyond the disclosures in the recent report.
But the firm's exposures are minuscule compared with those at some European lenders, including Spain's Banco Bilbao Vizcaya Argentaria SA, known as BBVA (BBVA) - Get Banco Bilbao Vizcaya Argentaria, S.A. Sponsored ADR Report , and France's BNP Paribas SA.
In recent financial filings, BBVA reported 73 billion euros ($83 billion) of total assets in the country, while BNP listed 29 billion euros of "gross exposures."
Of course, the global financial system is deeply interconnected, so instability in Turkey could easily spread to other parts of the world where the U.S. banks have a deeper presence, such as Western Europe, Asia, Mexico and the rest of Latin America. The big Wall Street firms also do ample trading with European banks, so any big losses suffered by those lenders could also lead to contagion. 
As an example, Mexico's peso, the most widely traded currency in emerging markets, followed the Turkish lira lower on Monday, weakening by 1.7% to 19.24 per dollar. And a gauge of emerging-market stocks lost 1.8%, even as the Standard & Poor's 500 Index of large U.S. stocks slid just 0.2%.
Podcast: Turkey: How it Affects our Dollar, Other Countries and Your 401(k) (Listen!)
Bank of America Corp. (BAC) - Get Bank of America Corp Report appears to have trimmed its risks in Turkey in recent months, based on financial filings.
As of March 31, the bank listed $3.1 billion of "net country exposure" to Turkey. But a recent filing as of June 30 made no mention of the country, indicating that Turkey no longer ranked among the top 20, where the lowest listed exposure was $2.63 billion.