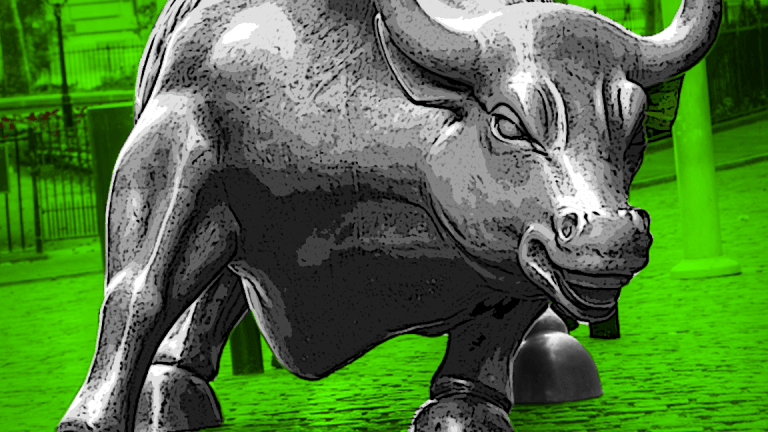 Record Number of Investors See "Goldilocks" Scenario for Global Stock Markets
Above-trend growth and tame inflation will keep global bull markets for stocks on track, a new BAML survey indicates.
A record number of investors are forecasting a "Goldilocks" scenario for global financial markets, according to Bank of America Merrill Lynch's closely-watched survey of fund managers, with tame inflation and above-trend growth boosting stocks but also lifting bond yields in the months ahead. 
The October report also showed that the 179 investment managers who run more than half a trillion dollars worth of assets polled are keeping less cash on the sidelines and putting more money to work in European stocks thanks to a positive economic outlook and good earnings potential. 
"Europe is in vogue according to global investors, with the overweight in Eurozone equities back near record highs and EPS expectations accelerating," said Ronan Carr, BAML's European equity strategist. "European investors remain positive on the macro outlook and are looking for a global reacceleration."
However, most investors said the biggest tail risk to the current bull market was a policy mistake by either the Federal Reserve or the European Central Bank, putting such a concern ahead of both developments in North Korea and a crash in the global bond markets.
That said, more than 80% of the fund managers polled were bullish on bond yields and a positioning their portfolios for a higher-yield environment by rotating into bank stocks and out of defensive sectors such as healthcare and utilities. 
Curiously, while two-thirds of the fund managers surveyed were largely expecting a suite of U.S. tax cuts next year from President Donald Trump and Congressional lawmakers, only around 13% felt the reforms would be bullish for risk assets.
The survey also revealed that tech stocks remain one of the more crowded trades on Wall Street this month, the fifth time this year that such a view was expressed, followed by U.S. and European corporate bonds and Eurozone equities. 
Japanese stocks are also attractive, according to the survey, even as the Nikkei 225 records its 11th consecutive gain to take the benchmark past its 21-year high earlier Tuesday.
"Investors now see (the Japanese yen) as fairly valued but still expect the currency to depreciate," the survey indicated. "The allocation to Japan equities is at its cycle high, but still notably below the levels in 2015 while more investors (net -23%) perceive Japan equities as most undervalued among DM markets."
More of What's Trending on TheStreet: