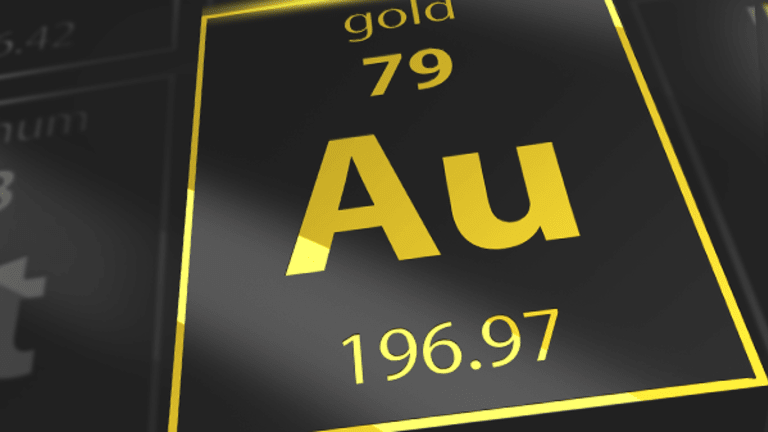 Gold Slides Below $1300 as Fed Rate Hike Plans Erode Bullion's Value
Gold hits a three-week low as higher-yielding assets draw investor interest after Fed rate hike signals.
Gold prices slumped to a three-week low in early Thursday trading as investors ploughed cash into higher-yielding assets following a hawkish market reaction to the U.S. Federal Reserve's signals on future interest rate hikes.
Spot gold prices, which value the immediate delivery of the bullion, were marked $5.10 an ounce, or 0.4%, lower at $1295 an ounce in London trading, the first dip below $1,300 since late August. In New York, the SPDR Gold Trust EFT (GLD) , which has gained 12.8% so far this year, was marked 0.4% lower in pre-market trading with an indicated opening price of 123.12.
Gold prices typically decline when investors seen the potential for higher returns from assets that pay interest, as opposed to those such as gold and cryptocurrencies, which only offer capital gains.
The U.S. dollar index, which measures the greenback's strength against a basket of six global currencies, was trading little-changed from its Thursday close at 92.45 but has risen 1.2% over the past two weeks in anticipation of the Fed's signalling.
European government bond yields are also on the rise in the wake of the Fed's Wednesday meeting, during which Chairwoman Janet Yellen suggested that economic growth was strong enough to weather at least one more rate hike this year and three over the course of 2018, taking the probability of a December increase past 70%, according to the CME Group's Fed Watch tool. 
Benchmark 10-year German government bond yields were marked 4 basis points higher at 0.48%, the highest since early August, while 2-year U.S. Treasury notes were seen holding nearly a 2008 high of 1.44% during European trading.