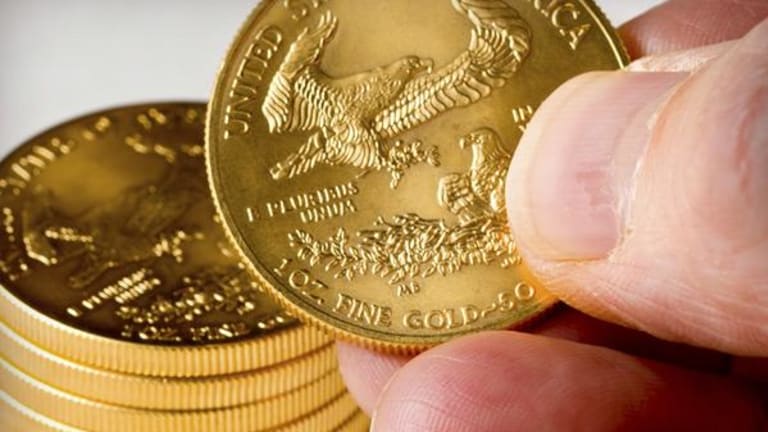 Gold prices jumped to a one month high Monday as the precious metal extended its rally since the U.S. Federal Reserve rate hike earlier this month amid a collapse in the dollar and increased global market uncertainty.
Spot gold was marked $13.70, or 1.1% higher at $1258.50 per ounce in early European trading, the highest since Feb. 28 and 5.15% higher than it traded on March 15 when the Federal Reserve lifted its key interest rate by 0.25%. 
Monday's rally is likely directly linked to the failure of U.S. President Donald Trump to push through a health care reform bill last week following the last-minute cancellation of a Congressional vote by House Majority Leader Paul Ryan.
However, data from the U.S. Commodity Futures Trading Commission last week also showed that hedge funds and other fund mangers increased their upside bets for gold for the first time in two weeks, adding to the bullish sentiment.
The U.S. dollar slumped to a four-month low Monday as investors begin what could be a major re-calibration of growth and inflation assumptions in the world's biggest economy and the ripple affect that will have on various global currencies.
Market reaction to Friday's decision by House Republicans to pull a vote on repealing and replacing the Affordable Care Act has mostly been felt in the currency markets, where the dollar has sunk to its lowest level -- 98.84 -- against a basket of six global currencies since Nov. 11.
The overnight move lifted the yen to multi-month highs against the greenback and boosted the euro, which also found support from a solid win in regional German elections for Chancellor Angela Merkel's Christian Democratic Party and traded 0.75% higher at 108.70.
Gold producing stocks were also on the rise Monday, with Rangold Resources plc (GOLD) - Get Barrick Gold Corporation Report and Fresnillo plc (FNLPF) topping the few gainers on the benchmark FTSE 100 index with gains of 2.13% and 1.55% respectively. In the case of Fresnillo, the Monday gains extend a year-to-date rally that has added 28% to the stock price and outpacing the 4.84% gain for the FTSE 350 Mining Index.
Technical analysts, however, caution that prices could face resistance at $1,260 per ounce, which is the bullion's 200-day moving average. A breach of that level, if sustained, could signal a reverse in the price's overall trend, suggesting further gains in the coming months.