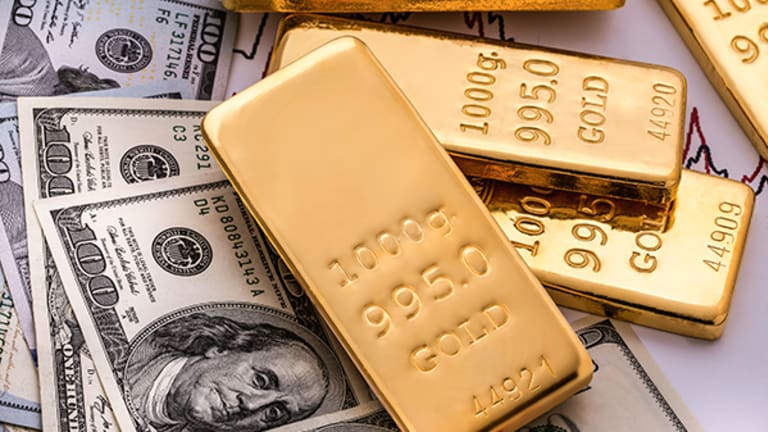 Gold Falls Sharply, Silver Tumbles Amid Strong Dollar
Gold and silver are down sharply amid a strong dollar.
Gold and silver are down sharply amid a strong dollar.
Gold tumbled Tuesday, falling to its lowest level since the Brexit vote amid a strong dollar and as the likelihood of an interest rate increase from the Federal Reserve this year intensified. 
Gold fell 2.91% in its largest decline since February. Gold last traded at $1,274.50 a troy ounce, according to the New York Mercantile Exchange. The SPDR Gold Trust ETF (GLD) - Get Report  fell 3.1%. 
"Overnight you had the announcement from the U.K. that Brexit was going to go forward in March of 2017," said Peter Hug, Kitco Metals director global trading, in a phone interview. "It affected the pound most dramatically, it dropped to a 31-year low against the dollar. The dollar with respect to a basket of currencies has been strengthening most of the day." 
"Gold opened up at about $1,308 and the backdrop of a strong dollar came into play and I think a couple of the players out there, there was absolutely no other news out, want to see what the result was on the bulls and whether or not they would hold the $1,300 price point," Hug said.
Doug Kass of Real Money Pro, TheStreet's premium site for active traders and professional investors, wrote in his Doug's Daily Diary blog that he plans to soon initiate a long in gold, "but only on a panic to the downside if it occurs. Some protection from the monetary lunatics [of the Federal Reserve] is justified." (Click here for a free 14-day Real Money Pro trial to check out Doug's Daily Diary and other great content).
Richmond Fed President Jeffrey Lacker said Tuesday there was a strong case for lifting interest rates.
"While inflation pressures may seem a distant and theoretical concern right now, prudent preemptive action can help us avoid the hard-to-predict emergence of a situation that requires more drastic action after the fact," Lacker said.
Federal Reserve Bank of Cleveland President Loretta Mester told Bloomberg Television in an interview that the U.S. economy was ready for an interest-rate increase and repeated that the central bank's meeting next month should be viewed as "live" for a policy decision, despite its proximity to the U.S. presidential election.
Silver fell 5.1% to $17.90 an ounce.