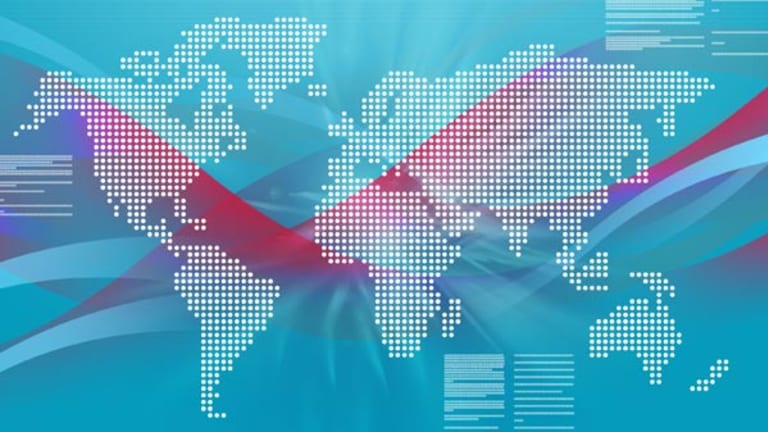 Gold Draws China Higher
Chinese stocks bucked the region's losses on the promise of gold futures entering Shanghai.
BANGKOK -- Markets in Asia followed Wall Street's declines on Thursday, ending mostly down, although China shone on the second day of the year ahead of excitement over the introduction of gold futures in Shanghai next week.
In Hong Kong, the Hang Seng finished down 673 points, or 2.4% lower, at 26,887, while in neighboring China, the Shanghai Composite Index rose 47 points, or 0.9%, to 5,319.
In South Korea the Kospi ended flat, down 0.7 points, at 1,852, while the Taiwanese Taiex slipped 139 points, or 1.7%, to 8184. Japanese equity markets were closed for a national holiday, and reopen tomorrow. The yen continued to trade around its one-month high vs. the dollar, set Wednesday at 109.22, but eased towards the end of the trading session, to 109.52.
"Because of the strong yen there needs to be an unwinding of emerging markets," says Winner Lee, an associate director at BNP Paribas in Hong Kong. "In terms of market sentiments, people are still unsure how much stocks will jack down further."
Gold stocks bucked the day's bearish trend however, as
Sino Gold
( SIOGF) surged 11.25%, to HK$51.90,
Zijin Mining
(ZIJMF)
climbed 1.8%, to HK$12.54, and
Zhaojin Mining
(ZHAOF)
soared 5%, to HK$34.60. The price of gold hit a new all-time high of 863.11 after Asian equity markets closed, propelled by advance buying over the introduction of gold futures on the Shanghai exchange next week, inflationary fears and a recently destabilized political climate in Pakistan.
Chinese shares performed strongly, with commodity stocks up after oil reached $100 in overnight trading.
PetroChina
(PTR) - Get PetroChina Company Limited Report
rose 1.6%, to 31.08 yuan, while
Aluminum Corp of China
(ACH) - Get Aluminum Corporation of China Limited American Depositary Shares Report
gained 1.9%, to 39.23 yuan.
BNP Paribas' Lee recommends buying domestic coal stocks now, like
Yanzhou Coal Mining
(YZC)
, which she says will perform better than consumer stocks in the near term.
China Eastern Airlines
(CEA) - Get China Eastern Airlines Corporation Ltd. Report
lost 3.4%, to 20.84 yuan, and
Air China
(AIRYY)
fell 1.9%, to 29.09 yuan, on the back of the higher oil price and on news that a deal to sell a 24% stake, for $923 million, in China Eastern to
Singapore Airlines
(SINGF)
is now set to be tabled. Singapore Airlines shares lost 0.6%, to S$17.10 in Singapore trading.
Airline stocks on the mainland and in Hong Kong have been some of the most aggressive plays over the Christmas season, and dealers now expect further selling in the short term on continued profit taking.
"Some of the punters expect gold to rise on the introduction of Shanghai futures, I guess, and it partly explains the buoyancy of the gold price, but it's not the only reason," says Khiem Do, who manages $17 billion for Baring's Asia Pacific Fund in Hong Kong. "Copper futures are trading there, and oil futures trade there, so this is just an addition."
Market turnover for the day was 20% higher than on Wednesday, at HK$90.1 billion, or $11.5 billion. "Volumes will pick up when some big IPOs appear again, and it appears that the retail demand for those big Chinese IPOs is still very strong," says Do.
Do adds that recent weakness in Hong Kong share prices has been caused by local issues, including the delayed introduction of qualified domestic retail investor programs in China, rather than recent U.S. recessionary talk.
Losers in Hong Kong were mixed, with no particular sector leading the sell-off. After rallying in early trading on expectations of further interest rate cuts in the U.S., property stocks gave up their momentum by the close.
Hang Lung Properties
(HLPPY)
lost 0.7%, to HK$33.85, while
Cheung Kong
(CHEUY)
shed 0.8%, to HK$142.
The conglomerate
Hutchison
(HUWHY)
stood as the sole winner, rising 0.5%, to HK$80.80. Many Asian investors are dubbing Hong Kong property stocks key plays in early 2008, since they are more insulated than others from the recent surge in energy prices, and because real estate prices there are widely expected to increase 25% this year.
Chinese telecoms stayed in the red throughout the day, although some dealers said they were using the big dips to buy into market leader
China Mobile
(CHL) - Get China Mobile Ltd. Report
. Shares in China Mobile sank 2.6%, to HK$132.70, while rivals
China Telecom
(CHA) - Get China Telecom Corp. Ltd. Report
and
China Netcom
(CN) - Get Xtrackers MSCI All China Equity ETF Report
fell 1.6%, to HK$6.13, and 2.1%, to HK$22.95, respectively.
China Unicom
(CHU) - Get China Unicom (Hong Kong) Ltd. Report
was one of the day's worst performers, plummeting 4.9%, to HK$16.48.
Among financials,
China Life Insurance
(LFC) - Get China Life Insurance Company Limited American Depositary Shares Report
dived 3.1%, to HK$38.60, while
Hang Seng Bank
(HSNGY)
lost 2.5%, to HK$155.50, and parent
HSBC Holdings
(HBC)
fell 1%, to HK$129.50.
Daniel M. Harrison is a business journalist specialising in European and emerging markets, in particular Asia. He has an MBA from BI, Norway and a blog at
. He lives in New York.