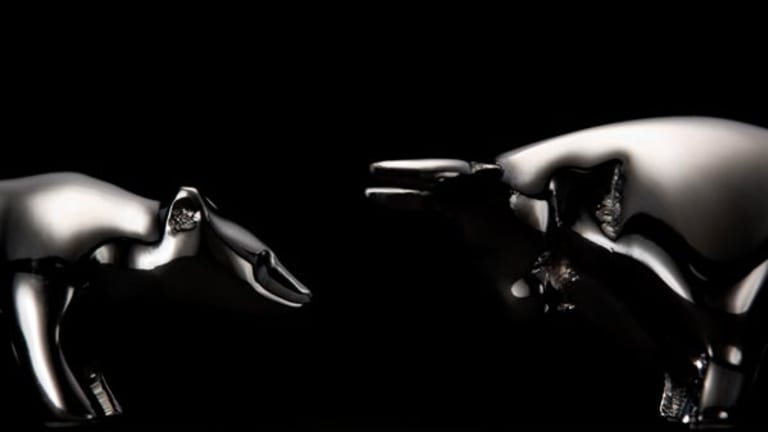 GM News Leads Market to Lower Open
Questions about GM's ability to remain a 'going concern' have hit the markets hard Thursday morning.
Questions about GM's ability to remain a 'going concern' have hit the markets hard Thursday morning.
The markets opened lower on Thursday after a hopeful midweek rally, amid concern for U.S. automaker General Motors (GM) - Get Report, more economic data and news on global efforts to revive economies.
The Dow Jones Industrial Average was losing 129 points at 6747, and the S&P was off by 14 points at 698. The
Nasdaq
was falling 22 at 1331.
Reports that China would announce additional stimulus led markets higher on Wednesday, but Chinese Premier Wen Jiabao instead largely discussed the previously announced stimulus package. But Thursday's news included other efforts to deal with the economic downturn overseas.
The European Central Bank
slashed its main interest rate
by a half percentage point to 1.5%, a new record low. And the Bank of England cut official interest rates by half a percentage point to 0.5% and said it will create new money to buy $106 billion of assets off troubled banks, a figure that was less than analysts expected, according to an
Associated Press
report.
The United States Federal Reserve has already cut its key interest rate to a record low range, and Treasury Secretary Timothy Geithner has disclosed some parts of a plan to buy additional, toxic assets from U.S. banks to help their balance sheets and encourage lending.
The U.S. government has also lent struggling automakers billions with the requirement that they prove financial viability, but that might be a hard sell for some. General Motors said in a 10-K filing with the Securities and Exchange Commission that recurring losses and its inability to generate sufficient cash flow to meet obligations caused its auditor to raise "substantial doubt" about the automaker's ability to continue as a going concern.
Meanwhile, more jobs data came in ahead of Friday's unemployment figures.
Initial jobless claims
came in at 639,000 for the week ended Feb. 28, a less severe figure than economists expected and down from 670,000 the week prior.
Meanwhile, unit labor costs rose to 5.7% from 1.8% for the fourth quarter, far surpassing expectations for a 3.8% increase.
Business and nonfarm productivity slackened by 0.4% from the third quarter and was up 2.2% since 2007. Quarterly productivity in the business sector was affected by an 8.4% decrease in output, the largest since 1982, and an 8% decrease in hours worked, the largest since 1975.
In corporate news,
Wal-Mart
(WMT) - Get Report
said its same-store sales in February
rose 5.1%, excluding fuel. Total net sales in the month rose 2.8% to $30.02 billion, outpacing the expectations of analysts.
In commodities, oil was falling $1.51 to $43.87 a barrel, while gold rose $10.20 to 916.90.
Longer-dated Treasuries were falling. The 10-year note was losing 28/32 to yield 3%, and the 30-year was lower by 1-08/32, yielding 3.7%. The dollar was recently weaker against the yen and stronger against the pound and euro.
Stocks overseas were largely lower, but there were exceptions. The FTSE in London and the DAX in Frankfurt were recently lower by 2.7% and 3.3%, respectively. In Asia, Hong Kong's Hang Seng ended its session slightly lower, but Japan's Nikkei closed nearly 2% in positive territory.