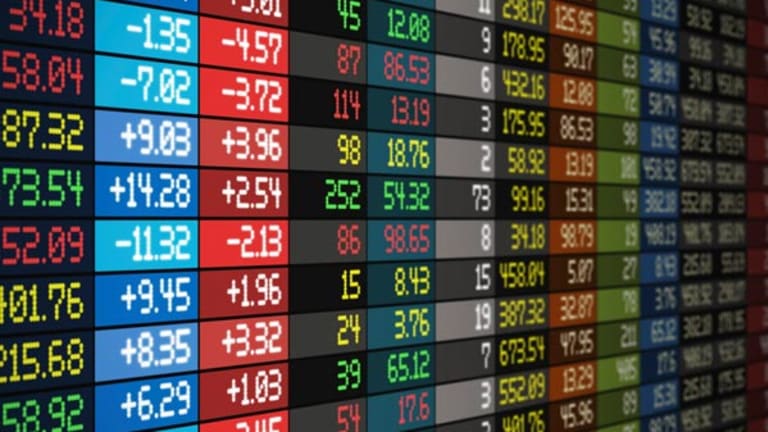 GM, McDonald's Bolster Stocks
The Dow surges on positive news from the big-name blue chips.
Updated from 4:04 p.m. EDT
Stocks jumped Thursday as positive news out of a trio of
Dow
components outweighed stubbornly high oil prices and another warning from networker
Alcatel-Lucent
(ALU)
.
The Dow Jones Industrial Average rose 133.23 points, or 1%, to 13,424.88, and the
was up 12.39 points, or 0.84%, at 1483.95. The
Nasdaq Composite
lagged behind but was better by 8.99 points, or 0.35%, at 2601.06.
Traders found reasons to buy, thanks in part to three Dow stocks,
McDonald's
(MCD) - Get Free Report
,
Microsoft
(MSFT) - Get Free Report
and
GM
(GM) - Get Free Report
.
McDonald's climbed $3.10, or 6.1%, to close at a record $54.30 on word it expects to return a total of $15 billion to $17 billion to shareholders over the next three years through dividends and share buybacks. The fast-food restaurant chain also said it has bought back $2.4 billion worth of stock this year.
GM soared 10% after Citigroup began coverage of the automaker with a buy rating and a $41 stock price target.
Those positive developments come on the same day that an article in
The Wall Street Journal
said United Auto Workers President Ron Gettelfinger is willing to agree in principle to a health care trust fund that would help automakers cut $95 billion in retiree costs.
However, the UAW and Detroit are still working out the details, and a significant gulf remains between the sides, the paper said, citing sources. Still, shares of GM added $3.04 to $33.29.
Ford
(F) - Get Free Report
was higher by 42 cents, or 5.6%, to $7.92.
Microsoft was helping to prop up tech shares after announcing it bumped its quarterly dividend higher by a penny to 11 cents a share. Shares climbed 0.8% to $29.16.
Also aiding the mood was
Countrywide
(CFC)
, whose shares gained 13.9% to $18.93 after the company arranged for $12 billion in additional secured borrowing through new or existing credit lines.
Breadth turned positive compared the previous session. On the
2.79 billion shares changed hands, as advancers edged decliners by a 2-to-1 margin. Volume on the Nasdaq reached 1.66 billion shares, with winners outpacing losers nearly 8 to 7.
Traders were ignoring a few negative headlines. Among them, serial profit-warner Alcatel-Lucent sank 8.8% to close at $9.16 after lowering its third-quarter financial outlook.
One day after crossing the $80-a-barrel threshold intraday, crude oil had a record close about that level for the first time.
"There are more buyers than sellers in commodities because of the inflation play," said Paul Mendelsohn, chief investment strategist with Windham Financial. "It seems that traders are betting that a
interest rate cut will have inflation running rampant, creating this commodity play. This is putting a floor under oil stocks, and it's supporting the major market."
With the next Fed policy meeting less than a week away, traders are counting on a rate cut in order to help improve liquidity in tightening credit markets. The debate now centers over whether the central bank will cut the overnight rate by 25 or 50 basis points.
"Despite high commodity prices, the market is focused entirely on the Fed lowering rates," said Art Hogan, chief market analyst with Jefferies. "There was a handful of good corporate news traders leaned on today. However, this is all built on the same momentum driven by expectations the Fed will cut rates next Tuesday."
Meanwhile, former Fed Chairman Alan Greenspan said in comments made available by
CBS
that he didn't grasp that subprime lending trends were significant enough to hurt the broader economy until late 2005. He also defended his interest rate-cutting campaign that went from 2001 to 2004.
"While I was aware a lot of these practices were going on, I had no notion of how significant they had become until very late," he says in the interview. "I really didn't get it until very late in 2005 and 2006."
Greenspan's comments were made to Lesley Stahl, whose interview with the longtime central-bank chief will appear Sunday on
60 Minutes
.
On the economic front, the Labor Department said initial jobless claims rose by a less-than-expected 4,000 last week to 319,000. Economists had predicted claims would rise to 330,000. The report is the first on employment since last Friday's August nonfarm payrolls report, which showed that the U.S. economy lost 4,000 jobs last month.
A survey conducted by the
Journal
showed that economists anticipate a 36% chance of a recession for the domestic economy, up from 28% last month.
U.S. Treasury prices lost ground. The 10-year bond finished lower by 20/32 in price, yielding 4.49%. The 30-year note was falling 1 2/32, yielding 4.75%.
A day after the dollar hit an all-time low against the euro, it was slightly stronger in trading with most of its competitors, with the exception of the Canadian dollar. The euro was worth $1.3886, down from $1.3907 previously.
Overseas markets were higher. Japan's Nikkei 225 tacked on 0.2% overnight, and Hong Kong's Hang Seng rose 0.9%. In Europe, London's FTSE 100, Germany's Xetra Dax and the CAC 40 in Paris added 0.8% or more.