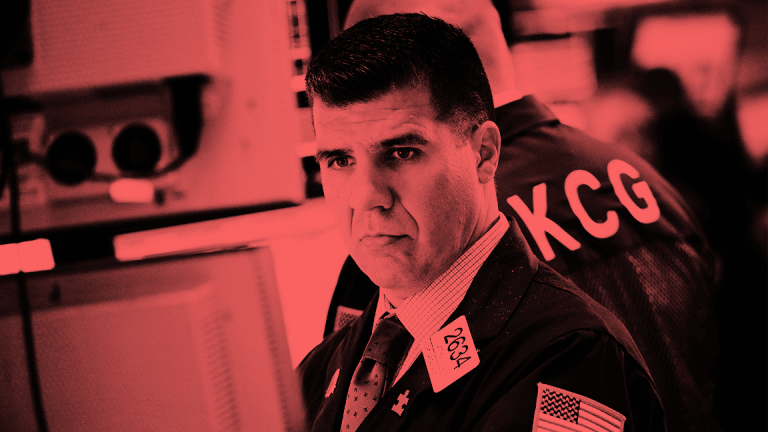 Publish date:
Stocks Globally Weaken on Hawkish Federal Reserve and Surprising China Data
Stocks turned red across the board Thursday as investors reacted to a hawkish Fed rate increase and slowing economic data from China that suggest diverging growth paths for the world's two biggest economies.
Stocks turned red across the board Thursday as investors reacted to a hawkish Fed rate increase and slowing economic data from China that suggest diverging growth paths for the world's two biggest economies.
The Thursday Market Minute
Global stocks weaken as hawkish Fed, slowing China data trim risk appetite.
U.S. dollar softens, however, as investors focus on growth optimism, not inflation concern, in Jerome Powell comments.
China's central bank fails to follow Fed hike as domestic investment falls to 22-year low.
Euro rises to multi-week high as investor await potential policy signal from ECB President Draghi.
Wall Street futures drift lower amid broader sentiment pullback, but tech stocks may outperform.
Oil prices edge lower as weak China data offsets falling U.S. stockpiles.
Market Snapshot
Global stocks traded notably lower Thursday as investors reacted to yesterday's hawkish rate signalling from the Federal Reserve and were caught off-guard by a series of weaker-than-expected data from China that could suggest diverging growth paths between the world's two biggest economies.
The Fed's policy decision, which takes it base lending rate to 2% and marks the seventh increase since 2015, was hardly a surprise for investors, but the upbeat tone from Chairman Jerome Powell during his question-and-answer session with the media, combined with a more robust outlook for growth and inflation, now point to at least two more rate hikes between now and the end of the year.
"The economy is doing very well ... most people who want to find jobs are finding them. Unemployment and inflation are low," Powell said. "The overall outlook for growth remains favorable."
Curiously, market reaction was slightly counter-intuitive, given that investors have increased their bets on a December rate hike, with Powell's emphasis on growth, as opposed to inflation, helping to weaken the U.S. dollar index by around 0.44% in overnight Asia and European trade to 93.30 and take benchmark 10-year Treasury bond yields from a three-week high of 3.01% to around 2.95%.
U.S. stocks, which slipped modestly last night following the Fed's hawkish rate statement, are set to extend that decline at the opening bell, according to equity futures prices, with contracts linked to the Dow Jones Industrial Average I:DJI pointing to a flat open while those linked to the S&P 500 I:GSPC suggesting a 0.12-point gain for the broader benchmark.
Need some investing help? TheStreet's founder Jim Cramer has a tip for you, watch below. 
European stocks, however, rebounded sharply in the early afternoon in Frankfurt after the European Central Bank said it will reduce the pace of its monthly asset purchases in its quantitative easing program by €15 billion from the first of October, and end its quantitative easing program by the end of the year.
However, a dovish tone to its forward guidance, which indicated no rate hikes until the end of "the summer 2019" trimmed session gains for the euro and pushed government bond yields lower as the Bank appeared to remain concerned that slowing economic growth would blunt the recent acceleration in inflation. The Bank also said interset rates would remain "at present levels" through the summer of 2019.
The euro, which traded at a one-month high of 1.1826 prior to the ECB release, slipped 0.87% to 1.1726 immediately following the ECB's release, while benchmark 10-year German bund yields fell to 0.46% as the Bank repeated its intention to reinvest maturing bonds for "an extended period of time."
The Stoxx Europe 600 index, which had fallen as much as 0.48% on the session, was marked 0.05% higher by 14:15 in Frankfurt, with Germany's DAX performance index rising 0.16% and France's CAC-40 gaining 0.34%.
However, stock market reaction in Asia was more impacted by a triple-set of economic readings from China that suggest the government's longer-term aim of reducing risky lending practices is starting to take affect, with five-month investment rates falling to a 22-year low of 6.1% and industrial output and retail sales falling much more than anticipated in the month of May.
China's central bank, the People's Bank of China, also elected not to follow the Fed's tighten cycle, as it typically does in order to keep the yuan closely pegged to the U.S. dollar, and kept its short-term interest rate unchanged Thursday, suggesting it's also concerned about the overall trajectory of growth in the world's second-largest economy.
The collective reaction clipped 1.1% from the MSCI Asia ex-Japan index, the region's broadest measure of share prices, and helped push Japan's Nikkei 225 0.99% lower to close at 22,736.11 points.
Global oil prices were also on the back foot, with the weaker China data offsetting yesterday's bigger-than-expected 4.14 million decline in domestic U.S. crude stocks reported by the Energy Information Administration.
Brent crude contracts for August delivery, the global benchmark, were seen 18 cents lower from their Wednesday close in New York and changing hands at $76.56 per barrel in early European trading while WTI contracts for July were 22 cents higher at $66.86 per barrel as the U.S. dollar struggled in foreign exchange markets.