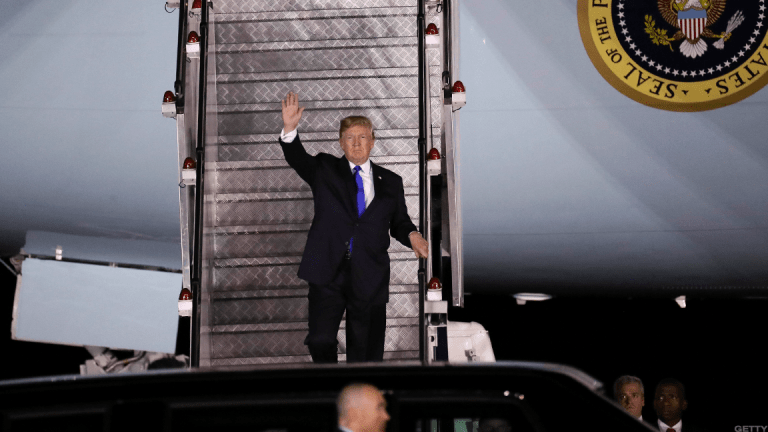 Stocks Weaken Around The World as Trump Opens New Fronts in Global Trade War
Global stocks fell sharply Monday, taking Dow futures around 150 points into the red, as President Donald Trump continues to suggest the U.S. will escalate trade tensions with both China and Europe later this week.
Global stocks fell sharply Monday, taking Dow futures around 150 points into the red, as President Donald Trump continues to suggest the U.S. will escalate trade tensions with both China and Europe later this week.
The Monday Market Minute
Global stocks extend declines as Trump opens new fronts in trade war.
Reports suggest President will target tech sector in next tariff move to thwart China investment in U.S.
Asia shares tumble, Europe set for weaker open as tariff threats trim risk appetite.
Oil continues to slide as OPEC decision on output adds supply, but investors question details.
Wall Street futures fall, with Dow poised for 175 point decline, as benchmark slips into year-to-date decline.
Market Snapshot
Global stocks weakened Monday as investors reacted to the latest threats on tariffs from President Donald Trump that look to escalate the brewing trade war between Washington and its economic allies.
The President Tweeted Sunday that the U.S. was preparing "more than reciprocity" to trade partners that impose what he called "artificial" barriers to American companies, a threat that suggests reports of a plan to limit Chinese investment into U.S. tech companies is close to being announced.
Trump's Tweets followed his Friday vow to slap fresh tariffs on European auto imports, a move that sent shares in German carmakers sharply lower Friday and has investors increasingly convinced that 'tit-for-tat' levies will be imposed on markets around the world, slowing global economic growth and hammering stock market valuations.  Bank of America Merrill Lynch said the current escalation is "really just the first stage of new arms race between US & China to reach national superiority in technology, and protectionism inevitably on rise to address inequality."
Stocks in Asia were lower across the board, with shares in China falling around 0.8% despite the impending release of around 700 billion yuan ($108 billion) in fresh liquidity following Sunday cut in the so-called Reserve Requirement Ratio for Chinese lenders by the People's Bank of China  The MSCI Asia ex-Japan index was marked 0.91% lower heading into the close of the session while Japan's Nikkei 225 started the week off with a 0.78% fall to settle at 22,228.15 points.
European stocks were also weaker at the open, with the Stoxx 600 benchmark falling 0.97% while markets in France (-0.85%) and Spain (-1.22%) notched notable losses. Germany's DAX performance index was marked 1.25% lower in the opening hours of trading, with automakers such as Daimler AG (DMLRY)  (-1.79%), BMW AG (BMWYY)  (-1.66%) and Volkswagen (VLKAY)  (-2.32%) leading the declines. The Stoxx 600 Automobiles and Parts index was marked 1.71% lower at 563 points, the lowest level since Sept. 11.
Early indications from U.S. futures prices suggest the selling will afflict Wall Street, as well, with contacts tied to the Dow Jones Industrial Average  I:DJI pointing to a 175 point decline for the 30-stock average while those linked to the S&P 500 I:GSPC suggest a 19 point decline for the broader benchmark. 
Tech stocks are likely to be in focus once again in the Monday session, given a twin set of reports over the weekend, first in the Wall Street Journal, that suggest President Trump will use the International Emergency Economic Powers Act of 1977 to limit investments into U.S. tech companies by China-owned firms.
The reports also said that the U.S. Treasury Department, the U.S. Commerce Department and the National Security Council were drafting plans to introduce "enhanced" export controls, that could be unveiled as early as this week, to keep American technology from finding its way to China.
The Nasdaq Composite index is slated for a 59.5 point drop, according to futures prices, while Action Alerts Plus holding Apple Inc. (AAPL) - Get Report shares were marked 1.03% lower at 183.01 each. 
Away from equities, the U.S. dollar index, which benchmarks the greenback against a baskets of six global currencies, was marked 0.1% higher into the start of European trading at 94.615 while on-the-run 10-year U.S. Treasury yields fell 3 basis points to 2.869%. German bunds were also in favour amid the diminishing risk appetite, with benchmark 10-year yields falling 2 basis points to 0.315%.
Global oil prices also extended declines from Friday's sell-off following OPEC's decision to add more crude to the market by reducing compliance among members to its December 2016 output cut. While the cartel made no specific mention as to how many barrels could be released as a result, market expectations range between 600,000 and 700,000 barrels a day, largely as a result of increased production in Saudi Arabia and non-OPEC ally Russia.
Brent crude futures contracts for August delivery were marked $1.30 lower from their Friday close in New York and changing hands at $74.25 in early European trading while WTI contracts for the same month, the new benchmark for U.S. prices, were seen 21 cents lower at $68.37 per barrel.