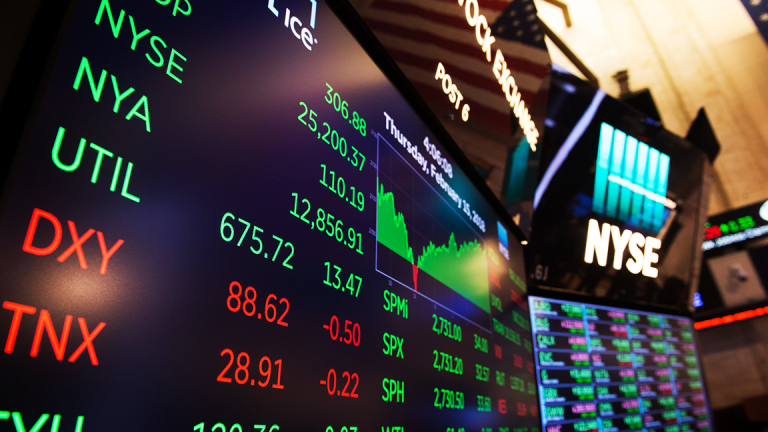 Global Stocks Weaken as Trade Concerns Linger, Dollar Surges Past 2018 High
U.S. stocks are set to open modestly weaker Thursday as investors re-set expectations for global equities amid a surging U.S. dollar and lingering concerns of a trade dispute between Washington and Beijing.
3 Things You Must Know Before the Market Opens
Market Overview
Global stocks weakened Thursday, pushing U.S. equity futures modestly into the red, as the dollar continues to strengthen following the Federal Reserve's hawkish tone on interest rates yesterday and concerns over the potential for an escalating trade war between Washington and Beijing.
Early indications from U.S. equity futures suggest a modest pullback on Wall Street, with contracts tied to the Dow Jones Industrial Average  I:DJI pointing to an implied loss of around 148 points at the opening bell, while contracts linked the S&P 500  undefined indicating a 12 point dip for the broader benchmark. Nasdaq Composite  I:IXIC futures are trading with an implied opening bell decline of 28 points.
Tesla (TSLA) - Get Tesla Inc Report shares were marked sharply lower in pre-market trading Thursday after founder and CEO Elon Musk urged investors to "sell our stock and don't buy it" during an extraordinary conference call after the clean-energy carmaker's record first quarter loss.
Tesla shares fell 6.9%, indicating an opening bell price of $280.38 each, a move that would extend its year-to-date decline past 9%
Europe's Stoxx 600 index, the region's broadest measure of share prices, slipped 0.3% to 386.29 points by mi-day in Frankfurt trading as benchmarks in France and Germany were weighed down by a heavy corporate earnings calendar. Britain's FTSE 100 fell 0.2% from last night's close, with support coming from a weak pound, which traded near it's 2018 low at 1.3610 after a softer-than-expected reading of service sector growth over the month of April.
Adidas AG (ADDYY) shares were an early mover of note, falling 1.3% in early European trading after the sportswear group posted a stronger-than-expected set of first quarter earnings but said its struggling Reebok brand continues to weigh on its bottom line.
Overnight in Asia, the dollar surged past its year-to-date high against a basket of six global currencies following the Federal Reserve's signalling of at least three more rate hikes between now and the end of the year.
The Fed statement, which helped take the dollar index to 92.60, kept a lid on stocks in the region, with the MSCI Asia ex-Japan index sliding 0.56% into the close of the session and the Nikkei 225 in Japan, which fell 0.16% to close at 22,472.78 points Wednesday, closed for a public holiday.
Sentiment was also cautious as investors awaited news from a heavyweight team heads to Beijing to talk trade and security
Treasury Secretary Steve Mnuchin, Trade Representative Robert Lighthizer, Commerce Secretary Wilbur Ross and White House Advisers Larry Kudlow and Peter Navarro are looking to achieve at least a partial breakthrough a brewing trade war that has elicited tariffs on $50 billion's worth of China imports into the U.S. and reactionary levies on agricultural goods into China.
The dollar's renewed surge, as well as surging U.S. production and inventory data, combined to ease global oil prices, although broader concern over the potential for renewed sanctions on Iran, likely to be announced by President Donald Trump next week, kept the losses limited.
Brent crude futures for July delivery, the global benchmark, were seen 13 cents lower from their Wednesday close at $73.23 a barrel while those WTI contracts for June were marked 5 cents lower at $67.88 a barrel.