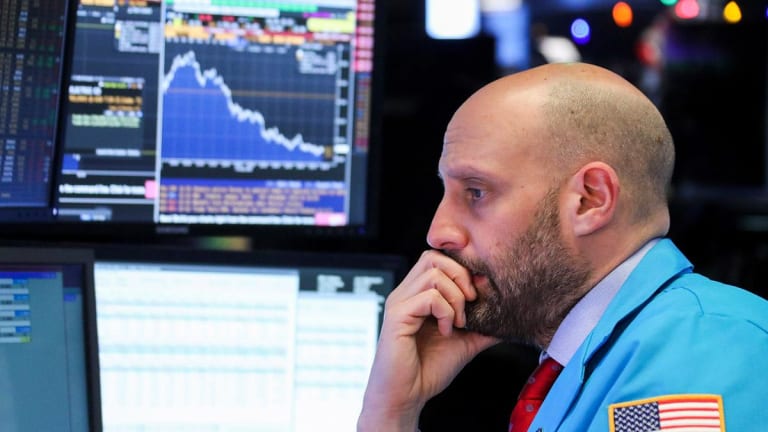 Global Stocks Tumble on Hawkish Fed Hike; Yield Curve Flattens on Growth Concern
Global stocks tumbled Thursday, pulling U.S. equity futures sharply lower and taking Wall Street back to levels seen in November of last year, after the Federal Reserve raised its benchmark lending rate and signaled tighter monetary conditions into 2019.
The Thursday Market Minute
Global stocks tumble as investors dump risk following a surprisingly hawkish rate hike from the U.S. Federal Reserve.
Markets in Asia follow Wall Street sharply lower, clipping nearly 3% from the Nikkei 225 and pushing more regional indices into bear market territory.
European stocks fall to two-year lows, with Britain's FTSE 100 hitting the lowest level since August 2016.
U.S. yield curve grinds nearer to inversion as Fed trims growth forecasts even as it pledges to two more rate hikes in 2019.
U.S. stocks set to open modestly higher, however, with Dow futures indicating a 2-point opening bell gain, ahead of December industrial data and weekly jobless claims. 
Market Snapshot
Global stocks tumbled Thursday, pulling U.S. equity futures sharply lower and taking Wall Street back to levels seen in November of last year, after the Federal Reserve raised its benchmark lending rate and signaled tighter monetary conditions into 2019.
Fed Chairman Jerome Powell confirmed analysts' forecasts with a 25 basis point increase in the Fed Funds rates, the fourth of the year and the eighth in the current tightening cycle, yesterday in Washington. The hike was accompanied by a statement from the FOMC that "some further gradual increases" would be needed for the world's largest economy next year, as well, defying critics who insisted the bank should examine incoming data before committing to more rate hikes. Powell also said the $50 billion a month pace of bond sales from the Fed's $4 trillion balance sheet was "smooth" and unlikely to change.
"We came to the decision that we would have the balance sheet run-off on automatic pilot and use rate policy as the active tool of monetary policy," Powell said. "I don't see us changing that."
The hawkish tone of the decision -- despite the fact that Fed officials trimmed their 2019 rate hike projections from three moves to two -- hammered U.S. stocks Wednesday and spilled over into the Asia session, clipping nearly 3% from Japan's Nikkei 225 and pushing the region-wide MSCI Asia ex-Japan index 1.05% lower heading into the final hours of trading.
"It feels like we are back to square one again on Asia risk as we try to playbook early 2019 risk sentiment now wedged between a data dependent Fed and a very uncertain outlook from the PBOC on the stimulus front as the 90-day moratorium on tariffs looms ominously," said Stephen Innes, head of Asia Pacific trading at Oanda. "And with so much uncertainly dotting the global growth recovery, markets will likely greet the new year on very shaky footing."
Early indications from U.S. equity futures first suggested the selling will wash over onto Wall Street again Thursday, with contracts tied to the Dow Jones Industrial Average I:DJI indicating a 142-point pullback after last night's 350-point decline that dragged the 30-stock average to November 2017 lows, but have improved throughout the pre-market session to indicate a small 5 point bump.
Futures tied the S&P 500 I:GSPC , meanwhile, suggest an 2 point slide for the broader benchmark, which has already fallen 14.5% from its September 20 peak and has nearly two-thirds of its constituents trading in bear market territory.
European stocks were also weaker at the start of trading Thursday, with the Stoxx 600 sliding 0.83% by mid-day in Frankfurt and Britain's FTSE 100 falling 22% as oil majors tumbled and the pound rose to 1.2702 against the weaker U.S. dollar. Germany's DAX index was marked 0.85% lower while Italy's FTSE MIB fell 1.07%.
Investors were further rattled by moves in the bond market that suggest the U.S. economy could turn to recession in the next 18 months as the difference between 2-year and 10-year Treasury note yields narrowed to less than 10 basis points in overnight trading as short-term rates rose in sympathy with the Fed's rate projections and long-term rates fell amid concerns over medium-term growth as the central bank trimmed GDP projections for this year and next.
The flattening U.S. yield curve hit European banks hard, with the Stoxx 600 banks subindex falling 1.7% and all of the major European lenders sliding at least 2% in the opening minutes of trading. 
The U.S. dollar index, which tracks the greenback against a basket of six global currencies, was marked 0.8% lower from Wednesday levels and trading at 96.27, which benchmark 10-year yields were pegged at 2.762% after hitting an 8-month low of 2.75% in the overnight session.
Global oil prices resumed their decline in the wake of the Fed decision and the global market sell-off, with crude falling deeper into bear market territory amid concerns over 2019 demand and a smaller-than-expected decline of only 500,000 in U.S. crude stocks last week.
Brent crude contracts for February delivery, the global benchmark, were marked $1.67 lower from their Wednesday close in New York and changing hands at $55.57 per barrel while WTI contracts for the same month were marked $1.36 lower at $46.81 per barrel.