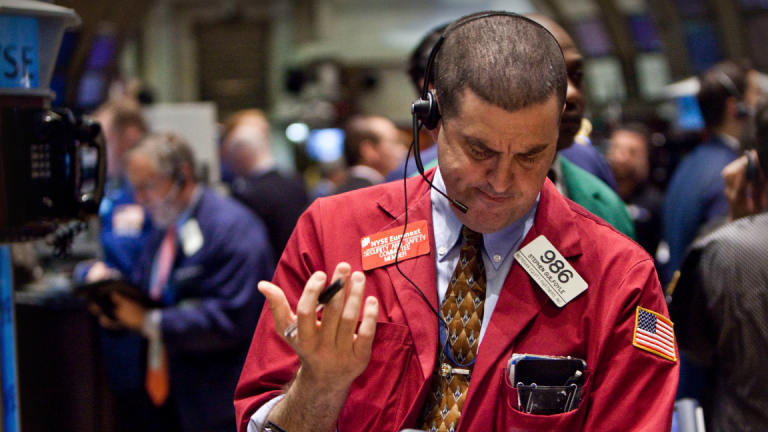 Global Stocks Tumble as China Fires Back in Trump Trade War
Global stocks tumbled, with markets in Asia losing all of their year-to-date gains, as China declared it's "not afraid" of an escalating trade war with the United States following President Trump's decision to target $50 billion in China-made goods.
7 Hot Things in the Markets Right Now
Asia stocks wipe out all 2018 gains as trade war moves rattle markets.
Nikkei 225 plunges 4.5% to a five-month low.
China declares it's "not afraid" to go head-to-head with the U.S. on tariffs.
Oil tests $70 a barrel as Saudis push for OPEC cuts into 2019.
Wall Street futures suggest Dow will test Feb. 8 low.
The Dow is only 0.4% above its Feb. 8 lows. Via Joseph Woelfel
One of the worst-performing industries since Mar. 12 is Internet Software & Services, home to Facebook (FB) - Get Meta Platforms Inc. Class A Report and others, which is down 6.8% points out Yardeni Research. Via Brian Sozzi
Market Snapshot
Global stocks tumbled Friday, erasing nearly all of their gains for the year, as investors reacted to President Donald Trump's move to slap tariffs on $50 billion worth of China-made goods and a reciprocal move from the world's second largest economy to target imports from the United States.
Early indications from U.S. equity futures suggest a mixed day on Wall Street, with contracts tied to the Dow Jones Industrial Average marked 25 points higher from last night's close, a move that would keep the benchmark of 30 stocks from hitting its Feb. 8 nadir of 23,860.46 points. Contracts tied to the broader S&P 500, which fell 68.24 points last night to close at 2,643.69 points, were seen 3.75 points to the upside during European trading hours. Nasdaq futures were marked 7 points lower.
The U.S. dollar index, which tracks the greenback against a basket of six global currencies, was marked 0.33% lower at 89.56 while benchmark 10-year U.S. Treasury yields retreated to 2.814% and 2-year notes slipped to 2.229% as investors piled into safe-haven assets amid the global equity market turmoil.
Spot gold prices rose 0.87% to $1,340 per ounce after hitting a four-week high of $1,343.06 during the Asia session.
The first definitive steps towards a global trade war hammered stocks in Asia, pulling Japan's Nikkei 225 to a five month low and wiping out all of the year-to-date gain for the region-wide MCSI benchmark, as Trump suggested his tariffs were the "first of many" and China declared that it is "not afraid" of going head-to-head with the Untied States.
"China doesn't hope to be in a trade war, but is not afraid of engaging in one," the China Commerce Ministry said in a statement. "China hopes the United States will pull back from the brink, make prudent decisions, and avoid dragging bilateral trade relations to a dangerous place."
China said it will place tariffs on around $3 billion in U.S. imports, including pork, recycled aluminium, fruit and wine, but urged Washington to "pull back from the brink", suggesting further sections of the American economy could be targeted if Beijing isn't able to advance negotiations with Washington.
European stocks fell sharply at the open, with the Stoxx 600 benchmark down 1.63% to 363.13 points. the lowest since Jan. 13, and the export-focused DAX performance index in Germany falling 2.09% to 11, 844.67 points, even with Trump offering a temporary exemption to Europe from his recent steel and aluminium tariffs. Britain's FTSE 100 slid 1.03% to 6,881.18 points, with prices supported by a 2.75% gain for GlaxoSmithKline Plc (GSK) - Get GlaxoSmithKline Plc Report following its decision to pull out of the $20 billion race for Pfizer Inc's (PFE) - Get Pfizer Inc. Report consumer healthcare unit.
Global oil prices were also on the move again, with crude spiking closer to $70 a a barrel, after Saudi Arabia's Energy Minister Khalid al-Falih said the current OPEC agreement on output cuts, which along with allies such as Russia are taking 1.8 million barrels of oil from the market each day, could be extended into 2019.
Brent crude prices for May delivery, the global benchmark, were seen 0.87% higher from Thursday's close in New York and changing hands at $69.51 a barrel in early European dealing. WTI contracts for the same month added 71 cents a barrel, or 1.1%, to trade at $65.01 per barrel.