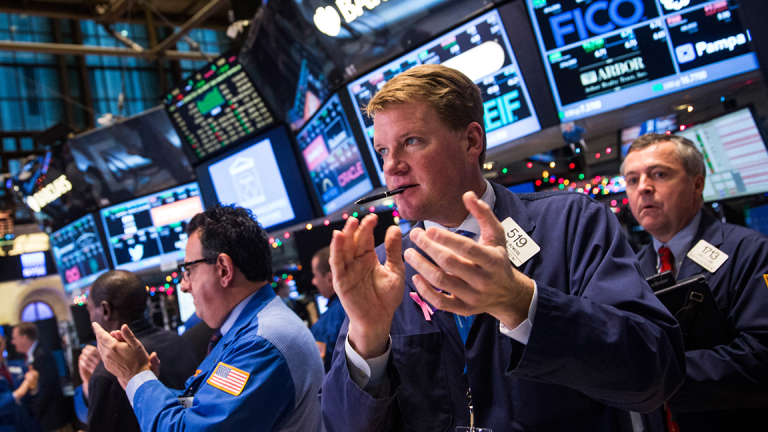 Global Stocks Steady as Trump Trade Talk Caution Keeps Markets in Check
President Trump expressed doubt that "spoiled" partners will agree to favorable trade deals as officials sit for a second day of U.S.-China talks in Washington.
The Friday Market Minute
US stocks set for modest opening bell gains as investors focus on trade talks in Washington.
Trump expresses doubt that "spoiled" trading partners will agree favorable terms.
Italian shares lead Europe lower as Five-Star/Liga government hopefuls publish fiscal aims.
Oil renews march to $80, U.S. gas prices hit $2.93 per gallon, as supply concerns persist.
Kiss front-man tells TheStreet Dow 30,000 is two years away. 
Market Snapshot
Global stocks steadied Friday, with modest gains in Asia and a positive open in Europe, as investors await news from a key U.S.-China trade summit in Washington and continue to monitor developments in government bond markets on both sides of the Atlantic.
However, comments late Thursday from President Donald Trump suggest the second stage of trade talks between the world's two biggest economies may not provide the kind of relief investors have been looking for over the past few weeks. 
"The reason I doubt (the outcome of the talks) is because China has become very spoiled. The European Union has become very spoiled," Trump told reporters in the Oval Office. "Other countries have become very spoiled because they always got 100% of whatever they wanted from the United States. But we can't allow that to happen anymore."
Beyond the back-and-forth on trade, global investors are also having to re-set expectations for interest rate hikes from the U.S. Federal Reserve as 10-year Treasury note yields rise to the highest since 2011 and the dollar cements itself at a four-month high against a basket of six peer currencies.
Benchmark 10-year notes hit 3.128% in overnight trading, taking the weekly advance to around basis points as investors bet that the consistent strength of the U.S. economy will prompt the Fed to raise rates at least three more times this year.
The surge past the 3% mark, however, may have stalled U.S. equities, but it hasn't snuffed out the recent rally which has seen the mid-cap Russell 2000 index hit another all-time high this week and the Dow Jones Industrial Average undefined rise more than 5% over the past two months.
Early indications from U.S. futures prices suggest the Dow will add another 84 points at the start of trading Friday while the broader S&P 500 undefined is set to gain around 5.2 points at the opening bell.
European reaction to Trump's twin decisions on steel tariffs and the multi-lateral nuclear agreement with Iran was more pointed, however, with European Commission President Jean-Claude Juncker vowing to block any U.S. move to penalise Continental companies doing business with Iran.
European stocks, however, slipped by mid-day in Frankfurt with the region-wide Stoxx 600 falling 0.1% and Britain's FTSE 100 falling 0.13% as benchmark heavyweights BP pc (BP) and Royal Dutch Shell Plc (RDS.A) drifted into the red.
Italian shares led the region lower, with the FTSE MIB benchmark falling 0.8% to a fresh one-month low, while benchmark 10-year government bond yields rose to seven-month high of 2.20% as the two main parties hoping to form a coalition in Europe's third-largest economy unveiled their formal spending plans.
Compagnie Financiere Richemont SA (CFRUY) shares were a notable early mover in European trading after the Swiss luxury group posted weaker-than-expected first quarter earnings and said sluggish watch sales in its Cartier and IWC brands clipped its bottom line.
Richemont shares fell more than 7% at the start of trading in Zurich to change hands at Sft91.94 each, a move that pulled rival Swatch AG (SWGAY) 3.1% lower to Sfr476 each.
Ubisoft Entertainment SA (UBSFY) shares were the biggest upside mover, rising 5.96% to a record high €89.60 each after the Far Cry and Assassin's Creed video game maker topped analysts' estimates in its full year earnings.
Equity investors were rather more optimistic in Asia, however, taking stocks higher across the board and taking the MSCI Asia ex-Japan index 0.18% higher into the close of the session. Japan's Nikkei 225 ended the session with its second consecutive gain, rising 0.4% to close out the week as 22,930.36 points, the highest in more than three months, as export stocks were supported by a 4-month low for the yen against the U.S. dollar.
Gene Simmons is bullish on Tesla (TSLA) CEO Elon Musk.
Global oil markets renewed their bullish trend Friday, although Brent crude futures were marked at $79.65 per barrel, up 35 cents on the session, after topping the $80 mark for the first time since November 2014. 
WTI contracts for June delivery were seen 5 cents higher from Thursday's New York close and changing hands at $71.54 per barrel ahead of a key reading of U.S. production installations in and around the Gulf of Mexico later today from Houston-based oil services group Baker Hughes. 
*******
TheStreet presents on May 22: "How to Stomach Market Volatility." Hosted by Fisher Investments, the exclusive live webinar will give you the tools to successfully navigate market volatility and discuss why having a wealth manager is more critical than ever before. Quickly register for the event here.