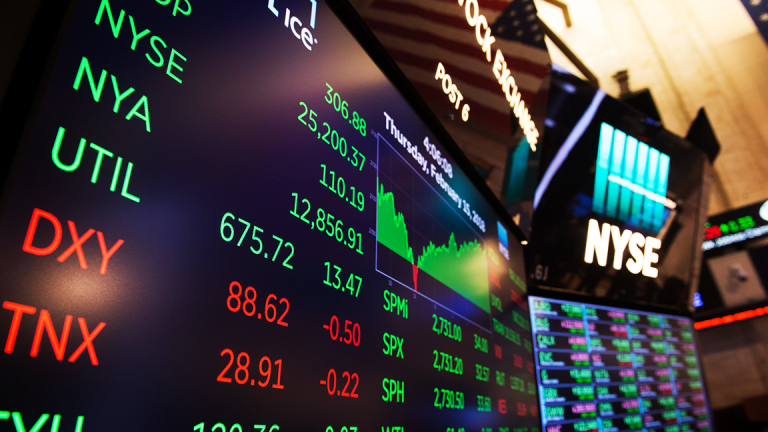 Global Stocks Stall as Fed, ECB Overtake Geopolitics in Risk-Filled Week
Global investors are sitting tight ahead of today's interest rate decision from the U.S. Federal Reserve and tomorrow's potentially game-changing policy meeting of the European Central Bank.
The Wedneday Market Minute
Global stocks mixed as investors prep for today's Fed rate move and tomorrow's ECB policy meeting
U.S. dollar gains amid increased bets on Fed tightening, but December rate hike probability remains evenly split.
European stocks edge higher as euro weakens, FTSE 100 slips as pound gains following Parliamentary win for PM May.
Wall Street futures point to mixed open, but Nasdaq could test new record highs.
Media stocks active, with Fox shares surging, following Judge Leon's clearance of the AT&T/Time Warner merger
Oil prices slide on robust U.S. stockpiles.
Global stocks traded cautiously Wednesday, with U.S. equity futures pointing to modest gains on Wall Street, as investors switched focused from geo-political and trade risks to more narrow concerns linked to monetary policy ahead of today's Federal Reserve rate decision and tomorrow's potentially game-changing meeting of the European Central Bank. 
Today's Fed meeting is also expected to provide pivotal information for investors, even as markets price-in a 93.8% chance of a 25 basis point rate hike at 2:00 pm eastern, with Chairman Jerome Powell's press conference 30 minutes later outlining the bank's intentions on future moves as the economy improves and the labor market tightens in the form of its so-called 'dot plots'.
Markets, however, remain divided as to whether the Fed is prepared to follow-through with its four-hike promise for 2018, with the CME Group's FedWatch tool suggesting a 41.4% chance of no hike in December, against a 40.2% chance the Fed Funds rate will rise to 2.25%.
Against that backdrop, the U.S. dollar index, which tracks the greenback against a basket of six global currencies, edged 0.04% higher to 93.858 in early European trading, while benchmark 10-year U.S. Treasury bond yields held at 2.957%. 
U.S. equity futures were similarly non-committal, with contracts tied to the Dow Jones Industrial Average undefined pointing to a modest 17 point gain and those linked to the S&P 500 undefined suggesting a 2.5 point gain for the broader benchmark. The tech-focused Nasdaq undefined , which hit another record high last night, is poised for a small 9 point opening bell bump.
Twenty-First Century Fox Inc. (FOX) - Get Free Report shares surged in pre-market trading Wednesday following last night's clearance of the $85 billion merger between AT&T (T) - Get Free Report and Time Warner T (WX) that is expected to ignite a bidding war for Rupert Murdoch's media empire.
Fox shares were marked 7.92% higher in pre-market trading, indicating an all-time opening bell high of $43.75 each, a move that would value the entire group at more than $80 billion. Walt Disney Co. (DIS) - Get Free Report and Action Alerts Plus holding Comcast Corp. (CMCSA) - Get Free Report -- both of which have expressed interest in the Murdoch-controlled group's media assets slipped 1.44% and 4.3% respectively.
However, the broader 'wait-and-see approach' to markets was evident in European markets, as well, with the Stoxx 600 benchmark rising 0.26% by mid-day in Frankfurt as markets in Germany and France took advantage of a weaker euro, which fell to 1.1755 against the dollar, as investors prepare for both the Powell press conference later today and ECB President Mario Draghi's much-watch question-and-answer session tomorrow in the Latvian capital of Riga.
With political risks in Europe easing and inflation starting to show signs of a sustained return to the Bank's 'just below 2%' target, some investors are betting that Draghi will ignore the slowing economic growth dynamics and signal the first definitive reversal of his ultra-loose monetary policy, including quantitative easing and negative interest rates, which have been in place since 2015.
U.K. stocks gained 0.15% by late morning in London, although gains were limited as the pound gained firmly against the U.S. dollar following a late-hour vote in Parliament last night that allowed Prime Minister Theresa May to survive another day as she attempts to placate pro-European lawmakers in her own party, as well its pro-Brexit majority, simultaneously negotiating Britain's exit from the European Union. 
Overnight in Asia, stocks were mixed in the face of both the dollar's strength and the fallout from yesterday's historic summit between President Donald Trump and North Korean leader Kim Jong Un in Singapore, with investors also focusing on the potential for further trade tensions as the U.S. prepares to unveil a list of $50 billion in China-made goods it will hit with fresh import tariffs on Friday. 
The region-wide MSCI Asia ex-Japan index was marked 0.6% heading into the close of trading Wednesday while Japan's Nikkei 225 took advantage of a slightly weaker yen to close 0.38% higher at 22,966.38 points. 
Global oil prices were also impacted by the firmer greenback, as well as data from the American Petroleum Institute yesterday which showed domestic crude stocks rose by a surprisingly strong 833,000 barrels last week, a figure which supports the recent ramp-up in U.S. production and drilling rigs in the Gulf region.
The International Energy Agency also said global demand is expected to top 100 million barrels a day by the middle of next year but cautioned that markets remain at risk to the impact of a trade war among the world's major economies as supplies remain tight amid OPEC's ongoing agreement on production cuts.
Brent crude futures contracts for August delivery, the global benchmark, were seen 34 cents lower from last night's New York close and changing hands at $75.54 per barrel while WTI contracts for July were marked 15 cents lower at $66.21 per barrel.