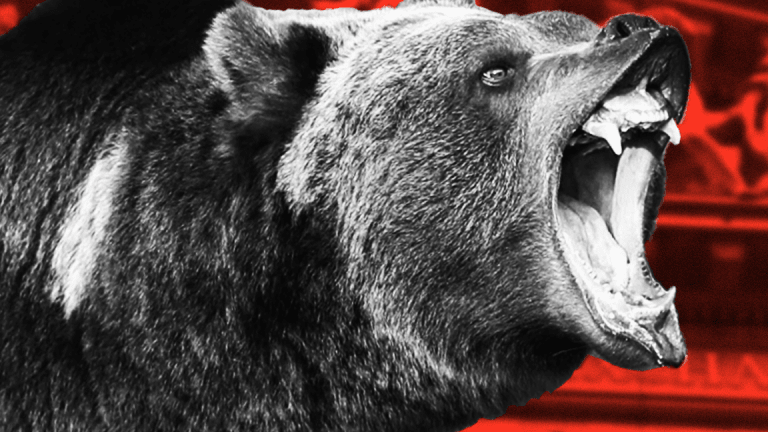 The Global Stock Market Rout Spreads Across the World
Global stocks are on the defensive Wednesday, pulling U.S. futures and European shares lower, as investor re-set expectations for corporate profits in the face of rising investment and input costs.
One Stat You Must Know
Want to know why Caterpillar's (CAT) - Get Free Report CFO comment of the first quarter being the "high water mark" for results spooked stocks on Tuesday? It's because Wall Street remains crazy bullish on the earnings potential of Corporate America, and any view contrary to that is worth a selloff.  Points out Yardeni Research: "The 52-week forward earnings of the S&P 500/400/600 are all at record highs. On a y/y basis through April 19, they are up 20.0%, 23.1%, and 27.2%, respectively." Via @BrianSozzi
Market Overview
Global stocks slumped across the board Wednesday, following heavy selling on Wall Street, as investors retreated from expensive equity markets in the face of rising government bond yields, concerns over tech sector earnings potential and simmering geopolitical risks in commodity markets. 
Europe's Stoxx 600 benchmark, the region's broadest measure of share prices, fell 0.9% by mid-day in Frankfurt as benchmarks around the region notched losses of around 1% despite a series of solid -- although not spectacular -- corporate earnings and fresh M&A news. Britain's FTSE 100 fell 0.66%, with industrial and basic materials stocks leading the declines.
Credit Suisse (CS) - Get Free Report was one of the region's outstanding early movers, rising 4.26% to Sfr116.89 each after the Swiss investment bank topped analysts' forecasts with a 16.4% rise in first quarter net profits, the strongest in three years, even as it cautioned that "client activity levels remain sensitive" to the geopolitical and global trade tensions that are currently roiling markets.
Shire Plc (SHPG) - Get Free Report shares were also active, rising 0.33% to 3,943 pence each in London after it received a sweetened takeover offer from Japan's Takeda Pharmaceuticals (TKPYY) that valued the drugmaker at around $64 billion.  
U.S. equity futures were also heavy after last night's 424 point decline for the Dow Jones Industrial Average undefined , the biggest in three weeks, with contracts tied to the benchmark trading 117 points lower from Tuesday's 24,024.13 close, indicating an opening bell decline of 123 points, and those linked to the broader S&P 500 undefined marked 14.25 points to the downside. Nasdaq futures fell 39 points.
Comcast Corp. (CMCSA) - Get Free Report shares were marked 1.05% lower in pre-market trading in New York, indicating an opening bell price of $33.35 each. after the group formalized its $30.7 billion bid for Britain's Sky plc and posted a stronger-than-expected 66 cents a share in adjusted earnings and a 10.7% year-on-year increase in revenues of $22.79 billion thanks to NBCUniversal's SuperBowl and Olympic broadcasts.
Rising corporate input costs, either in the form of higher borrowing costs or surging commodity prices, were widely cited as two triggers for last night's selling, which spilled over into Asia markets in overnight trading, as benchmark U.S. 10-year Treasury bond yields traded past 3% -- to 3.02% --for the first time in four years and Brent crude prices hit the highest levels since November 2014.
Brent crude futures contracts for June delivery, the global standard for pricing, were marked about 21 cents lower from last night's close at $73.91 in early European trading while WTI contracts for the same month rose 14 cents a barrel to $67.84.
Wednesday's session will also offer another hectic round of corporate earnings, with results from Boeing Co. (BA) - Get Free Report , Visa (V) - Get Free Report , Viacom, ebay (EBAY) - Get Free Report , Northrop Grumman Corp. (NOC) - Get Free Report and GlaxoSmithKline plc (GSK) - Get Free Report all expected before the opening bell. Social media giant Facebook Inc. (FB) - Get Free Report will report its first quarter earnings after the close of trading Wednesday, with the TheStreet's tech team following all the developments live on our website. 
Facebook Inc. (FB) - Get Free Report shares extended declines in in pre-market trading Wednesday as investors prepped for perhaps the most important quarterly earnings report for the social media group since it went public nearly six years ago.
Facebook shares were marked 0.69% lower in pre-market trading, indicating an opening bell price of $158.72 each, a move that would take its year-to-date decline to around 9.9%. However, much of that decline can be attributed to the mid-March revelation that Cambridge Analytical, a political consultancy that worked on behalf of the election campaign of President Donald Trump, gained access to millions of Facebook users' data via an app designed by Cambridge University researcher Aleksandr Kogan.
U.S. companies are on pace to record their best slate of quarterly earnings in more than two decades as businesses capitalise on the triple cocktail of low interest rates, significant domestic stimulus and coordinated global economic growth.
Prior to Tuesday's slate, around 80% of the 87 S&P 500 companies reporting so far this season have topped analysts' forecasts, according to data from both Thomson Reuters I/B/E/S and FactSet, a pace that, if sustained, would be the best quarter for U.S. corporate reporting since 1994. S&P 500 companies are set to notch a 20% year-on-year rise in their collective bottom lines, as well, a figure that hasn't been seen since the final three months of 2010.
However, stocks are also historically expensive, with the 12-month forward P/E ratio, a key metric of equity market value, trading at 16.6, well ahead of its ten year average of 14.3.