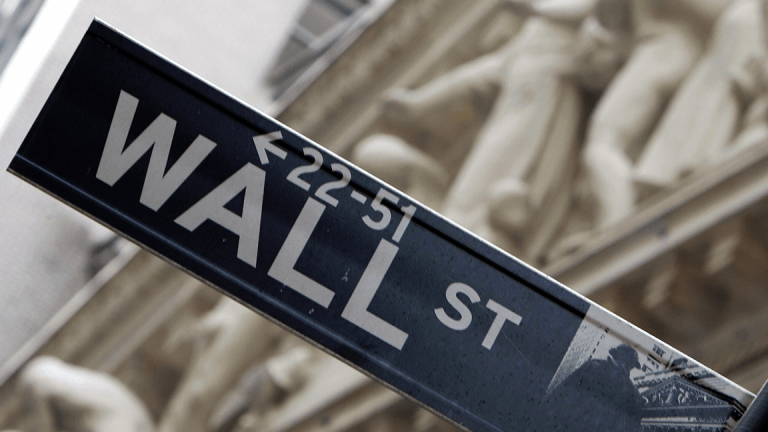 Global Stocks Slide as Trump's New Trade War Salvo Ignites Fresh Concern
President Donald Trump's decision to launch a national security probe into car and truck imports hit global market sentiment overnight as traders grew increasingly concerned of an escalating trade war.
President Donald Trump's decision to launch a national security probe into car and truck imports hit global market sentiment overnight as traders grew increasingly concerned of an escalating trade war.
World stocks slipped lower Thursday as investors reacted to yet another salvo in the renewed global trade war from President Donald Trump, although an easing of the U.S. dollar added some support to beaten down emerging market shares following a dovish statement on interest rates from the Federal Reserve.
President Trump said Wednesday that he will launch a national security investigation into car and truck imports under Section 232 of the Trade Expansion Act, the same pretext he used to slap 25% tariffs on non-American steel and aluminium earlier this year. The move, which followed his hint that a "different structure" may be needed to arrange a new trade relationship with China, added to global concern that inward looking trade polices will slow economic growth into the second half of the year.
"There is evidence suggesting that, for decades, imports from abroad have eroded our domestic auto industry," Commerce Secretary Wilbur Ross said in a statement.
Early indications from U.S. equity futures suggest a softer open on Wall Street, with contracts tied to the Dow Jones Industrial Average  I:DJI pointing to an opening bell decline of around 48 points for the 30-stock average and a pullback of around 4.6 points for the broader S&P 500 benchmark I:GSPC .
Overnight in Asia, stocks traded largely to the downside, with Japan's Nikkei 225, home to auto export giants Toyota Motor Co. (TM) - Get Report , Honda Motor Co (HMC) - Get Report . and Nissan Motor Co. (NSANY) , pulling the benchmark to an two-week low of 22,437.01 points.  
European stocks, however, opened higher, while the the euro notched surprising gains against the U.S. dollar after Chinese Premier Li Keqiang said the euro is "an important choice" in his country's foreign currency reserves, adding that "we are continuing to buy European debt." 
"Even when certain European countries had sovereign debt crises, China kept the broader picture in mind," Li said. "We hope the euro can be strong and steady. We have a large amount of foreign reserves. We believe that foreign exchange reserves can't just be put in one basket."
The single currency gained around 0.1% against the greenback to trade at 1.1718 by mid-morning in Frankfurt while the Stoxx 600 benchmark climbed 0.3% to 393.71 despite weakness for regional auto stocks. 
Europe's Stoxx 600 Autos & Parts index was marked 2% lower by mid-day trading, led by steep declines for Volkswagen AG (VLKAY) , which fell 2.75% and domestic rivals Daimler AG (DDAIY) (-3%) and BMW AG (BMWYY) (-2.91%). In France, carmakers Renault SA (RNLSY) and Peugeot SA (PUGOY) fell 1.54% and 2.07% respectively in the opening hour of trading in Paris.
The euro's gains, however, must be set against a softer U.S. dollar, which pulled back overnight following the minutes from the Fed's early May interest rate meeting, which noted that ongoing trade tensions between the United States and its partners created a "wide" area of uncertainty for the central bank's view on fiscal policy.
"With regard to trade policies, a number of participants viewed the range of possible outcomes for economic activity and inflation to be particularly wide, depending on what actions were taken by the United States and how U.S. trading partners responded," the Minutes read.
"Some participants observed that while these policies were being debated and negotiations continued, the uncertainty surrounding trade issues could damp business sentiment and spending," the Minutes noted. 
The dollar index, a measure of the greenback's strength against a baskets of six global currencies, slipped 0.15% to 93.85 during Asia trading, pulling benchmark 10-year bond yields below 3% and clipping around 7 basis points from 2-year yields -- to around 2.52% -- in the biggest single-day move of the year.
European market sentiment was also boosted by a solid early start in Italy, where Prime Minister-designate Giuseppe Conte was given a mandate to form the country's 66th government since the Second World War. 
Conte, a relatively unknown law professor with close ties to the leader of the radical left Five Star party (5SM) which, along with the anti-European Liga party will form Italy's 66th government since the Second World War, promised to respect European rules even after he given the leadership mandate by President Sergio Mattarella during a meeting in Rome.
Italy's political chaos have wreaked havoc on its financial markets and helped pull the European single currency to a six month low of 1.1686 against the U.S. dollar Wednesday as investors fret over the fiscal ambitions of the Five Star/Liga coalition, would could add around €100 billion to Italy's rising deficit, and its plans to issue de-facto parallel currency that could raise legal challenges in Frankfurt and Brussels.
Italy's benchmark FTSE MIB index was marked 0.36% higher at 22,994.45 points while benchmark 10-year bond yields fell seven basis points to 2.342%.
In the U.K., the FTSE 100 was held down by a rise in the pound, which jumped 0.4% to 1.3395 against the dollar after a stronger-than-expected reading for April retail sales in Europe's second-largest economy.  
Global oil prices fell for a second consecutive session following data from the U.S. Energy Information Administration that showed domestic crude stocks rose by a much-more-than-expected 5.8 million barrels last week alongside a build in gasoline supplies of 1.9 million barrels. 
Brent crude futures for July delivery, the global benchmark, were seen 44 cents per barrel lower than their Wednesday close in New York and changing hands at $79.36 each. WTI futures contracts for June delivery, meanwhile, were marked 34 cents lower at $71.50.