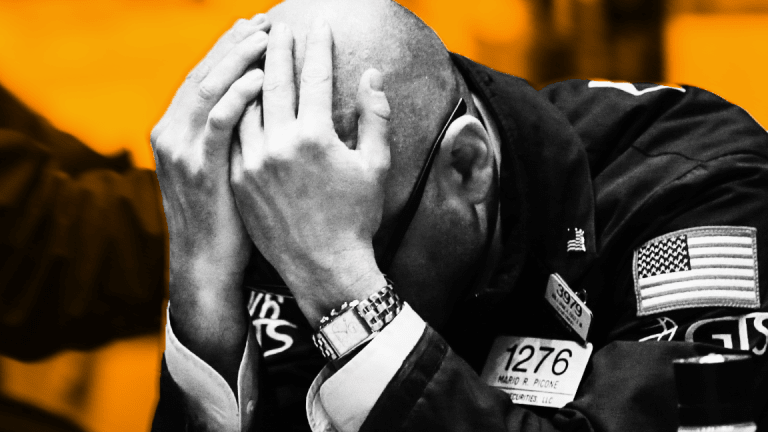 Global Stocks Slide as Oil Hits $80: U.S.-China Trade Talks in Focus
Global stocks traded lower Thursday as oil prices continued to climb in tandem with gains for the U.S. dollar, putting pressure on markets in Asia as investors focused on key trade talks between Washington and Beijing.
Global stocks traded lower Thursday as oil prices continued to climb in tandem with gains for the U.S. dollar, putting pressure on markets in Asia as investors focused on key trade talks between Washington and Beijing.
The Thursday Market Minute:
Global oil prices test $80 a barrel after U.S. supply dip.
U.S. dollar holds gains, 10-year note yields top 3.11% on renewed inflation bets.
Asia shares weaken, Europe Mixed as investors eye U.S.-China trade talks in Washington.
Dow futures slip after eight-session winning streak; Walmart Q1 earnings in focus.
Market Snapshot
Global stocks retreated across the board Thursday as a sustained rise in crude prices, coupled with a stronger dollar, clipped markets in Asia and investors awaited developments from key trade talks between the U.S. and China later today in Washington.
Brent crude prices, the global benchmark, passed $80 a barrel for the first time since November 2014 in overnight trading following yesterday's surprise report of a 1.4 million barrel reduction in domestic U.S. oil supplies by the Energy Information Administration. With the Asia-Pacific region responsible for about a third of daily global oil consumption, higher prices and a stronger dollar mean companies and economies will pay more for basic energy costs, a condition that could slow growth and trim profit margins.
Brent crude futures for July delivery were marked 64 cents higher from their Wednesday close in New York and changing hands at $79.92 per barrel as European leaders arrive in Sofia, Bulgaria for a summit aimed at establishing a united front on trade tariffs with the United States and a coordinated response to President Donald Trump's decision to walk away from the multi-lateral nuclear treaty with Iran.
WTI contracts for June delivery, which are more tightly linked to U.S. gasoline prices, were marked 60 cents higher from Wednesday's New York close at $72.08 a barrel, while prices at the pump hit a 2014 high of $2.91 a gallon, according to gasbuddy.com
U.S. stocks were also looking at opening bell losses later today, according to equity futures prices, with contracts tied to the Dow Jones Industrial Average I:DJI suggesting a 33 point slide at the start of trading and those linked to the S&P 500 I:GSPC implying a 4.3 point decline for the broader benchmark.
Following yesterday's retail stock surge, led by a much-stronger-than-expected first quarter earnings report from Macy's Inc. (M) - Get Report , investors are likely to key on three-month numbers from Walmart Inc. (WMT) - Get Report , which beat analysts' forecasts on the top and bottom line with earnings of $1.14 per share on sales of $121.68 billion.
Walmart shares cwere indicated around 1.7% higher from their Wednesday close in New York, indicating an opening bell price of $87.59, a move that would trim the stock's year-to-date decline to around 11%. .
Kroger Co. (KR) - Get Report will also spark interest following news that it took a stake in Ocado Plc (OCDDY) , whose shares rose the most on record, that will give it exclusive use of the U.K. online grocery retailer's shopping and delivery platform in the U.S. market.
However, movements in U.S. Treasury markets, where 10-year note yields topped 3.11% -- the highest since July 2011 -- amid concern that faster U.S. inflation will leader to quicker rate hikes from the Federal Reserve will also play major role in equity market direction throughout the Thursday session.
The overnight moves, however, failed to drag the U.S. dollar higher, although the greenback is still trading at a level not seen since late December against a basket of six global currencies.
The region-wide MSCI Asia ex-Japan index was marked 0.2% lower as the Thursday session drew to a close, with markets in South Korea, Hong Kong, Shanghai and Sydney all falling between 0.2% and 0.7% by the close of trading. 
Investors were also focused on today's trade summit in Washington lead by China Vice Premier Liu He and U.S. Treasury Secretary Steve Mnuchin, with the two sides aiming to come to an agreement that would prevent the imposition of U.S. tariffs on around $150 billion in China-made goods.
In Europe, region-wide Stoxx 600 index, the broadest measure of share prices, edged 0.14% higher by mid-day in Frankfurt as the euro slumped to a near five-month low of 1.1786 amid further weakness in Italy. 
Italy's FTSE MIB index extended yesterday's steep 2.4% decline Thursday, falling a further 0.4% amid concerns that the two parties forming a government in Europe's third largest economy would seek debt relief from the European Central Bank and a implement a deficit-busting domestic spending program. Benchmark 10-year Italian government bond yields, known as BTPs, rose a further 8 basis points to a year-to-date high of 2.18%.
Britain's FTSE 100 gained 0.24% by mid-day, thanks to oil and basic resource stocks, although the biggest U.K. market movers were to be found in the domestically-focused FTSE 250, where shares in gaming firms William Hill plc (WIMHY) , Paddy Power Betfir  (PDYPY) and GVC Holdings (GMVHF) plunged more than 6% each after the government said it would limit the amount of money customers can wager on so-called "fixed odds better terminals" to £2. 
*******
TheStreet presents on May 22: "How to Stomach Market Volatility." Hosted by Fisher Investments, the exclusive live webinar will give you the tools to successfully navigate market volatility and discuss why having a wealth manager is more critical than ever before. Quickly register for the event here.