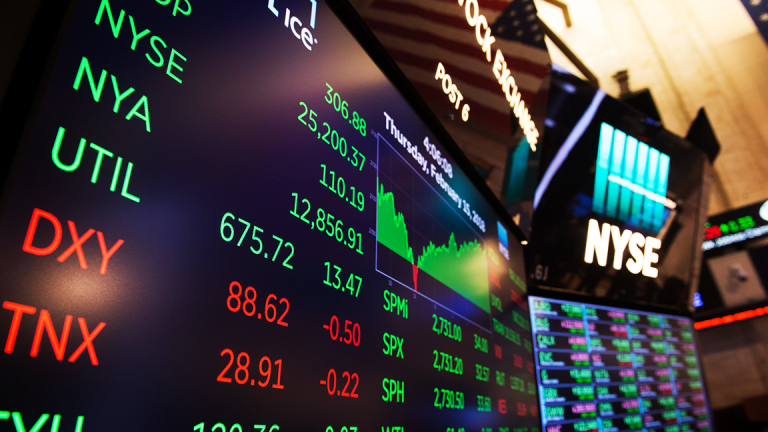 Global Stocks Tanking Ahead of Likely Heated G-7 Meeting
Global stocks retreated across the board Friday as a series of event risks, notably today's G-7 meeting in Quebec City, trimmed risk appetite in markets around the world.
Global stocks retreated across the board Friday as a series of event risks, notably today's G-7 meeting in Quebec City, trimmed risk appetite in markets around the world.
The Friday Market Minute
Global stocks weaken and trade concerns intensify ahead of weekend G-7.
Trump blasts Canada, France ahead of Quebec City summit as China/US trade surplus widens.
Central bank tightening path up-ends risk sentiment, Italy concerns drive investors into safe-have bunds.
Wall Street futures point to softer open as dollar gains, Treasuries rally to 2.92%.
Oil prices slide on softer China May imports, record U.S. production rates.
Market Snapshot
Global financial markets adopted a cautious tone Friday as investors braced for what promises to be a fiery meeting of G-7 leaders in Quebec City later today that could ignite another series of trade war skirmishes among the world's biggest economies.
President Donald Trump lashed out at both host Prime Minister Justin Trudeau and his closest European ally, President Emmanuel Macron on France, in a series of overnight Tweets that suggests the two-day summit will produce little in the way of broader consensus and may indeed harden positions on trade and other key issues among officials in Washington.
Hopes of progress by the Trump administration in trimming China's massive trade surplus with the United States were also dashed Friday by data showing the world's second-largest economy grew its U.S. exports by 11.6% last month, taking the year-to-date surplus to $104.85 billion, more than $12 billion ahead of last year's record pace.
Market sentiment was also bruised by a renewed sell-off in financial assets in Italy, which has taken benchmark 10-year government bond yields to a 1.5 week high of 3.11% in early trading and pushed the European single currency back below the 1.18 level against the U.S. dollar at 1.1789.
The moves in some respect reflected not only concern for the spending plans of Italy's new government, which has pledged to add to the nation's €2.3 trillion in debt, but also the fact that the European Central Bank is likely to signal tighter monetary policy at its meeting in Riga next week, while the U.S. Federal Reserve is firmly set on a rate hike path after last week's stronger-than-expected May employment report and last night's jobless claims. 
Against that risk-averse backdrop, early indications from U.S. equity futures suggest another day of weakness on Wall Street, with contracts tied to the Dow Jones Industrial Average  I:DJI calling for a 108-point decline for the 30 stock benchmark and a 10.6 point slide for the broader S&P 500 I:GSPC .
The tech-focused Nasdaq Composite I:IXIC may fall 65 points at the start of trading, too, amid notable pre-market declines for FAANG stalwarts Facebook Inc. (FB) - Get Report (-1.4%), Netflix Inc. (NFLX) - Get Report (-2%), Amazon Inc. (AMZN) - Get Report (-1%) and Alphabet Inc. (GOOGL) - Get Report (-1%). 
Apple Inc. (AAPL) - Get Report shares fell sharply in pre-market trading Friday following a report that the tech giant has warned companies in its supply chain to expect a steep drop in iPhone component orders into the second half of the year.
Action Alerts PLUS holding Apple shares were marked 2.1% lower in pre-market trading Friday, indicating an opening bell price of $189.4 each, a move that would trim the stock's year-to-date gain to around 12%.
European stocks opened firmly to the downside at the start of trading, with the Stoxx 600 falling 0.5% as Germany's DAX performance index fell 1.13% following series of disappointing readings for the nation's industrial sector that renewed demand for safe-haven government bonds that pushed benchmark 10-year bund yields 7 basis points lower to 0.41%.
BT Group plc (BT) shares were one of the region's outstanding earlier performers, rising 2.65% at the opening bell following news that CEO Gavin Patterson would leave the U.K.'s biggest telecoms group after series of poor results and an embarrassing accounting scandal in Italy.
Several stocks in Apple's European supply chain were notably weaker, as well, following the report, with Austria-based AMS AG, (AMSSY) which earns an estimated 35% of its revenue from chip sales to Apple, falling 5.5%, Frankfurt-listed Dialog Semiconductor (DLGNF) sliding 4.11% and STMicroelectronics (STM) - Get Report retreating 1.77% in Amsterdam.
Overnight in Asia, stocks were weaker across the board owing to both the rising concern over further trade spats emanating from the G-7 meeting in Canada and a stronger U.S. dollar, which adds to the pressure applied to emerging markets, particularly those with high levels of foreign-currency debt.
The region-wide MSCI Asia ex-Japan index was marked 1.41% lower as the session drew to a close while the Nikkei 225 in Japan ended the week 0.56% to the downside at 22,695.5 points.
Global oil prices were  modestly weaker in Asia and European trading, with the stronger dollar and a weaker-than-expected tally of China imports for the month of May, which fell to 9.2 million barrels a day from the 9.6 million barrels per day reported by Customs officials in April.
Brent crude contracts for August delivery, the global benchmark for prices, were marked 39 cents lower from Thursday's New York close and changing hands at $76.93 per barrel while WTI contracts for July were seen 27 cents lower at $65.68.