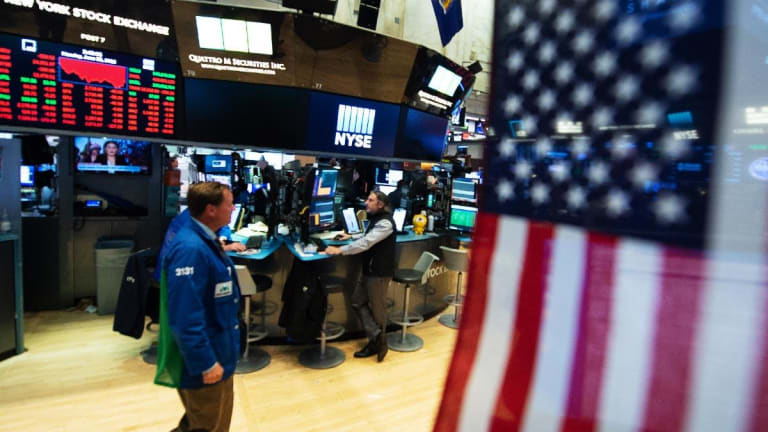 Stocks Rally on 'Goldilocks' U.S. Jobs Report, Brief Trade War Silence
Global stocks rallied Monday, with shares in China rising the most in nearly two years, as investors' risk appetite returned amid a momentary thaw in trade war rhetoric and a solid U.S. jobs report.
The Monday Market Minute
Global stocks rally as U.S. jobs report provides solid backdrop for equity market bulls.
China's CSI notches biggest one-day gain in nearly two years as risk appetite returns.
U.S. dollar eases as investors trim bets on faster Fed rate hikes, but bond market signals still a worry.
European stocks book solid early gains, Wall Street futures point to robust start to the week as earnigns season nears.
Global oil price edge higher as supply constraints, falling U.S. crude stocks, keep bullish bets in place.
Market Snapshot
Global stocks kicked-off the week on solid form Monday, with shares in Asia and Europe booking solid gains, as investor sentiment improved after Friday's U.S. jobs report showed solid growth with little underlying inflation pressures in the world's biggest economy.
The 213,000 jobs added last month, alongside slower-than-expected annual wage growth of 2.7%, could set the table for a strong summer performance for U.S. markets as investors trim bets on faster rate hikes from the Federal Reserve and prep for what is expected to be another robust corporate earnings season supported by tax cuts and buoyant consumer sentiment. The good vibes from the domestic economy were also buttressed Monday by a lack of headlines linked to the various trade disputes between Washington and its major economic allies and a steadying in global oil prices following consecutive weekly gains.
The collective boost to both fundamentals and sentiment was enough to lift Asia markets firmly across the board Monday, with the MSCI Asia ex-Japan index rising 1.28% into the close of the session and Japan's Nikkei 225 ending the day 1.21% to the upside at 22,052.18 points.
European stocks booked solid early gains as well, with basic resource, oil and gas and industrial stocks boosting the Stoxx Europe 600 index by 0.63% by mid-day in Frankfurt, helped by a 0.65% rise for the CAC-40 in Paris and a 0.31 gain for the DAX performance index in Germany.
Early indications from U.S. equity futures were also broadly positive, with contracts tied to the Dow Jones Industrial Average undefined suggesting a 127 point gain for the 30-stock index while those linked to the S&P 500 undefined suggested a 12.5 point gain for the larger benchmark.
Away from equities, the U.S. dollar index was modestly softer in the overnight session, falling 0.13% to 94.91 against a basket of six global currencies thanks in part to Friday's dovish jobs report and the improving risk sentiment in Asia trading.
The pound was the notable mover against the dollar, however, falling some 0.23% before stabilizing at around 1.3345 following the weekend resignation of a key member of Prime Minister Theresa May's government, David Davis, who had previously been in charge of handling the country's exit negotiations from the European Union.
The move, which came just two days after May had seemingly brokered a peace agreement within her fractured cabinet that would allow for a unified approach to Brexit talks, has some observers wondering if other senior officials will follow, triggering either a leadership challenge for the Prime Minister or even fresh national elections. 
Global oil prices were relatively muted in early European trading, although the bias in the market remains clearly bullish even as crude trades close to the highest levels in more than three-and-a-half years. Last week, data from the U.S. Energy Information Administration showed that domestic oil stocks fell to their lowest levels in more than three years, even as drillers continue to add rigs in order to pump more crude.
That dynamic, along with questions as to whether OPEC members can effectively add to production rates when supply disruptions are holding back deliveries in Libya, political chaos has decimated capacity in Venezuela and looming U.S. sanctions on Iran have reduced appetite for it crude, is likely to keep both oil and gas prices elevated for much of the summer months.
Brent crude contracts for September delivery, the global benchmark for prices, were seen 49 cents higher at $77.60 per barrel in early European trading while WTI contracts of August were marked 20 cents lower at $73.60 per barrel.