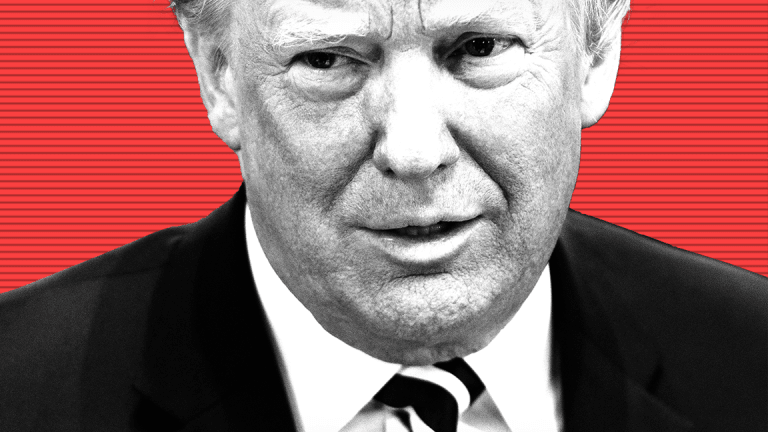 Global Stocks Rally as US-China Trade War Thaws; Dow Could Test 25,000
Global stocks rallied across the board Monday as investors cheered reports that talks between the U.S. and China appeared to have averted a damaging trade war between the world's two biggest economies.
The Monday Market Minute
U.S. Treasury Secretary Steve Mnuchin says US-China trade war "on hold"
Asia stocks rally as China says it didn't "fold" and that U.S. is prepared to talk
U.S. Dollar hits fresh five month high as market optimism returns 
Oil prices extend gains as Venezuelan elections prompt sanction/supply threat
Dow Jones set for 200-plus point gain, could test 25,000 by session close
Market Snapshot
Global stocks rallied across the board Monday, setting up Wall Street for significant opening bell gains, as investors reacted to a thaw in the trade war rhetoric between the U.S. and China following a weekend summit in Washington.
Treasury Secretary Steven Mnuchin told Fox News on Sunday that talks had led to a "hold" on the current trade dispute between the world's largest economies, even if no specific agreement had been reached over the multi-day talks in the U.S. capital. 
"We are putting the trade war on hold. Right now, we have agreed to put the tariffs on hold while we try to execute the framework," Mnuchin said. China's state-run newspaper said that, "despite all the pressure, China didn't 'fold,' as U.S. President Donald Trump observed. Instead, it stood firm and continually expressed its willingness to talk."
Wall Street looks set to ride the optimism at the opening bell, with futures contracts suggesting a 244 point gain for the Dow Jones Industrial Average undefined , a move that would take it to within a few points of the 25,000 point mark. Solid gains of 16.5 points and 51.75 points were priced-in for the S&P 500  undefined and the Nasdaq undefined  respectively.
Apple Inc. (AAPL) shares rose firmly in pre-market trading Monday as investors reacted to a thawing of trade tensions between the U.S. and China, a move that would ease concerns for the manufacturing base of the world's biggest tech company.
Action Alerts Plus holding Apple shares were marked 0.72% higher in pre-market trading in New York, indicating an opening bell price of 187.65 each, just shy of the $190.37 record price the stock hit on May 10.
Tesla Inc. (TSLA) shares jumped in pre-market trading after the easing of trade tensions between the U.S. and China and Tweets from founder and CEO Elon Musk which suggested the addition of a new $78,000 version of its flagship Model 3.
Tesla shares were marked 2.16% higher in pre-market trading in New York Monday, indicating an opening bell price of $282.80 each, a move that would trim the stock's year-to-date decline to around 9.6%.
European stocks opened firmly higher, although Whit Monday holiday observances kept markets closed in Germany and thinned liquidity in other major economies around the region as well. Weaker regional currencies supported gains for both the Stoxx 600 index, which rose 0.43% to 396.35 points while Britain's FTSE 100 hit a new all-time intraday high of 7,845.36 points as the euro dipped to a fresh 5-month low of 1.1737 against the U.S. dollar and the pound hit its weakest level of the year at 1.3403. 
Italian markets, however, are likely to be the region's focal point as the two parties hoping to form a government in Europe's third-largest economy take their fiscal program to President Sergio Mattarella. If approved, the spending plans could swell the country's already-staggering debt pile and add several hundred million euros to its budget deficit, risking both the ire of financial officials in Brussels and the global ratings agencies.
Italy's 10-year government bond yields were marked at a 2018 high of 2.28%, having risen more than 40 basis points in the past week, while its bluechip FTSE MIB index fell 0.3% to the lowest level since April 16 in early trading Monday. 
Asia shares rallied, even as the U.S. dollar index touch a fresh five-and-a-half-month high on the improved market sentiment, with the region-wide MSCI Asia ex-Japan index rising 0.38% into the close of trading, led by a 0.7% gain for the Shanghai Composite and a 1.2% advance for the Hang Seng index in Hong Kong. Japan's Nikkei 225 gained 0.31% to top the 23,000 market and close at 23,002.37 points on the opening session of the week.
Benchmark U.S. Treasury bond yields eased from their recent multi-year highs, with 10-year note yields falling to 3.065% in overnight trading as investors returned to government bond markets from lower-returning cash markets. 
Global oil prices added to recent gains, even as the dollar surged, as investors continued to wager bets that market supply will remain under pressure amid threats of sanctions against Iran, the world's fifth-largest producer, and Venezuela, which looks set to re-elect far left leader Nicholas Maduro in a disputed ballot that will very likely result in retaliation from Washington.
Brent crude futures for July delivery, the global benchmark, were seen 27 cents higher at $78.78 per barrel in early European trading while WTI contracts for June delivery were seen 26 cents higher at $71.54. U.S. gasoline price, however, were largely unchanged at $2.93 per barrel heading into the final week before the Memorial Day holiday and the start of the traditional summer driving season.
*****************
TheStreet presents on May 22: "How to Stomach Market Volatility." Hosted by Fisher Investments, the exclusive live webinar will give you the tools to successfully navigate market volatility and discuss why having a wealth manager is more critical than ever before. Quickly register for the event here.