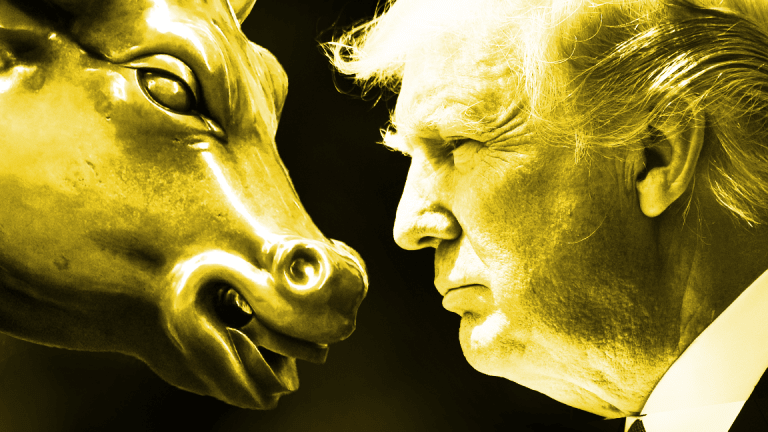 Global Stocks Push Higher as Trump Tweets Raise Prospects for China Trade Deal
Asia stocks tested two months highs, while U.S. equity futures point to solid early gains on Wall Street, as President Donald Trump hints at a potential breakthrough in trade talks with China.
Monday's Market Notes
Trump's Tweets on China trade boost market sentiment ahead of visit from vice premier He.
Cleveland Fed President Mester argues against "steep path" rate hikes as inflation moves slowly to target.
Dollar remains at 2018 highs, however, as Fed stands out as sole hawk among global central banks.
Oil eases from three-and-a-half year highs, but U.S. gas prices hold at $2.87 per gallon, up 6.3% over the past month.
Dow looking at triple-digit gains as global stock retrench bullish case. 
Market Snapshot
Global stocks continued to power ahead Monday, lifting Asia markets to the highest levels in nearly two months, as President Donald Trump's pledge to support China's ZTE Corp. (ZTCOY) raised the prospect of a near-term agreement on trade with China and geopolitical tensions in the region continued to abate ahead of a key summit with North Korea's Kim Jong Un next month in Singapore.
Trump's Sunday tweet urging the U.S. Commerce Department to help get ZTE, a China-based telecoms giant, out from under sanctions that bar U.S. companies from supplying it components comes just hours ahead of news that China's vice premier, Liu He, is headed to Washington to discuss trade issues between the world's two largest economies. The overture, which included a second tweet that promised things "will all work out", has investors betting that a deal could be unveiled in the coming weeks as the leadership prepares to present a unified front in North Korea talks on June 12.
The moves boosted markets in Asia, taking the region-wide MSCI ex-Japan benchmark 0.45% higher into the close of trading as it tested the highest levels in nearly two months. Japan's Nikkei 225 also traded firmly to the upside, rising 0.47% to finish the session at 22,865.86 points. Both the Shanghai Composite, which added 0.3% to close at 3,174.14 points, and the Hang Seng index in Hong Kong gained 1.13% thanks to the positive regional sentiment on trade.
The MSCI World index rose 0.14% to a seven-week high of 520.18 points. 
The equity market momentum has Wall Street looking at solid opening bell gains, based on early indications from futures prices, with an implied gain of 88 points for the Dow Jones Industrial Average  undefined and a 5-point jump for the broader S&P 500 undefined  . 
European stocks, fresh off their longest winning streak in three years, reacted more modestly in the opening minutes of trading, with investors remaining cautious over developments in Italy, where both the far-right 'League' and the anti-establishment Five Start Movement look set to establish of a workable coalition government.
The developments in Europe's third-largest economy are certainly concerning, given the coalition's vow to slash corporate taxes, lift the universal basic income, scrap pension reform and cancel an impending sales tax, all of which will likely boost the country's budget deficit, add to its longer-term debt pile, which stands at more than €2 trillion and run afoul of European Union officials in Brussels. 
Two notable movers in the European market were linked to the President's tweet on ZTE, with component suppliers Nokia Oyj (NOK) and Ericcson AB  (ERIC) falling 1.8% and 3.03% respectively as investors reduced expectations that the pair will scoop up new business with China in the wake of the Commerce Department's April decision to ban U.S. suppliers from dealing with the Chinese telecoms equipment maker.
NXP Semiconductors NV (NXP) shares surged Monday following reports that officials in China are reviewing Qualcomm Inc.'s (QCOM) planned $44 billion take of the U.S. chipmaker. NXP shares were marked 12.11% higher from Friday's closing levels, indicating an opening bell price of $111 each, move that would trim its year-to-date decline to around 5.4%. Qualcomm shares were marked 3.1% higher at $57.00 each.
Market Data
Europe's Stoxx 600 index, the broadest measure of regional share prices, slipped 0.3% in the two hours of trading while benchmarks around the region were marked little-changed from their Friday close. Britain's FTSE 100 drifted 0.14% into the red in the opening minutes of trading in London as the pound found its feet and edged higher, to 1.3565, against the U.S. dollar.
The greenback, however, fell 0.17% to 92.38 an index basis, which tracks its value against a basket of six global currencies, as U.S. Treasury bond yields pull back from recent multi-year highs in the face of softer inflation readings in the world's biggest economy. Benchmark 10-year notes were pegged at 2.982% in European dealing while 2-year yields rose 1 basis point to 2.539%.
Market expectations on rates were also muted by comments from Cleveland Federal Reserve President President Loretta Mester, who told an audience in Paris that the need to allow time for inflation to reach the central bank's 2% target "argues against a steep path".
"In my view, the medium-run outlook supports the continued gradual removal of policy accommodation; it seems the best strategy for balancing the risks to both of our policy goals and avoiding a build-up of financial stability risks," Mester said.
The dollar's strength, however, pushed global oil prices lower in early Monday trading, even as investors continued to worry about supply disruptions linked to President Trump's decision to reimpose economic sanctions on Iran, the world's fifth-largest producer responsible for 4% of global output.
Brent crude futures for July delivery, the global pricing benchmark, were marked 18 cents higher at $77.30 per barrel while WTI contracts for June delivery, the U.S. gauge that is more closely-linked to domestic gasoline prices, were seen 10 cents to the upside at $70.80 per barrel.