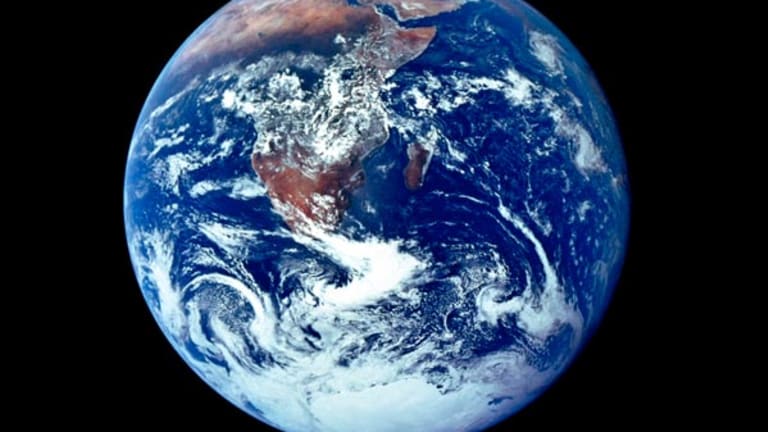 Global Stocks Mixed on Dovish Fed Minutes, Disappointing European Data
Global stock indices are mixed on Thursday, with early enthusiasm about reassuring Federal Reserve minutes tempered by disappointing European economic data.
LONDON (The Deal) -- Global stock indices were mixed on Thursday, with early enthusiasm about reassuring Federal Reserve minutes tempered by disappointing European economic data.
Minutes released on Wednesday suggested some Fed members wondered whether enough stimulus had been injected into the economy given below-target inflation and an easing of growth in China.
In London, the FTSE 100 was up 0.17% at 6,647.06. In Frankfurt, the DAX pared 0.03% to 9,503.17, and in Paris the CAC 40 slipped 0.08% to 4,439.03.
Among economic data out Thursday, French inflation figures for March and February industrial output figures fell short of expectations, as did Italian industrial output for February.
The European Central Bank's monthly report pointed to a continuation of the eurozone's loose monetary policy, which includes rates of just 0.25%.
"The Governing Council is resolute in its determination to maintain a high degree of monetary accommodation and to act swiftly if required. Hence, it does not exclude further monetary policy easing and firmly reiterates that it continues to expect the key ECB interest rates to remain at present or lower levels for an extended period of time," the report said.
In the U.K., all eyes will be on the Bank of England, which will decide later Thursday whether to lift rates from their historic low 0.5%. It is expected to make no changes.
Shares in variety store retailer Marks & Spencer Group rose after the company posted fourth-quarter sales figures that suggested its clothing business is beginning to recover from a protracted slump. Same-store general merchandise sales -- which are mainly clothing -- fell 0.6%, less than analysts had predicted. Food revenue rose 0.1%. Group same-store sales in the U.K. were down 0.2%, though, and Marks & Spencer warned of shrinking second-half general merchandise margins because of promotions.
In Paris, luxury goods group LVMH Moet Hennessy Louis Vuitton rose after posting above-forecast first-quarter sales growth in fashion and leather goods. Revenue in that segment climbed 9% on what it calls an "organic" basis, though sales of drinks -- LVMH's brands include Moet Hennessy champagne - fell 3%.
In India, Piramal Enterprises was up more than 4% after the company agreed to sell 11% of the Indian unit of Vodafone (VOD) - Get Vodafone Group Plc Report to the U.K. wireless services provider for 89 billion rupees ($1.5 billion).Vodafone is taking advantage of a recent change in rules governing foreign ownership to reel in that local unit. (Its own shares were little changed in London ).
In Hong Kong, stock exchange operator Hong Kong Exchanges and Clearing announced a deal to establish mutual market access between the Hong Kong and the Shanghai exchanges.
Hong Kong Exchanges and Clearing Chairman C K Chow said the agreement, which has the backing of Chinese Premier Li Keqiang, should open up China's capital markets and international trading in the renminbi, as well as boosting Hong Kong's standing as a global center.
The Hang Seng closed up 1.51% at 23,186.96.
In Japan, hotels operator Seibu Holdings slashed the expected size of its IPO after 36% shareholder Cerberus Capital Management LP decided it wouldn't sell any of its shares.
In Tokyo, the Nikkei 225 was unchanged in percentage terms at 14,300.12.