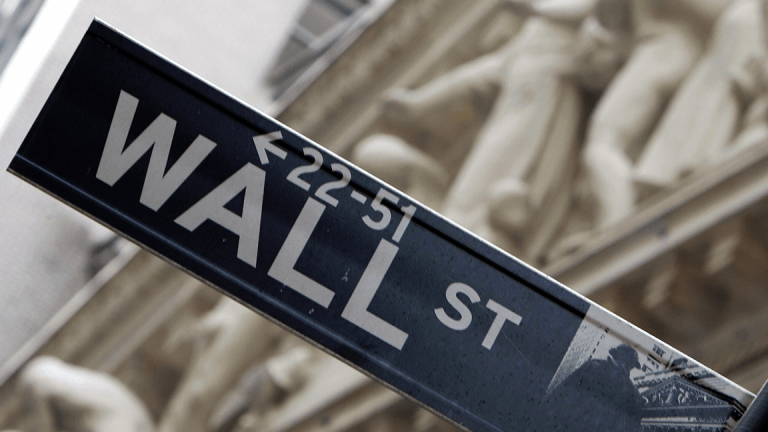 Global Stocks Mixed, Dollar Surging as Markets Await Trump Decision on Iran
Oil pulled back from three-and-a-half year highs in overnight trading as markets await President Donald Trump's decision on renewed Iran sanctions that could pull a further 500,000 barrels of oil from the market each day.
Global stocks were mixed Tuesday, as the U.S. dollar surged and oil prices steadied, with markets trading in a cautious mood ahead of President Donald Trump's decision to imposed renewed sanctions on Iran and still-simmering trade tensions between Washington and Beijing. 
Early indications from U.S. equity futures suggest a mixed start to the session on Wall Street, with contracts tied to the Dow Jones Industrial Average  undefined pointing to an implied decline of 93 points at the opening bell while those tied to the S&P 500  undefined indicating a 9 point decline for the broader equity benchmark.
Comcast Corp. (CMCSA) shares fell in pre-market trading Tuesday amid reports it is preparing a rival bid for the media assets that Twenty-First Century Fox Inc. (FOX) has agreed to sell to Walt Disney Co. (DIS) , including Britain's Sky Plc (SKYAY) .
Comcast shares were marked 1.2% lower in pre-market trading in New York, indicating an opening bell price of $32.00 each, a move that would take the stock 6.9% lower since it detailed its informal bid for Sky on April 25. Sky shares, meanwhile, were marked 1.4% lower by mid-morning in London and trading at 1,353.5 pence each, still well north of the £12.50 bid Comcast said it was prepared to make last month and first tabled in February.
The days earnings and economic calendar is relatively light Tuesday, although first quarter reports are expected from Walt Disney Co. (DIS) , Liberty Global (LBTYA) , Occidental Petroleum (OXY) and Discovery Communications (DISCA) .
European markets open weaker across the board, with the region-wide Stoxx 600 index falling 0.03% to 389.41 points in the opening 45 minutes of trading, led by 0.4% slips for the DAX performance index in Germany and the CAC 40 in France. Britain's FTSE 100 rose 0.22% the pound falling 0.14% to 1.3537.
Curiously, the European market declines are set against the highest levels for the greenback since late December, with the U.S dollar index rising to a 2018 of 93.03 in overnight trading, extending its month-to-date gain to 1.2%, as investors bet on faster rate hikes from the Federal Reserve amid solid growth fundamentals for the world's biggest economy. The dollar's moves, correspondingly, pushed both the pound and the euro notably lower, with the latter trading under 1.19 for the first time this year overnight to change hands at 1.1866.
Shire plc (SHPG) shares were marked 3.8% higher at 3,998 pence each in London trading after agreeing to a $62.4 billion takeover from Takeda Pharmaceutical Co. (TKPYY) in what could be the biggest-ever foreign takeover from a Japanese corporation.
Overnight in Asia, stocks bumped modestly higher, although the dollar's gain, as well as the near three-and-a-half year high for global crude prices, kept a lid on any bullish tone that would have extended from last night's session on Wall Street.
The region-wide MSCI Asia ex-Japan index was marked 0.5% higher heading into the close of trading while the Nikkei 225 in Japan gaining 0.2% by the end of the session to close at 22,508.69 points.
Global oil prices retreated from their three-and-a-half year peaks in overnight trading, although markets are clearly focused on today's 2:00 pm eastern time decision from President Trump on renewed Iran sanctions, a move that could take as many as 500,000 barrels of oil from the market each day.
Brent crude futures contracts for July delivery, the global benchmark, were seen 0.8% lower from their Tuesday close in New York and changing hands at $75.60 per barrel while WTI contracts for June fell 0.9% to $70.10 per barrel.