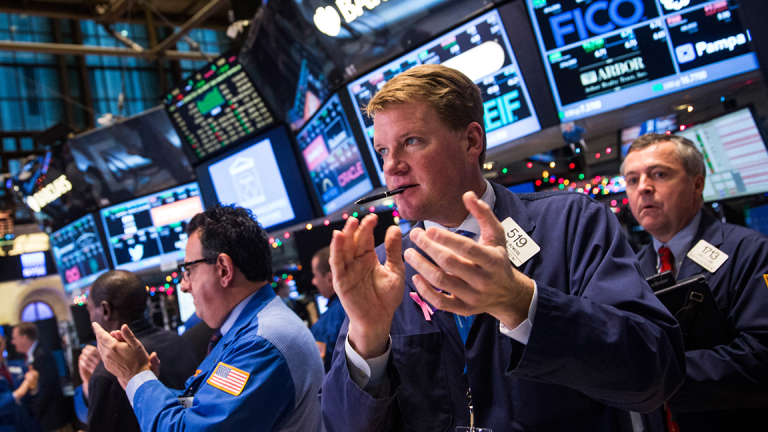 Global Stocks Mixed as Trade War Talk Offsets Improving Sentiment in Italy, Asia
Global stocks were mixed Thursday, with U.S. markets poised for a modest decline, as trade war talk offset improving sentiment in Europe and surging factory activity in China.
The Thursday Market Minute
Global stocks mixed as Asia rebounds firmly, Europe opens cautiously amid concerns over new trade tensions with the U.S.
Reports suggest White House will confirm steel and aluminium tariffs Thursday; Trump mulling restrictions on luxury European cars
U.S. Dollar index slips to three-session low as euro gains on faster French, German inflation data 
China factory activity hits 8-month high in May, boosting Asia shares despite trade war rhetoric 
Oil prices extend declines despite reports the OPEC only talking "gradual" changes to production
Global stocks were mixed again Thursday, with strong gains in Asia offset by a weaker start in Europe, where investors remain cautious over political developments in Italy and the threat of new trade tariffs from the United States.
The White House is expected to confirm that the temporary exemption from steel and aluminium tariffs granted to the European Union will expire on June 1, raising the risk that officials in Brussels will follow-through on a threat to slap similar levies on $3.4 billion worth of U.S. goods that are imported into the bloc. A respected German business magazine has also reported that President Donald Trump has told French President Emmanuel Macron he plans to prevent the sale of luxury European cars in the U.S. market.
"We don't want a trade war," said France's Finance Minister Bruno Le Marie, even as he warned that "aggressive decisions taken against Europe" would result in a coordinated response from the bloc. 
The concerns helped hold back gains for European stocks at the start of trading Thursday, even as investors gingerly returned to Italian markets amid a cooling of political tensions in Rome and the prospects of a Five Star/Lega coalition government that would not include key anti-Euro platforms mooted during the election campaign earlier this year.
Italy's FTSE MIB index rose 0.57% in the opening minutes of trading in Milan, while benchmark 10-year Italian government bond yields eased to 2.69%, well shy of the 3.6% level seen earlier this week following the rejection of the appointment of an anti-Euro economy minister and the threat of new elections in Europe's third-largest economy. Italy's 2-year government bond yields, which rose the most in more than 25 years Tuesday to trade at 2.73%, were marked at 0.97% in the opening hour of trading. 
Broader European stocks were little-changed at the start of trading as investors reacted to the threat of new U.S. tariffs on two key industrial sectors. Germany's DAX index was marked 0.51% to the downside, with automakers such as Daimler AG (DMLRY)   (--0.81%), Porsche AG (POAHY)  (-1.43%) and BMW AG (BMWYY)  (-0.64%) leading the decliners. Steelmakers Thyssenkrupp AG (TKAMY) and Salzgitter AG (SZGPY) were curiously stronger, rising 0.92% and 0.44% respectively, while Arcelor Mittal SA (MT) - Get Report  , the world's biggest steelmaker, gained 0.38% in Amsterdam.
Away from equities, the euro was marked 0.3% higher, at 1.1676 against the U.S. dollar, following a faster-than-expected reading for May inflation in France of 2.3%, a figure which follows on from the 2.2% rate published yesterday in Germany, both of which are firmly ahead of the European Central Bank's 'just below 2%' target.
The U.S. dollar index, which benchmarks the greenback against a basket of six global currencies, slipped to a three-day low of 93.90 in early European trading as the euro found favor among international investors amid improving risk sentiment and bets that a calming situation in Italy could provide the ECB with enough breathing room to signal an exit from its suite of loose monetary policy tools, including quantitative easing, when it meets next month. 
U.S. stocks, however,  look set for a modestly softer open, with futures contracts tied to the Dow Jones Industrial Average  I:DJI pointing to a 21 -point decline for the 30-stock index and those tied to the S&P 500  I:GSPC suggesting a 4-point retreat for the broader benchmark.
Overnight in Asia, stocks notched solid gains across the board following a stronger-than-expected reading for factory activity in China, which surged to an 8-month high, and reports that the White House is still committed to a June 12 summit with North Korea to discuss the denuclearisation of the peninsula with leaders from Pyongyang and Seoul.
The region-wide MSCI Asia ex-Japan index was marked 0.85% higher heading into the close of trading while Japan's Nikkei 225 rebounded to a 0.83% gain to close at 22,201.82 points.
Global oil prices were also active overnight, with prices drifting modestly lower despite reports that OPEC members are prepared to stick with their previously-agreed output targets, which are taking 1.8 million barrels of oil from the market each day, even as they discuss "gradual" changes to offset the loss of supply from member state Venezuela.
Brent crude contracts for July deliver, the global benchmark for prices, were marked 31 cents lower at $77.19 per barrel in early European trading while WTI contracts for the same month, which are more tightly-linked to domestic U.S. gas prices, were seen 38 cents lower at $67.83 per barrel.